Fun week ahead, large swells from Sunday into early August
Java, Bali, Lombok, Sumbawa forecast by Craig Brokensha (issued Tue 22nd Jul)
Best Days: Every day over the coming period
This week and Saturday (Jul 23 – 26)
After the swell bottomed out yesterday morning, an afternoon increase in SW groundswell was seen and this should be keeping exposed spots topped up with 5-6ft sets through today. Light variable winds opened up plenty of options, but expect fresh E/SE trades to develop through the afternoon.
Over the coming days a couple of different S/SW groundswell pulses are due, both arriving later tomorrow and peaking through Thursday. The source of these swells was two distinct frontal systems, one a strong polar low and the other a weaker mid-latitude system.
The swell from both of these should peak through the day Thursday to an inconsistent 6ft+ across exposed spots with the odd 8ft bomb. A gradual drop in size is then expected through Friday and Saturday.
Fresh E/SE trades are expected to develop tomorrow and persist right through until early next week, limiting options to more protected spots.
This Sunday onwards (Jul 27 onwards)
From this Sunday onwards we'll see large swells impacting Indonesia, lasting near two weeks.
This will be related to two separate amplifications of the Long Wave Trough moving west to east across the Southern Indian Ocean, bringing with it front after front and with strength.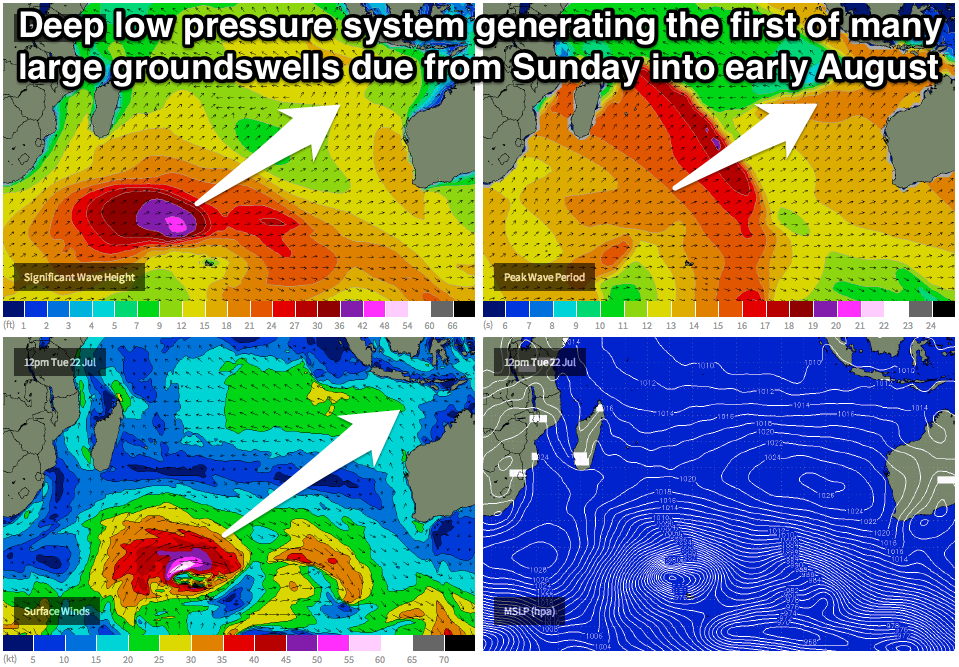 Currently a vigorous frontal system south-east of South Africa is generating a fetch of severe-gale W/SW winds over an already active sea state and we'll see this storm deepen further this afternoon, with winds speeds expected to reach the storm-force range.
This should set in motion a very inconsistent but strong SW groundswell that's expected to arrive later in the day Sunday and then peak Monday morning to 8ft to occasionally 10ft across exposed breaks in Bali.
A slight drop in size is due into the afternoon and early Tuesday, but a new large S/SW groundswell is due to arrive through the afternoon and peak Wednesday morning.
This will be produced on the tail of the first strong storm as it pushes towards WA, with a broad and elongated fetch of gale to severe-gale W/SW winds forecast to be generated, producing a swell with a touch more south in it.
This swell will be noticeably more consistent and should peak at 10ft to possibly 12ft Wednesday morning across exposed breaks. From here a slow drop in size is expected into the end of the week as fresh E/SE trades start to weaken.
Longer term another two vigorous polar lows are forecast to fire up through the Southern Indian Ocean, producing two separate large pulses of SW groundswell likely for Saturday and Monday the 2nd and 4th of August respectively, but we'll provide running updates on this in future forecasts.
16 day Bali Forecast Graph
16 day East Java Forecast Graph
16 day Sumbawa Forecast Graph