Thursday, 1 May 2014
Good swell for Sunday ahead of a period of inactivity
Java, Bali, Lombok, Sumbawa forecast by Craig Brokensha (issued Thu 1st May)
Best Days: Every day up until the middle of next week
Friday and the weekend (May 2 - 4)
Our recent run of solid S/SW groundswell should ease slowly through tomorrow and further into Saturday morning ahead of a late kick in new long-range and more S'ly swell.
Size wise, Bali should ease from 5-6ft+ at exposed coasts with smaller waves towards Sumbawa and further east.
Saturday's late kick in S/SW groundswell will be followed up by a stronger pulse on Sunday morning, generated by a couple of vigorous polar fronts firing up on the edge of our southern swell window, to the south-west of WA.
Sunday should see inconsistent but good 5-6ft+ sets again across exposed spots, but the reduction in size to the east will be more pronounced due to the swell generating storms forming later in our swell window.
Winds are expected to be light and variable each morning before light to moderate E/SE trades kick in.
Next week onwards (May 5 onwards)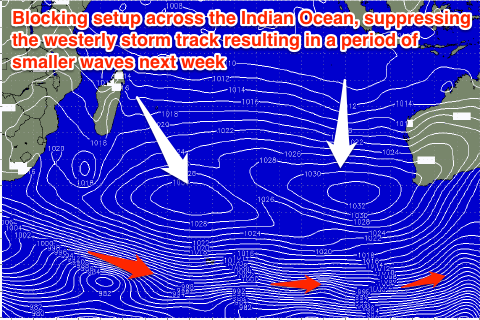 Into next week there's nothing major to report due to a large blocking pattern setup across the Indian Ocean (pictured right) and as a result, wave heights will gradually tail away and bottom out through Wednesday to 2-3ft across exposed locations. The trades will also freshen creating average conditions at spots picking up the most size, and limiting options.
Small levels of background swell are due into the end of next week and weekend to 3-4ft+ or so, but the fresh E/SE trades will continue to limit options.
Longer term is a little tricky to make out at the moment, as a deepening tropical low drifting south-west from NW WA throws a spanner in the works regarding the make up of the westerly storm track in the Southern Indian Ocean. We could see this system absorbed into an approaching cold front, generating a solid swell, but other solutions have it simply moving off with nothing on note at all.
Therefore make the most of the coming days of waves and check back here on Tuesday for the next update.