The Gold Coast's Tow-in Code of Conduct
The pattern goes like this....
Big swell hits Queensland.
Jet skis buzz Kirra, a few violate the rules.
Online commenters are outraged and threaten action, but no-one makes an official complaint.
Swell dies down.
No infringements are issued and everyone forgets.
The routine is well worn. It's easier to predict than cyclone surf!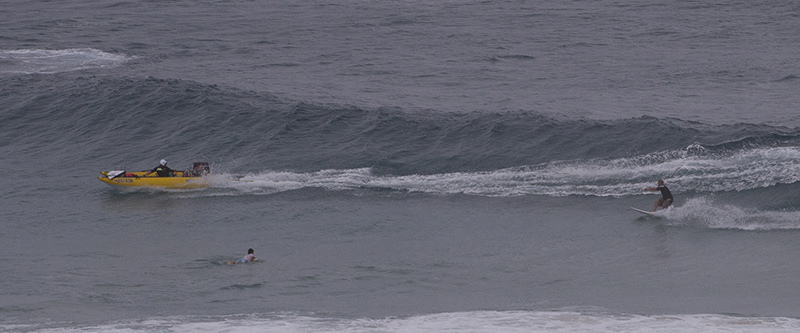 However, it's not just the repetition that's noticeable. What's also clear is that there's a lot of misinformation in the Queensland surfing community regarding PWC laws. And so a quick lesson is in order:
In 2010 Maritime Safety Queensland (MSQ), Gold Coast City Council, and Surfing Queensland got together to draft a Tow-in Surfing Code of Conduct.
The Code - which shows a person towing a four foot wave on the cover - outlines various rules for operating a PWC but most pertinent is what happens when the Gold Coast beaches are closed due to heavy surf. When the beaches are open PWCs aren't allowed within 400m of shore, but once they're closed PWCs are legally allowed into the near shore zone.
Despite the beaches being closed, this rules still applies: PWCs cannot exceed 6 knots while within 60 metres of a surfer or swimmer.
6 knots equates to 11km/h which is average jogging speed. It's exceeded almost every time a surfer is towed in or steps off. By comparison, a six foot wave breaking in shallow water moves towards shore at roughly 25 - 35km/h.
Up at Currumbin, tow surfing is allowed only if no paddle surfers are in the water. To put it another way, when a surfer paddles out at Currumbin all towing must stop.
If you witness a violation of the above either first-hand or on video it needs to be reported within 48 hours of the incident occurring, unless there is a reasonable excuse.
Phone (07) 5585 1810 for the MSQ Southport Office. Or get their details online.
When Swellnet called earlier today, the MSQ spokesman said their job was "to educate first and hand out infringements second." He also admitted they sometimes struggled with the educating bit. Why not make it easier for them?
While the Code legislates PWC use it says nothing about surfing ettiquette. For instance, should paddle surfers get right of way over surfers stepping off skis? Everyone knows the answer to that but you won't find it written anywhere. Some things we need to sort out ourselves.