Remembering Tyson Williams - interview and video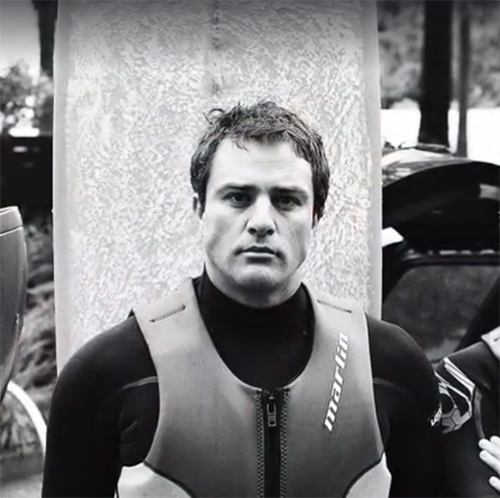 Throughout the 90s he was the kid on the side of the Milo tin. Sitting atop a BMX, standing on a surfboard, laying on a bodyboard, Tyson Williams got the gig 'cos he could do it all. Competitively he followed the bodyboard circuit but he remained equally committed to stand up surfing and chased big waves all around the world.
Last week Tyson Williams took his own life, aged 36. His death shook up a lot of people, as expected of someone who'd travelled and made friends everywhere he went. In the wake of the news a common refrain was seen on social media: Why? He seemed to have it all: looks, success, charm, talent.
Tyson's younger brother Cooper spoke to Swellnet about the life they shared and the demons that never ever let up.
Looking up
He bodyboarded and surfed so I bodyboarded and surfed. I was five years younger so I followed him...that's what younger brothers do! He went on the bodyboard pro tour so I did the Australian tour and tried to make the world tour too, but I wasn't as good as him. Tys could do anything.
Doing it all
He was one of the first to crossover surfing and bodyboarding, and he was really good at both. He could do anything really: BMX, swimming, surfing, anything he wanted to do he was good at. A freak.
Teahupoo
There's been a lot of recent footage of Tyson from Teahupoo, but I can remember him attacking it years ago. I remember he was in a bodyboard magazine on a wave that was soooo big...he got this thing that was ridiculous and it shocked everyone.
He always had something going on out there on that reef. He's always been a madman. Afterwards we'd have these chats about fear, like. "How is it you go these ridiculously scary waves? What does it take to turn and go 'cause I get scared just watching you."
He'd just laugh and say "We're just different Coop."
Deadmans
We had a few sessions out there but one comes straight to mind. He made me come out with him and I was so scared. I said it was 15' and Tys agreed with me so it must have been 15'. He only got one wave and I watched the whole time, and then he told me he was completely satisfied with that simply because of how crazy and big it was and how close we were to it.
We've shared great waves all around the world. We shared a lot of good surfs. He always took me under his wing, took me to a lot of secret spots.
The Black Dog
We knew he was depressed, all his family and friends. I'd always been open about that but tried not to tell too many people just because he was kind of embarrassed about it. He didn't ever want people doing things for him. Tys could always do it, he didn't want to put people out. He could handle it.
It's really difficult to know what to do and how to do it. I wasn't really sure. I always tried to get him to open up to me and tell me whatever he needed to but it was difficult for him to do that as an older brother. He was protective of me, even if not himself.
Family life
Our father was an intense and manipulative human. Basically when you look at drug dealers, the world they're involved in....that was our Dad's world and he brought that home. He was a gnarly guy that no-one would fuck with and a lot of people were scared of.
Tyson had seen things that people shouldn't see. We'd cry ourselves to sleep not knowing what was going to happen to us.
...and the damage done
Psychologists worked out that Tys had this depression since he was about five. They called it post-traumatic stress and figured it was because of our upbringing .
R U OK?
He saw so many psychologists, he did so many things. And that's the really hard part, its not like he was stubborn and didn't want professional help. He just didn't want to burden other people. We knew but he tried to hide it from a lot of people. That makes it difficult: we wanted everyone to know so they could help, but we also didnt want to betray Tys because he didn't want everyone to know.
Strength
He fought for 31 years. He fought it every single day. He's the strongest human I know.
The ripples
I spinout when I hear about people around the world who say they went heli-skiiing with Tys, hiking, wakeboarding, or surfing. He was such a large character, a talented freak: good at bodyboarding, good at surfing, good at golf, good at canoeing, and a really, really good person, you know. He touched so many people around the world.

Video edit by Tim Bonython