Extraordinary Boards - Mark Richards 1980 twin fin
This is the first of an ongoing series which will largely showcase boards held at the Australian National Surfing Museum in Torquay.
In 1980 Mark Richards won his second world title. He'd go on to win two more, giving him four consecutive titles, a feat that wouldn't be surpassed for many years. And though MR won all his titles on twin fins, the boards he rode through the back half of 1980 represent the pinnacle of twin fin design. They were also among the last blast of innovation before Simon Anderson threw three fins to the wind and the surfing world adopted the Thrsuter en masse.
In 1980 there were ten contests on the world tour, four of them in Australia. The Aussie leg opened the tour and when it was over Mark Richards was easily leading the ratings. MR came third third at the Straight Talk Tyres contest at Cronulla, bagged first place at Bells, took another third at the Stubbies, plus a fifth at the Coke Surfabout.
In May MR went into his bay and shaped two boards to take with him on the rest of the tour. No typo. Two boards, hand shaped, for the whole tour - bar Hawaii of course. This board is one of those two. It's 6'4" x 19½" x 2 ½" and MR stretched the surfer/shaper tag to a vigorous new length: he shaped the board, glassed it, polished it, and then he did the finish coat too.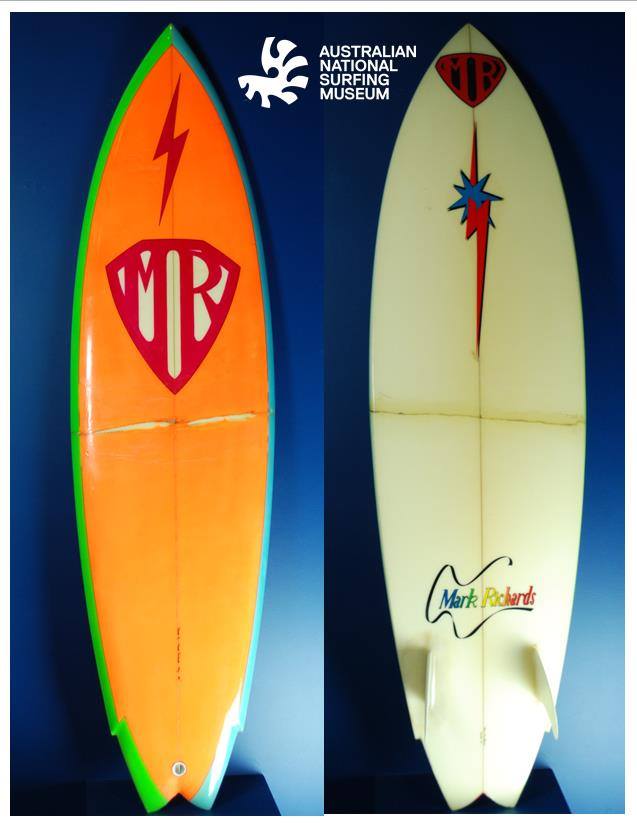 "The design evolutions of the twin fins from 1978 onwards were very slight changes to an already proven design," says MR of this board. "By 1980 I was reducing the nose area and adding extra width and curve in the tail. One inch out of the nose and an extra half inch of width in the tail compared to the '78 resulting in a much cleaner, sweeter outline curve. Thickness was being reduced and there was a definite increase in bottom rocker with slightly more nose lift and increased tail lift."
"The combination of these changes resulted in improved performance, a much livelier feel and quicker rail to rail transitions." With the slightly pulled swallow tail, flyers with flutes, tucked under rail, and V bottom through the rear, it'd become the template for the 'classic' twin fin.
In 1979 Mark Richards opted out of the South African leg of the tour, a move driven less by politics than flagging personal motivation, with Paul Holmes from Tracks noting MR was "temporarily burned out on the contest scene". It says much for MR's dominance that he could have a mid-year hiatus and still win the world title, which he did when the tour moved to Hawaii in late '79.
But back to 1980. MR had a world title on the mantelpiece, was a runaway ratings leader, and had just shaped two of the best boards of his career. He flew to South Africa in career best form.
The Gunston 500 was held in early July and MR again came first beating Hans Hedeman in the final. MR backed up that win with another at the Hang Ten International, this time beating Cheyne Horan (incidentally the Hang Ten was where Derek Hynd lost his eye when his legrope recoiled).
While in South Africa MR teamed up with Rabbit and Cheyne for a South African Surfing Association teams event which they won, putting MR on an invincible streak through South Africa.
"I look back on that month in South Africa as possibly the pinnacle of my competitive performance," says MR. "I had such confidence because of how well the board was handling that I felt like I couldn't lose a heat!"
With a commanding lead, MR skipped Brazil and headed to Hawaii for the final two contests, the Pipeline Masters which he won, and the World Cup where he came second. He'd won the world title, his second in a row, convincingly. In 1979 he'd won by just 160 points, yet the difference in 1980 was over 2,000 points.
1980 was the height of surfing's innovation period. The years between 1978 and 1982 have been called surfing's second transition period, when boards went from singles to twins to thrusters. Yet innovation wasn't just limited to design, surfers also experimented with materials and construction to gain that added edge. Says MR: "By this stage I was also experimenting with combinations of 4 and 6 ounce glass, instead of all 6 ounce, so the boards were coming out a lot lighter."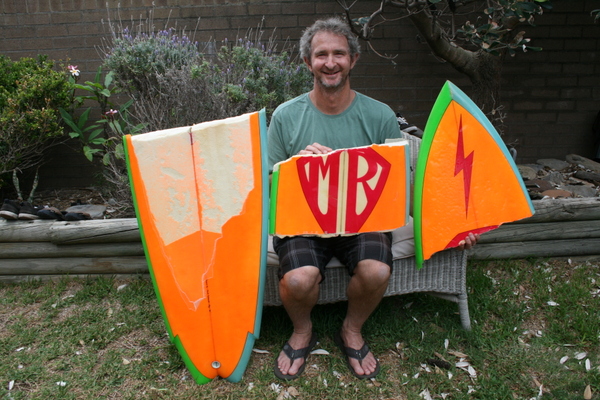 The results of this were telling. Both of the May 1980 twins were snapped: the board above during a session at Merewether, while the other board, the one that MR considers his real magic board, was broken into three pieces, something he'd never seen happen before (see image at left).
The colour scheme on MR's 1980 twins captured the cultural moment. Surfers were shucking off the earthy tones of the Country Soul period, favouring the flurorescent colours of New Wave. A change that's inseperable from the birth of professionalism and its concomitant values of being noticed.
"Whether deliberate or accidental, this board represents really intelligent use of colour in the competitive environment," says Craig Baird, the curator of the Australian National Surfing Museum. "If you look at the board, each rail, the bottom and the deck are all different colours. You get a flash of colour which changes as the board is turned. MR was a conspicuously colourful competitive presence in an age when talking yourself up was seen as uncool. Thing was, he had the ability to back up all that colour with outstanding performance in the surf."
According to MR, 1980 was the pinnacle of twin fin design. "In the evolution of a board design, there are high points, where you feel that you have it as good as it ever will be. Even though I feel that I designed some great twin fins after 1980, if I was asked to choose one twin fin to be stranded on a tropical island with perfect surf, I would take a 1980."
Unbeknownst to MR, significant design changes were afoot. The second place getter at the Pipeline Masters was Simon Anderson who just two months earlier, in October 1980, had his first surf on a Thruster and would soon prove its merit by riding it in competition.
But that's another board for another time....
Postscript: MR rode this board in Storm Riders. The section features MR surfing Merewether in his silver and orange wetsuit. It also shows the wave that snapped the board.
This board and many others equally as important are exhibited at the Australian National Surf Museum.