"You always say it won't happen to me": Victorian shark attack victim speaks
Thursday, 30 July 2015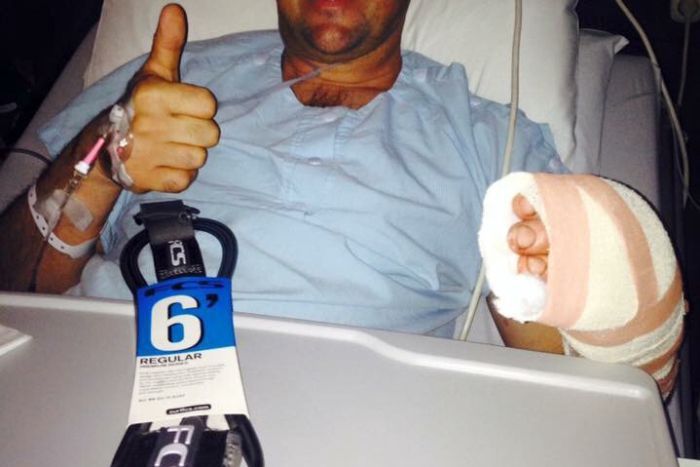 A Portland surfer attacked by what is believed to be a bronze whaler last week hopes other surfers can learn from his experience.
Kane Brough was surfing by himself at Tyrendarra near Portland late on Thursday when the attack happened. The shark came up behind him, Kane felt a bite and heard a splash. He remembers thinking - hoping - that it was a seal.
As Kane told the ABC: "It put a bite in my wetsuit on my left-hand thigh, and basically from there it just kept coming back on each side.
"Every time I saw its head or it was up near me I tried to punch it as hard as I could." When the similarities to the Mick Fanning incident, which happened just four days prior, are brought to his attention Kane gives a wry laugh. Both surfers know they were extremely lucky.
Kane managed to break free from the shark and paddled straight for the beach. The rest of the ordeal reads like one of those 'Only in Australia' stories so popular on social media. After surviving the shark attack Kane drove himself 20 kilometres to the Portland District Hospital before undergoing surgery at the Warrnambool Base Hospital for a tendon injury to his hand.
Since the injury Kane has turned down numerous requests from the mainstream media to speak about the incident, but the thought of not saying anything doesn't sit well with him. "I'd like other surfers to be made aware," says Kane.
"You hear about these things [shark attacks] all the time but you always say it won't happen to me."
"I was surfing late," says Kane. "It was almost 5:30 pm, dark, and I was surfing alone. We think we're invincible, but surfers should think twice about surfing early or late and surfing alone." In short, start taking commonsense measures.
And should those measures fail then note the similarity between Kane and Mick's reaction; both surfers fought back, hard.
Two days after Kane's attack a scallop diver was killed by a great white shark on Tasmania's east coast. "It made me realise just how lucky I am," says Kane.
Ultimately, everyone is reponsible for themselves, where they surf and when, but while he recovers from his injuries Kane's message to all surfers is simple: "Take care and be very aware."