Friday, 8 May 2020
A weekend of two halves
Victoria Forecast by Craig Brokensha (issued Friday 8th May)
Best Days: Sunday protected spots, Monday Surf Coast, Wednesday morning Surf Coast
Recap
Our new and tricky pulse of SW groundswell yesterday morning came in across the Victorian coast just on forecast regarding peak expected wave heights, but it was very inconsistent and windy, making it not the most ideal swells. Infrequent 2-3ft waves were seen on the Surf Coast magnets, 4ft to occasionally 5ft to the east before easing through the day.
This morning the swell is gone and smaller W'ly swell is keeping the Surf Coast around 1ft to occasionally 2ft, 3ft or so to the east under N/NW winds.
This weekend and next week (May 9 - 17)
The weekend will be one of two halves.. as they generally are in any case.
Tomorrow looks small and average with the swell again being west and small, biggest across the Mornington Peninsula but poor with fresh W/NW shifting W-W/SW winds. The Surf Coast will struggle at 1-2ft tomorrow morning, though a front pushing into us through the afternoon will likely bring a late increase in short-range swell to 2ft or so.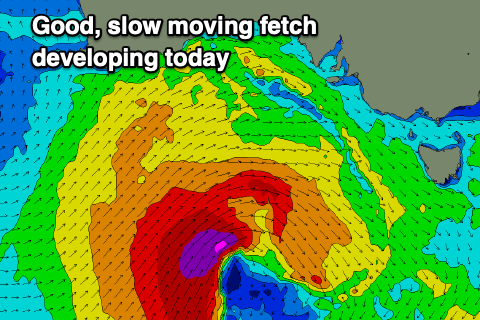 Sunday looks much better with our new SW groundswell on track to deliver a good kick in size across all locations.
The low linked to this swell has formed south of WA, and a fetch of W/SW gales will be followed up by much better aligned fetch of gale to severe-gale SW winds wrapping around the core of the slow moving low today. This will be through our south-western swell window with the low due to slowly weaken through tomorrow morning while dipping south-east.
The slow movement of the low and wind speeds should generate a moderate sized SW groundswell that's due to peak Sunday morning but hold most of the day. There's been a slight upgrade in size with the Surf Coast magnets now due to see 4-5ft sets, 6ft to occasionally 8ft to the east, easing slightly through the day.
Monday will then be smaller and fading from 3ft and 4-5ft respectively. Local winds will be best for protected spots on Sunday with a morning W/NW breeze, shifting W/SW later morning though remaining workable into the afternoon. Monday looks clean all day on the Surf Coast with a moderate NW breeze, easing into the afternoon.
A low point in swell is expected Tuesday morning ahead of a late increase in new W/SW swells, peaking Wednesday. Fresher N/NW winds will unfortunately create bumpy conditions on the Mornington Peninsula beaches Tuesday though, clean but small on the Surf Coast.
The source of this new W/SW swell will be frontal progression firing up west-southwest of WA on the weekend, projecting a fetch of W/SW gales through our medium-range swell window. The front will weaken when pushing under WA resulting in a small to moderate sized and inconsistent W/SW groundswell for Wednesday.
The Surf Coast will be slow but around 3ft on the sets, 4-5ft+ to the east and a surface trough moving in from the west looks to bring a S'ly change, though preceded by W/NW winds in the morning. Thursday looks average as the swell eases with S/SE breezes, but we'll have a closer look at this Monday.
Longer term there's nothing too significant on the cards for the rest of the week as a high moves in behind Wednesday's change, but into the weekend and beyond, it looks like we'll see the Southern Ocean becoming active south-west of WA. More on this Monday, have a great weekend!