Behind the Shot - Leroy Bellet
What makes a great surfing photo? It's a question that I spent a good chunk of the weekend musing over, motivated by curiousity, confusion, and a fair whack of frustration.
Frustration, you see, because on Saturday morning I ran this photo of Ben Serrano on the NSW South Coast taken by Leroy Bellet.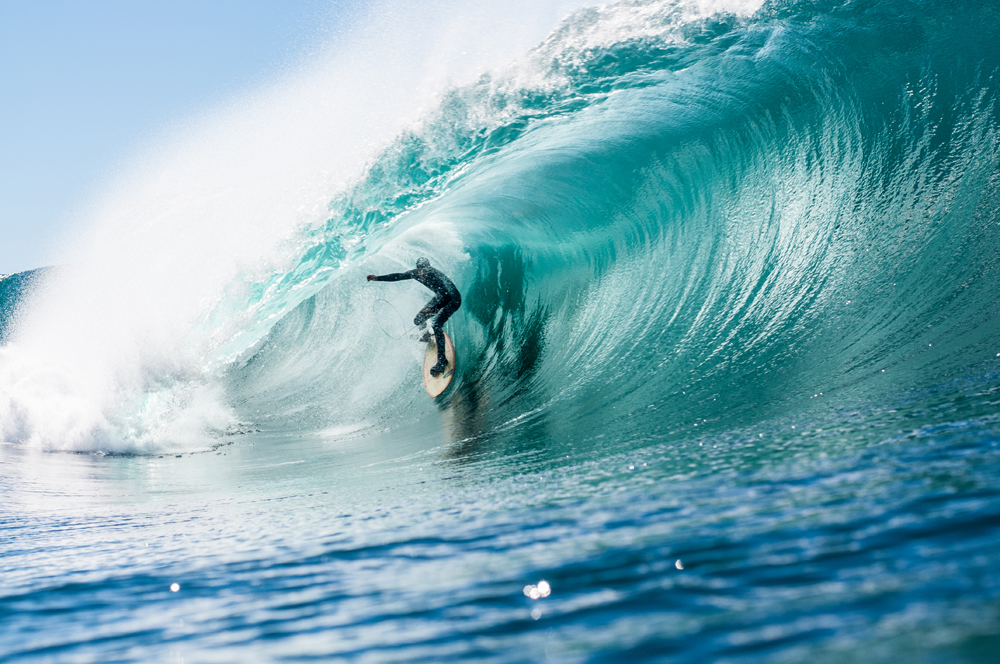 I remember my first reaction to it: A subtle breathe hold and corresponding straightening of the back. Primeval reflexes of a surfer facing an overwhelming situation. Collecting myself I then took Ben's point-of-view, picturing the moments that led to his incredible positioning and the vision he'd have right when the photo was taken. Hard to imagine when I hadn't been there myself, but imagine I tried. And in that moment, underscored by that inner journey, I judged this a great surfing photo.
So I ran the photo as Saturday's Wave of the Day and placed it on Swellnet's Facebook page. To my bewilderment the photo was met with a collective "meh" by Swellnet's FB audience. In fact, it rated no better than an average WOTD. Admittedly social media ain't the best barometer for matters of quality, but nevertheless the reaction got me wondering: just what makes a good surfing photo?
Notice here I've specified 'surfing photo' not 'surf photo', the difference being I see many amazing images of waves sans-surfer. Go check the Facebook feeds of Ray Collins, Warren Keelan, Willem Ungerman and others to see the modern interpretation of breaking water. But a surfing photo must include a surfer, and for mine that surfer must be at or near a peak moment - just like old Benny Serrano here.
If were looking for technical faults then the photo is a little bright, the curse of shooting lefts on the East Coast. Also, and importanly from a photo editor's perspective, Ben's face and eyes aren't visible. There's also the matter of Ben's back foot, a clear indicator that this death or glory barrel ride will take him closer to the former than the latter. Is that the reason for its cold reception?
But enough of my philosophical meanderings; it's a question of art which makes an answer inexhaustible. Or at least too long for this here 500 word article...
When I contacted Leroy Bellet he provided a bit of backstory to the photo. It was the second day of a solid east swell and his little stretch of coastline was crawling with crew, both stand up and prone. The morning session was crowded but the variables weren't coming together: the waves were pinching or bending off the reef. He wondered if the decision to ditch school was a good one. When the tide began to drop - "the shelf was starting to stick out of the water on the end bowl" said Leroy - the crowd scattered. But having an obligation-free day is a wonderful thing - where do you have to be? On a hunch he hung around and dived in for another try. I'll allow Leroy to pick up the story...
"Sure enough a few bigger solid ones started to come through and the winds went dead, Scott 'Whip' Dennis managed to take a couple of real deep ones on the tow, which was impressive to watch. Right at the end just before I went back in, Benny took the rope and scored this thing. It was his only wave."
"He got into it no problems. He was really early, just really deep. It went wrong when he hit a bump mid-face and lost his balance. But he still didn't grab rail, he committed to that thing like a BASE jumper. His back foot slipped right off, front foot was still in a tow strap. The board nosedived and he made a final leap, somehow running two steps through the barrel before faceplanting and going through the motions."
After we discussed Benny's beating I asked Leroy how he judges a great surfing photo. What's his personal criteria? "I have one way of judging it: if it makes me hold my breath by instinct, it's passed."
Perhaps the answer is simpler than I thought. //STU NETTLE
Here's Ben getting into the wave: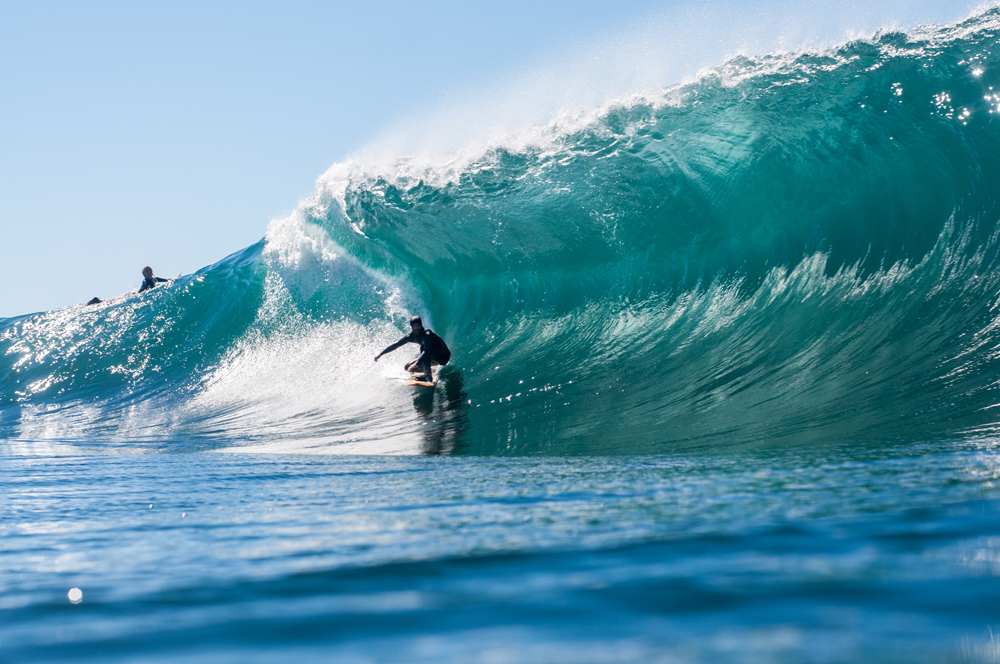 And the result: