The Black Nor'easter: a historical study
Friday, 3 June 2016
The synoptic setup forecast to develop in the Tasman Sea this weekend has weather watchers agog. The configuration isn't overly rare, however it's the magnitude of this system – the size of the air masses and the pressure gradient between them – that sets it apart from similar events.
Technically, this type of system is referred to as an anticyclone intensification, and this particular one will result in a sharp jump in wave heights from the east-northeast for the East Coast. To get some further information on the setup Swellnet spoke to Associate Professor Ian Goodwin of the Marine Climate Risk Group at Macquarie University. Goodwin, a surfer from Sydney's northern beaches, worked on these notes with Tom Mortlock and Stu Browning:
This type of anticyclonic intensification produces a strong north-east windfield and east-north east storm waves over the western Tasman Sea. On average they occur about two days a year. The north-east windfield directing warm moist tropical air to the subtropics and mid-latitudes can combine with an upper level cut off low from the Southern Ocean.
The composite sea level pressure pattern for all east-northeast anticyclone intensification events over the past 30 years is below.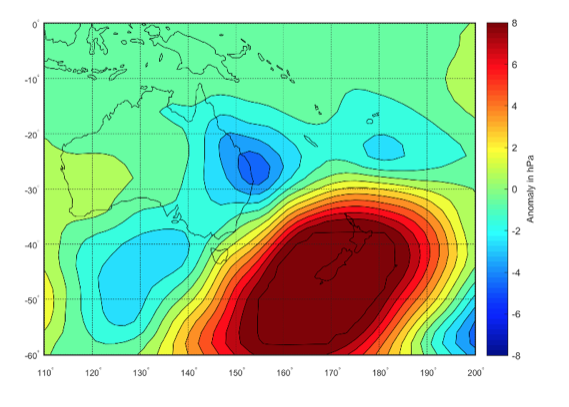 The forecast pattern is most similar to the event of 23 April to 1st May 1989. In that instance the Easterly Trough Low (ETL) formed in the easterly airstream over the Coral Sea and northern Tasman Sea, and was associated with a strong subtropical anticyclone centred on Tasmania and the southern Tasman Sea (see images below).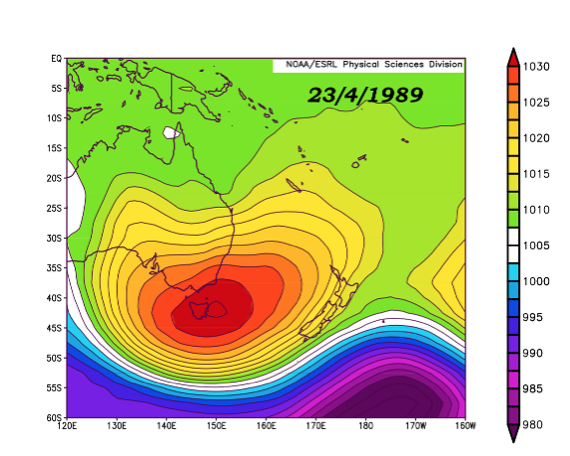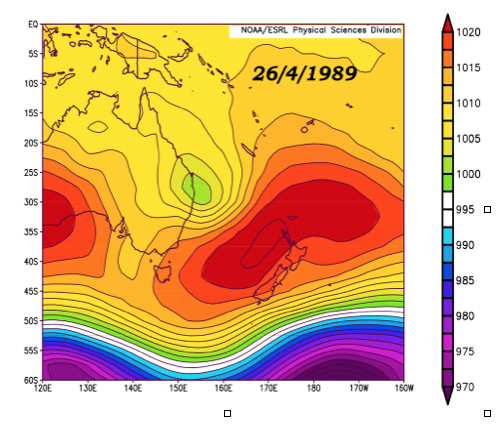 The peak storm wave conditions were observed at Brisbane, reaching wave heights (Hsig) of 6.11 metres and period (Tp) of 9.1 seconds. The duration of the storm wave conditions was 156 hours.
Peak storm wave conditions with wave heights (Hsig) of 5.87 m, 5.64 m, and 5.32 m were observed from the ETL on the 26th April at Byron Bay, Coffs Harbour and Crowdy Head, respectively.
As the ETL tracked south on the 27th and 28th April peak storm wave conditions with wave heights (Hsig) of 4.38 m, 3.72 m, and 3.83 m were observed at Sydney, Port Kembla and Eden, respectively.
Storm damage and coastal erosion from gale-to-storm force winds and high waves was recorded along the northern NSW and southeast Queensland coast. The north-facing coasts, called the southern hooks, of the coastline were most exposed and locations such as Byron Bay experienced severe coastal erosion.
Historically, this type of pattern is referred to as a 'Black Nor'easter' and was first recorded during the 1800s. It's possible that a Black Nor'easter was responsible for the grounding of the SS Wollongbar at Byron Bay on the 14th May 1921 when strong north-east gale force winds blew up. See sea level pressure field below.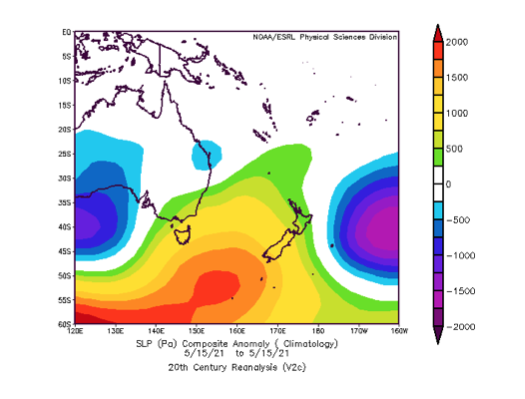 - Thanks to Associate Professor Ian Goodwin, Tom Mortlock, and Stu Browning of the Marine Climate Risk Group at Macquarie University.