Incoming swell for Indo: largest of the season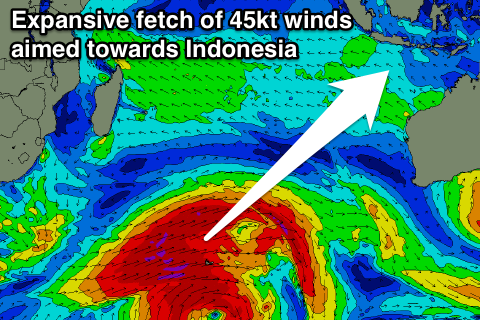 At the end of this month the largest swell of the year thus far will hit Indonesia. It's impact will be felt the length of the archipelago from Aceh to Rote Island, and even Australia's west and south coasts all the way to Tasmania, will receive swell. It is, by any standard, a huge system.
Last year Indonesia had a banner season with a consistent run of large swells making landfall. In contrast, this year is best described as 'fun' with plenty of moderate sized swells under favourable winds.
This swell will break the pattern and it's all linked to our good friend the Long Wave Trough (LWT).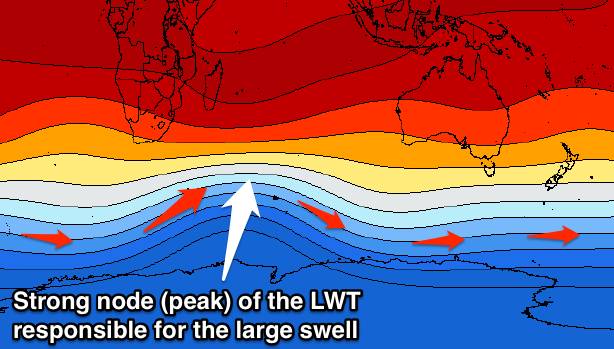 A strong node (peak) of the LWT is forecast to move into the south-western Indian Ocean from Sunday. What this effectively does is strengthen and steer polar frontal systems up along a similar track to where the node is positioned. And this, fortunately, is plum centre for Indonesia's prime swell window.
This is what the weather models are currently forecasting, with an initial burst of storm-force winds setting in motion an active sea state for a much broader and elongated fetch of severe-gale to move over.
The fetch will span over 2,000 kilometres and be slow moving, resulting in a large, long-period SW groundswell for Eastern Indonesia (The direction will be more S/SW in Western Indonesia).
There'll be several embedded pulses within this large swell event, but a peak is due over the weekend of the 27/28th of June, more so Sunday to the 10-12ft range with 15ft bombs at exposed breaks.
The large swell period will likely focus the swell into selected regions, and away from others, but where these areas lie is still an area for further research.
We'll continue to monitor this storm as it evolves and provide any changes to the size and timing in the comments below. //CRAIG BROKENSHA
Uluwatu Forecast Graph
Uluwatu WAMs
Mentawai Forecast Graph
Mentawai WAMs