Australia Day long weekend forecast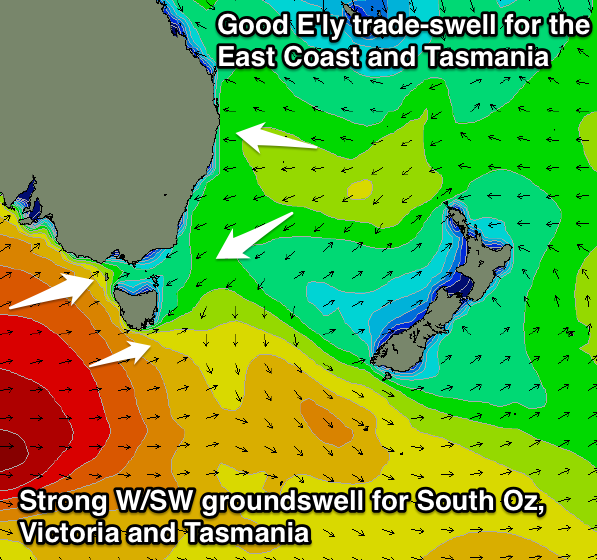 The Australia Day long weekend is fast approaching and for most this means a whole weekend based around the beach and surf. So how's the forecast shaping up for your region?
In short every surfable coast is expected to see good waves this weekend with strong groundswells across the southern states and fun levels of easterly trade-swell across the East Coast.
Queensland and Northern NSW:
A sizey trade-swell is due to develop into the second half of this week and the weekend as a tropical depression in the Coral Sea squeezes against a strong high sitting in the Tasman Sea. A broad and strong fetch of E'ly trades will persist through the end of this week before slowly weakening and being directed more towards Southern NSW over the weekend. This should result in the swell being biggest Saturday morning, coming in at 3-5ft before easing a touch but not dropping below 3ft to occasionally 4ft Sunday and Monday.
Conditions look excellent each morning with light local offshore winds before onshore sea breezes develop each afternoon (a stronger south-southeast change is on the cards for Monday afternoon).
Sydney and surrounds:
The Sydney region should see the trade-swell impacting the Northern NSW coast, filter down from the E/NE Friday afternoon, pulsing at various stages through Saturday ahead of a final pulse Monday.
Open beaches should offer 3-4ft waves through the whole weekend, ebbing and pulsing at times. Expect a touch less size across the Hunter region Saturday before the swell straightens more out of the E as the weekend progresses.
Conditions both Saturday and Sunday mornings are looking good with variable tending light offshore winds expected, while a gusty southerly change Monday will limit the best conditions to southern corners.
Victoria:
Moving to the southern states, and for the second weekend in a row, Victoria should see great waves across various coasts.
A couple of vigorous cold fronts will fire up under the influence of the Long Wave Trough, delivering a medium-large sized W/SW groundswell for Saturday followed by secondary pulses through Sunday and Monday.
The Surf Coast should come in at 3-5ft Saturday with 6-8ft sets on the Mornington Peninsula, dropping back a touch into Sunday but steadying through Monday.
Winds are a little dicey Saturday and likely to be light from the east ahead of south-east sea breezes, but Sunday looks great on the Surf Coast with a fresh north-west offshore ahead of a late afternoon south-west change. Monday only looks to offer a short window of workable waves around Torquay with an early westerly breeze, while everywhere else will be poor with an onshore south-west wind.
South Australia:
The same frontal progression generating Victoria's swell should also generate strong SW and S/SW groundswells for South Australia Saturday through Monday respectively. Conditions will be a bit of an issued though with Saturday morning being the cleanest with a morning west-northwest breeze before a south-west change moves through.
Sunday may see an early westerly breeze around Victor Harbor favouring Chiton Rocks and Middleton before a stronger onshore change pushes through before lunch. Monday will be poor with onshore winds all day across the South Coast, although the Mid Coast will be clean and fun, easing from the 1-2ft range.
Western Australia:
The frontal systems firing up towards South Australia and Victoria will only form late in West Oz's swell window resulting in a reduced swell potential and from a less favourable S/SW direction.
Winds are also looking a little dicey on Saturday morning when the surf will be largest (4-6ft South West, 1-2ft Perth, 3-4ft Gero) with S/SE breezes due across most locations through the morning, besides Perth which should offer a SE breeze.
Sunday and Monday look much better for exposed breaks open to the swell with morning offshore E/SE breezes as the swell slowly drops away, becoming small into Monday.
Tasmania:
Both the South Arm and East Coast are expected to offer good waves over the weekend. The South Arm will see the strong W/SW groundswell impacting Vicco pushing in at the same time but from an even more acute westerly direction. Clifton should see 3ft sets Saturday and Sunday morning with favourable winds each morning, while Monday looks poor with a fresh to strong onshore wind and building windswell.
The East Coast should see the trade-swell from the Tasman Sea arriving from the NE Saturday, coming in at 3ft to occasionally 4ft across north-east facing beaches before easing back a touch through Sunday afternoon. Another longer-range and smaller pulse is due Monday afternoon, mixed in with building levels of southerly swell, both building to 3ft on the sets after lunch. Southern corners will be cleanest though with fresh but easing south-westerly breezes. //CRAIG BROKENSHA