Making plastic sexy and other green schemes
Wednesday, 24 August 2016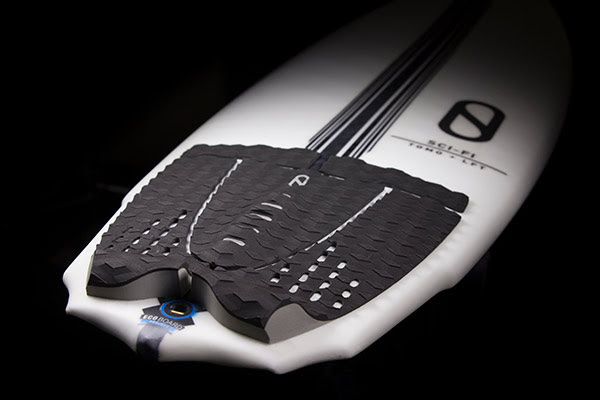 Last week Kelly Slater announced yet another distraction to his world title campaign. These diversions are becoming a regular occurrence, he invests in electric vehicles one month, partners with a furniture company the next. There are plenty more examples and that's without mentioning his big ticket distractions – the wavepool and fashion label.
The most recent was a partnership with Bloom Foam to make traction pads out of algae. We heard about this a while ago, Slater mentioned it at Surf Expo back in January, and the product appears as good as the promise.
Using their own evocative words, Bloom collect "pond scum" which undergoes "drying and pulverising before extruding the material" to create the pad. We'll skip the bit about their traction pads "rebalancing the natural ecology" but give them kudos because the product, if not the message, is on point.
Kelly himself describes the thought process behind the algae pads, "This is in line with a consistent theme for us, developing quality products in friendlier forms."
With this in mind Swellnet went searching for other environmentally amiable surfing products.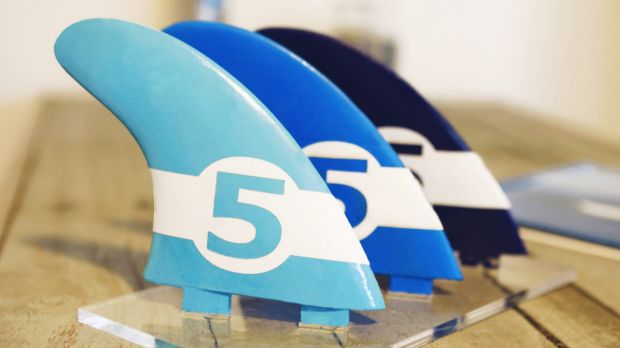 First up are Five Oceans who make the ecoFin out of Byron Bay. ecoFin - not a grammatical error they spell it lower case 'e' to deliberately frustrate editors - are surfboard fins recycled from plastic washed up on Bali's beaches. Started by Felix Wunner and Luise Grossmann, Five Oceans swing both ends of the stick: they're as concerned with cleaning up rubbish as they are with the products they create.
Felix and Luise got their start via crowdfunding - kickstarted to the tune of $37,000 – with the donors receiving their fins this month. Five Oceans are big on choice; the ecoFin comes with Futures or FCS compatibility, in three different colours, but you'll have to cop the big 5 branding. Environmentalism, you see, always comes at a cost. The fins weigh a purported 15% less than comparable models and you can buy them here.
In 2008 Patagonia embarked on a project to replace neoprene in their wetsuits with natural Yulex rubber. Yulex is a plant-based biorubber derived from the Guayule tree. When asked early last year John Hubbard of Patagonia told Swellnet, "It's hard to say how far off a 100% version is, but knowing how far we've come to get to this point it's definitely possible."
Patagonia reached that point late last year, their new wetsuit line features six steamers made without neoprene. They plan to do away with neoprene altogether by the end of 2017.
Despite this the majority of wetsuits are still made of neoprene which is a petrol derivative. And while neoprene can be recycled there's no market, at least here in Australia, for recycled neoprene products. In the US a company called Suga collect old wetsuits and turn them into yoga mats. Customers who drop off a wetsuit are eligible for 10% off their next Suga purchase.
Many years ago Rip Curl had a similar recycling program turning old wetsuits into shoes. That program ended due to a literal lack of resources - we threw our old wetties in the bin rather than recycle them. Or we turned them into stubbie holders.
Most bigger surfwear companies have had a shot at making boardshorts out of plastic bottles. A few years back the idea was sullied when it was discovered a certain company made theirs, not from recycled plastic bottles, as in the type you find in kerbside waste, but new bottles. The bottles were made, then 'recycled' into boardshorts without ever being filled with water or soft drink. Crafty language helped their cause.
These days a swag of companies make boardshorts from post-consumer recycled plastic – no scary quotation marks necessary. And the strategy appears as much to do with economics as marketing. As Nev Hyman recently told Swellnet, "Plastic isn't a waste, it's a resource. But you've gotta turn it into something that's really sexy for people to be bothered collecting the waste and recycling it."
Pretty sure the good folk at Quiksilver, O'Neill, and Volcom would consider their recycled boardshorts sexier than Nev's big brown plastic house. And Kelly Slater too, his boardshorts are so sexy he makes them out of fishnets.
Curiously, the equipment that's undergone the least amount of progression is that which is most prevalent - the surfboard. Shapers such as Stuart D'Arcy and Gary McNeill put their mind to limiting waste and materials, yet it's the materials themselves that play the bogeyman. Very few are developed from "friendlier forms".
In the US, Entropy Resin manfacture plant-based resins and Marko Foam make recyclable non-toxic EPS foam blanks. Neither sell here in Australia. Therefore the choice, if you're so inclined, is to buy from the shapers who minimise waste or those who commit to the Ecoboard Project, a system similar to Organic-approved food. Get the tick and buy with pride.
Unsurprisingly, Slater Designs is one of the companies signed up with Ecoboard approval.