Is it time to rethink the rules of surfing?
Friday, 8 April 2016
A month ago an article appeared on Swellnet written by blindboy lamenting the reality that many breaks are crowded to overcrowded and this is likely to get worse in the future. While the article ended in (another) dig at the commercialisation of surfing as being a root cause of the rising popularity of surfing, which I think is a fairly shallow cause and effect argument, the issues raised in the article are nevertheless important to a great many surfers and our enjoyment of waves.
Despite the age of the 'hypercrowd', the reality is that most Gold Coast surfers (where I have the most reliable survey data for) continue to surf because it is cathartic, fun, active and allows surfers to appreciate nature. Sport is important, competition less so. These are incredibly powerful and attractive forces that drive people to surfing, and I think it's reasonable to argue that even if this thing that we call the surf industry fell over tomorrow, the overall number of surfers and the number of surfing sessions would continue to rise. This is certainly not an original idea.
But to drive to the heart of blindboy's argument, I think Glenn Hening (co-founder of Surfrider Foundation) summed it up best when he wrote that "surfers get sick of each other more than they get sick from pollution". And Hening is right. My survey data suggests that isues such as aggression in the line-up, petty vandalism (e.g. car being broken into) and access are just about as likely to keep someone out of the water as the risk of contracting gastro, an ear infection or a skin rash.

The crowd at Snapper Rocks (photo Shayne Nienaber)
So, what are the strategies for managing the carrying capacity of popular surfbreaks? Well in simple terms you either increase supply or manage demand – or of course do nothing. From a supply and demand perspective, there are three main strategies available – regulation, education and modification of the resource. Let's look at each of these in turn.
Regulation involves managing the demand for waves. A number of options exist, including but not limited to:
Restrict users through strategies such as payments, restricted access or parking, craft registration, restricted time in the water, zoning that requires surfers to give way to motorised craft.
Modify user behaviour using legislation such as requiring proficiency to surf particular areas or policing a surf break on jetskis.
Community title restricts unlimited access (e.g. Tavarua).
Declaration of reserves (while no 'surfing reserves' restrict access, the existence of council bathing reserves, gives municipalities the right to exclude some users – e.g. restricted access for recreational surfers during competitions).
Education and advocacy involves using informal management tools to change the behaviour of surfers and alter the demand for waves. Examples include:
Codes of ethics such as rules e.g. don't drop in etc.
Education strategies run by surf schools to encourage surfers to choose waves equal to their ability.
Surf rage, aggression, intimidation.
Lore / local rules e.g. longstanding cultural norms about the type of craft ridden at certain breaks.
Changing gender balance at a number of breaks often leads to an easing of tensions in the water.
Modification of the resource base involves changing the form of the resource to improve (but let's face it to also reduce) access, frequency and/or quality of waves. Examples include:
Construction of hard coastal protection infrastructure e.g. groynes, seawalls, artificial reefs.
Soft infrastructure measures such as sand bypass systems, beach and nearshore sandbar grooming, beach nourishment campaigns.
Changes to water quality (good or bad) may encourage more or less surfing at a location. This may be about the quality of the water itself or that we may not be comfortable sharing the water if the threat of shark presence is increased.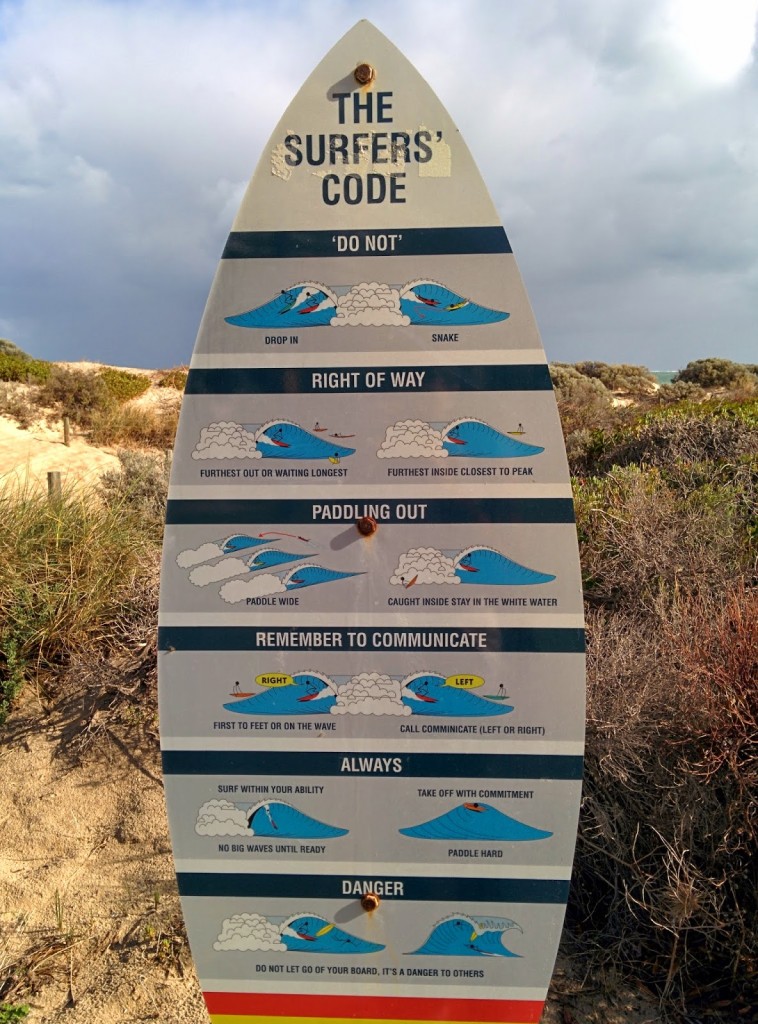 I want to dive into a discussion on Surfing Rules for a moment. They are for the most part informally sanctioned by the majority of surfers, even though there is no basis in legislation for them. But in particular, let's look at one of the fundamental aspects of the 'code' – that of one surfer per wave. I guess it fortified around the time board technology made it possible and more enjoyable for only one surfer at a time (in most cases) to sit in the sweet spot of a wave. To get maximum enjoyment a shortboarder is limited to riding the pocket of the wave to maintain the speed and power they need. And so it became an unwritten rule. It also appears to make some sense from a safety perspective, given the potential of an out of control board/surfer to create havoc and injury.
But what if we were to question this rule and to suggest that it not stand in all places and at all times? Would the opening up of waves to more than one surfer at a time reduce hypercrowding crowding issues, and at the same time increase the enjoyment that many surfers have? Let me suggest a few pros and cons:
The enormous variety of boards surfed today has really broken down the longboard/shortboard rivalry in many places. Many surfers don't need to sit in the pocket to ride and enjoy.
Surfing two or three to a wave can be technically challenging (assuming you are riding and sharing the face and not just angling to the shore). Personally, watching surfers share a wave, dancing across its lines, is one of the most pleasurable things I have ever seen in surfing.
If every wave got turned into a party wave or every shorboarder was dropped in on by an ageing and unfit mal rider there would be blood in the water very quickly. But I'm not suggesting this happen nor that the core of modern surfing be ripped out and replaced with some doey-eyed version of reality. Surfers are too hedonistic and selfish for that anyway. But just what if, next time you lose count of the number of surfers in the water at your local break, the one surfer per wave rule gets replaced – and as you take off you call in another couple of surfers. Just a thought…..//NEIL LAZAROW