Charge and stripes: The latest in shark deterring devices
It used to be so simple, avoid surfing at dusk, dawn, near river mouths, and anywhere in South Oz and chances were you'd be sweet.
But good grief, haven't things changed? And when footage of our friend the dolphin being mauled by a tiger shark hit the front page last week, the evidence became simply too hard to ignore: sharks, it appears, are simply…everywhere.
West Oz? Don't even start. Simply log on to the wonderfully active sharksmart.com.au and prepare to be amazed. Newcastle? How's a couple of pesky five metre white pointers sound? Bondi? Tick. Sydney Harbour? Yep. Throw in a couple non-fatal attacks off Mollymook and Avoca and you'd be forgiven for thinking we've got a real problem.
But, consider the following, the national road toll for just 2014? Close to 1,200…and that's a good year. Heart disease…25,000.
Death by shark, just (sadly) four.
Be that as it may, the proliferation of sightings, encounters and non-fatal attacks warrants an examination of what's being done and what is available to hopefully prevent a close encounter with sharks during your next surf. West Australians have struggled with the issue of sharks since the death of Brad Smith at Lefthanders in 2004. But it wasn't till the death of Chris Boyd at nearby Umbis in 2013, and eight fatal attacks in between, that the WA Government decided to act.
It quickly introduced its highly controversial drum line program which sought to catch pretty much any shark within a stones throw of beaches from the south-west to Perth in a bid to allay the fears of a panicked populace.
Statistics show that the program was a flop with not one white pointer - which was the government's prime target - caught. WA Premier, Colin Barnett, admitted as much but held firm that "rogue sharks" would be dealt with by a dedicated Shark Response Unit if found to be "posing a threat to beachgoers". It also launched a dedicated website which pinpoints where and when a shark has been spotted and vowed to fund further research into their behavioural patterns.
Shortly after the attack on Sean Pollard in Esperance last year, the government sprung its trap and caught two large white pointers within the vicinity just hours after the attack. Neither was found to contain any human remains.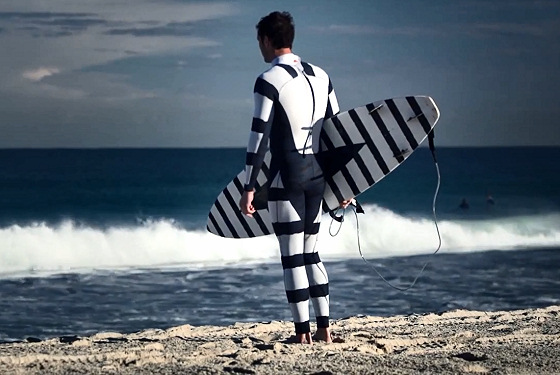 And shortly after that attack, surfers in the southwest began to notice an appearance of a banded wetsuit, which supposedly repelled curious sharks. The suits, manufactured under license by West Australian company, Radiator, work off several theories put forward by scientists at the University of Western Australia's Ocean Institute and Perth company, Shark Mitigation Systems (SAMS).
Radiator brand director, Bob Lushey, says the size, shape, colour, and contrast of the bands on the suit played into the one known aspect of what sharks can and can't see.
"Not much is actually known about a sharks' behavioural patterns but we do now know more about how they see," he said.
"The science shows they don't see colours so well but they do see tones and contrast very well. The banding on our suits simply break up a sharks spatial resolution, so instead of looking like a slow moving object, a shark will conclude what they're seeing could be lots of things therefore they don't need to bite you to find out what you aren't."
Mr Lushey also says the bands mimicked various sea snakes and fish which scientist believe repelled sharks through a similar pattern of banding.
"Do they work 100 per cent? We'll never know that," he says. "But it has to be better than black. Every animal in the world uses colour to protect themselves but for some reason, we [surfers] have been jumping into a sharks habitat for years dressed as its favourite dish."
The suit is also complimented by a sticker which when applied to the bottom of a surfboard offered sharks "a whole dazzle of shape and movement" which he says could deter a shark in the last few metres prior to an attack.
"Again, it's a pretty simple point," says Mr Lushey. "You can wear a black wetsuit and ride a white surfboard and look like a seal or you can use this system and at least have half a chance."
Mr Lusheys' points are backed up on the SAMS website, which also offers this piece of advice on its list of frequently asked questions;
"If my mate is wearing a warning suit, then I won't have to, will I? Short answer: Yes you do, because while he/she may avoid attack, you are at greater risk. He might scare off a shark but then it may turn to you. "
Regardless, southwest surfer Mike Bosich sought out one of the suits days after the fatal attack on Chris Boyd at Umbis in 2013.
"I'd left 20 minutes before that attack happened," says Mr Bosich. "It had a huge impact on the surfing community, surfers stopped surfing, cared less about the waves and that (Ellensbrook) stretch of coastline became barren. Often mine was the only car in the car park."
He says he was further swayed by evidence presented on the Radiator website but also understood the wetsuit and sticker did not offer guaranteed safety.
"The idea of being conspicuous and broken up made a lot of sense to me as opposed to wearing a black wetsuit that simply imitates a seal," Mr Bosich says. "There is no guarantee that the stripy design on the bottom of your board and on your wetty will save your life, but hopefully it might reduce the severity of injury, confuse ole sharky and give you a chance to get to the shore. I love surfing and cherish this region but the game has changed and the psychology of surfing down here is different now."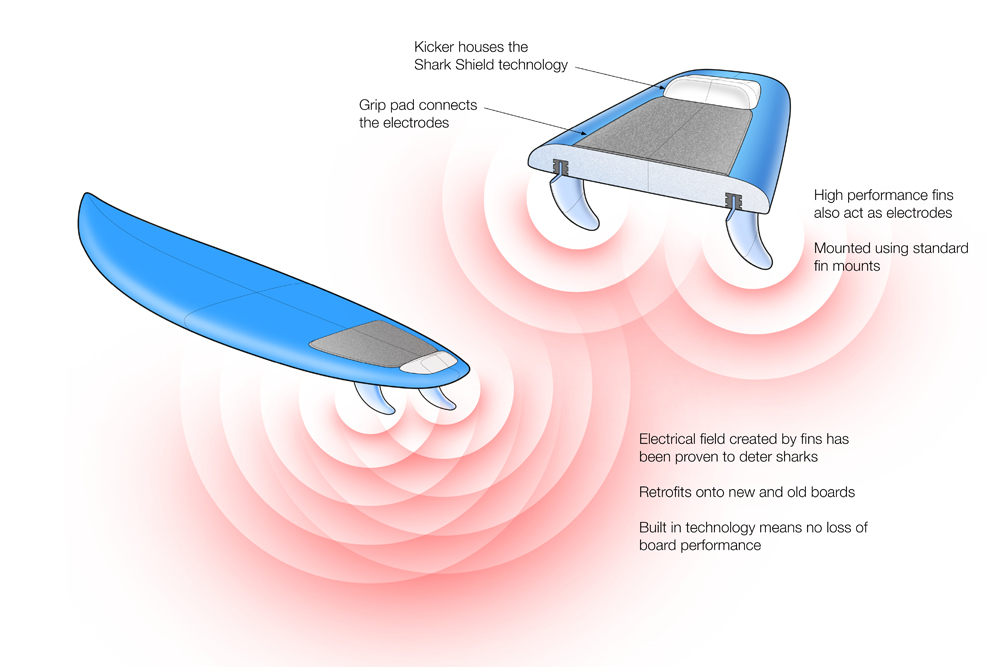 The WA Government also contributed funds to the development of shark repelling fins which are currently being designed by another West Australian company, Shark Shield (see image at right). Shark Shield currently manufacture the Surf 7, an electronic shark-deterring devices designed to be worn while surfing (see image below). However, managing director Lyndsay Lyon admits while the device is effective, it's design, which incorporates a reasonably bulky leg attachment and a 2 metre trailing antenna, was not always practical.
"The current model is fine for surfing a mal or SUP, but it doesn't really suit performance surfing on a short board because of its trailing antenna and the way it's configured," Mr Lyon says. "The new system will see miniature electrodes fitted in a grip pad and fins, both of which will be removable so you can use them throughout your entire quiver."
Shark Shield is designed to ward off sharks in the immediate vicinity by creating a "three-dimensional electrical wave form which creates a very unpleasant sensation impacting a shark's "Ampulle of Lorenzini", small gel filled sacs located on a sharks' snout.
"The biggest hurdle we've had to face is the ridiculous myth that Shark Shields attract sharks,'' says Mr Lyon. "That myth is absolute rubbish. It is impossible to transmit electrical current through water for any distance. And the furthest a shark can detect electrical current is 50 centimeters."
Tom Carroll was recently signed on to assist Shark Shield with the design of the fins although Mr Lyon would not name which fin company would be manufacturing the product which are due for release in "about nine to twelve months."
Interestingly, My Lyon says he doesn't wear a Shark Shield due to its current design and the fact he was not particularly concerned about the threat of shark attack.
"I ride either a 6'2 or 6'8 so I need as little drag as possible," he says. "But my brother also rides a 6'8 and wears his all the time. But he also surfs sparsely populated areas prone to shark sightings so he is concerned. I mainly surf Perth metro beaches so it's not as much of a concern for me."
Ultimately, sales of both Radiator's shark deterring wetsuit and Shark Shield have yet to record a surge in sales, which would suggest most surfers are clinging to the one solid piece of evidence. For all the attacks, sightings and near misses, there were just four fatal attacks nation-wide last year.
"Honestly I think if your number's up that's that," reasons Mr Bosich. "It's what we're lucky enough to do: check forecasts, get up early, get prepared, get excited about the anticipation of great waves with like-minded people and it should be without worrying that we're not gonna make it home. I hope it never happens again. Ever." //ANTHONY PANCIA
EDIT: The original version of this article stated there was only one death by shark attack in 2014.
See also Anthony Pancia's recent story on the Surf Safe shark deterrent device.