Sultans and Honkys open to all surfers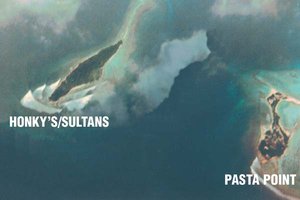 In August 2012 Swellnet broke the news that two of the Maldives most popular waves - Sultans and Honkys - would soon be off limits to travelling surfers and Maldivian locals. Both waves break off the southern tip of Thanburudhoo Island which had been leased to Telos Investments, a Singaporean-registered company who planned to build a surf resort featuring exclsuive access to the waves.
Since the initial plan was proposed many parties have lobbied to halt the proposal. The Maldivian Surfing Association (MSA) were succesful in forcing Telos Investments to allow local surfers access to the waves, and various tourism operators kept pressure on the Maldivian government.
The campaign appears to have been succesful. Recently the regulation that determines ownership of reefs in the Maldives was amended. Although it was passed on the 5th March the amendment is yet to be published in English. Aznil Hussain is a member of the MSA and provided Swellnet with a rough translation of the amendment:
"All areas of reef and surrounding waters of resorts that fall under the number 3 and 4 statutes of this law, if it so includes snorkelling, surfing and similar areas allocated as tourist attractions by the Ministry, those areas respectively shall not be part of the allocated reef for a particular resort island. In addition, the Ministry shall effectively make it known, through official announcements, a list of all places, reefs, and areas that fall into such category mentioned above."
Aznil also added, "This amendment shall be deemed effective from the date it is published in the National Gazette of the Government of Maldives."
The relevant amendment was published in the National Gazette on the 5th March 2014, Volume 43, Regulation Number: 2014/R-18, meaning Sultans and Honkys are now legally open for anyone to surf.
The news is reason for locals and travellers to celebrate, however it comes with a mild disclaimer. A longtime business operator in the Maldives told Swellnet. "Things change fast in the Maldives. They have a small population so family loyalty and voting blocs can turn laws on their head. You get used to it over here."
Dr Gunnar Lee-Miller, President of Telos Investments, has been contacted for comment.