Revolution Undermine
Today's Wave of the Day on Swellnet shows Tom Carroll standing in a turquoise Padang Padang pipe. There are a couple of notable aspects to the photo: Tom's forward positioning on the board; his back foot connected only by the big toe; and, perhaps most strikingly, the diminutive size of his board. A quick email exchange with Tom uncovered its length – just 5'7". Tom also explained that he was riding a 5'9" earlier in the session but, incredibly, decided it was too long so swapped it for an even smaller board.
It wasn't that long ago that riding a 5'7" board in serious waves was considered a red-letter statement.
Recently, US surf website, Surfline, ran a feature on Tom Curren's famed 1994 trip to the Hinakos Islands in northern Indonesia. More than just the quality of the waves they found, the trip was distinguished by a single session at Bawa, a Sunset Beach-like righthander, and the surfing equipment Tom Curren rode there.
On waves that seemingly required Hawaiian-length guns, indeed he began the session on a 7'10", Curren rode a 5'7" Fireball Fish shaped by Tommy Peterson and did the best surfing of the session.
Before continuing some historical context is required: At the time, surfboard design was going through a stage of rigorous uniformity. Innovation was happening, Greg Webber and Al Merrick were making wafer-thin, highly-rockered boards, about 6'2" in length. That equipment worked for their top riders, Shane Herring and Kelly Slater, however the majority of the surfing world followed in sheep-like lockstep. In 1994 surfing's collective mindset was at complete odds to today's 'anything goes' ethos.
So when Curren surfed 12 foot waves on a bizarre 5'7" board it sent metaphorical shockwaves around the world (as a sidenote: in 2004 a massive earthquake – the third largest ever recorded – sent literal shockwaves around the world and destroyed the reef at Bawa). In the recent Surfline feature, author Marcus Sanders, called it 'The Quiet Revolution' attributing the session to the subsequent resurgence of fish surfboards and a wholesale reduction in board length.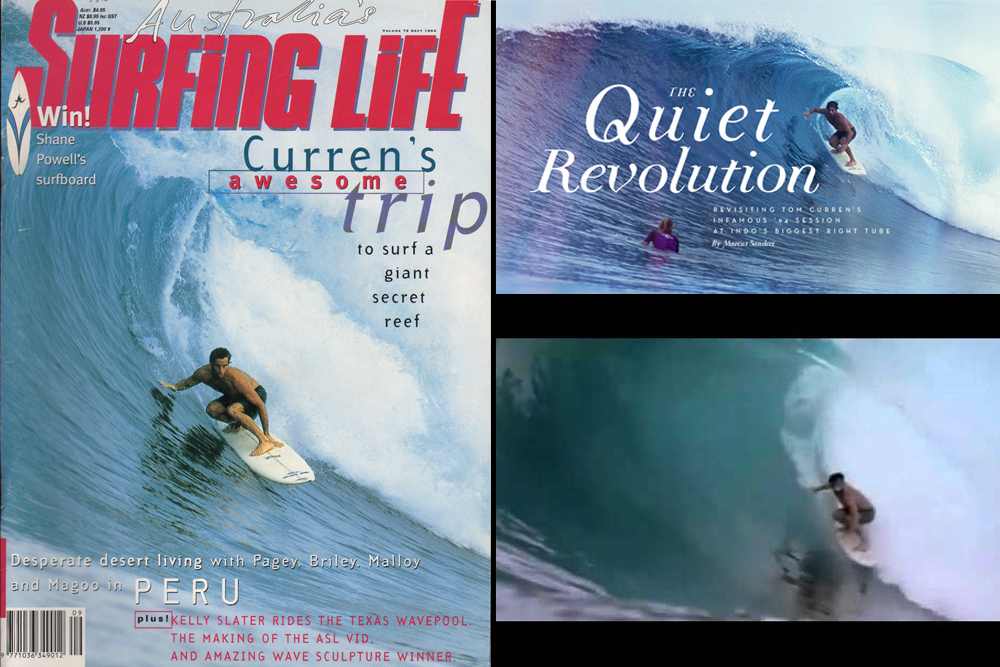 I don't dispute Sanders' theory but would like to broaden the scope of it. Rarely does one person create a revolution on their own. McTavish and Brewer fashioned the original shortboard revolution while working independently from different countries. Hell, if we wanna look outside the surfing bubble, punk was simultaneously created on three continents with the Ramones, the Sex Pistols, and The Saints, their music and attitude largely unknown to each other but all reacting against common antagonists.
The 'common antagonist' for Curren was the staid design atmosphere that prevailed in surfing, yet he wasn't alone in his thinking.
In 1996 Andrew Kidman and Jon Frank released the movie Litmus. It was a well-shot but low-key and introspective affair that largely concerned itself with surfers on the periphery of the surfing bubble. One of the best sequences of the film was a visit the filmmakers paid to Derek Hynd, then living at Jeffreys Bay. Hynd surfed a number of boards but it was a few waves on a 5'8" Skip Frye fish that stood out.
Afterward Hynd riffed on the fish, calling it the fastest board he'd ever ridden. He also explained the design trail that led to it. "This board's father, a 5'11", was ridden by T.C. [Tom Curren] a couple of years ago and led to the interest in retro small boards."
In the late-80's and early-90's Derek Hynd worked for Rip Curl, his lasting legacy being 'The Search' campaign, a marketing marvel that Rip Curl still use more than twenty years later. The Rip Curl connection brought Derek Hynd and Tom Curren together, both were conspicuous in their apathy to prevailing trends and their offbeat influences rubbed off on each other.
I'd argue that, in Australia at least, Litmus and the surfing of Derek Hynd did more to revolutionise board design than Curren did at Bawa. Whereas Curren's performance was out-of-the-box freakishness, Hynd's was easier to relate to for the average surfer. And for those who felt hobbled by wafer-thin rocker ships those few waves at J'Bay lit the way to another design path: short, wide, voluminous.
At roughly the same time in Southern California, Matt Biolos knocked out a funky, trend-bucking board for team riders, Corey Lopez and Chris Ward. At 5'5" x 19 1/4" the dimensions were so bizarre they were a perfect billboard for Biolos' burgeoning surfboard label and his dicking-with-the-straights attitude. Sensing a promotional opportunity Biolos made the movie 5'5" x 19 1/4" in 1998. 5'5" x 19 1/4" defied the orthodoxy while still showcasing state-of-the-art surfing.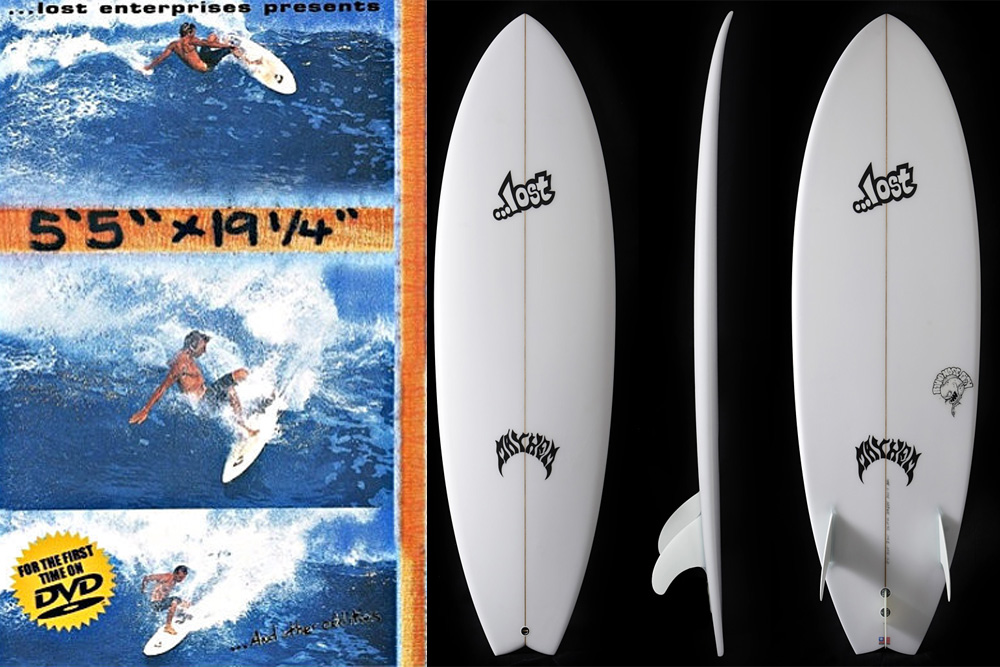 Interestingly, the namesake board wasn't actually a fish in the traditional Steve Lis sense (it's also debatable if Tommy Peterson's Fireball was either), the tail was pulled in like a late-70's MR twinny. Yet what it proved was that length wasn't as defining as once thought. Boards could go shorter as long as the foam was put elsewhere.
By the end of the 90's the influences of Curren, Hynd and Biolos – and likely others too – were being felt throughout the wider surfing world. The average surfer began to incorporate design aspects those three popularised into their own boards. And for the first time since the advent of professional surfing did recreational surfers ride obviously different boards than those being ridden on the World Tour. A trend that's continued to this day.