On Surfing, Silence, and Civil Obedience
As the doctor pushed and prodded he tried to distract me with conversation, "So what do you do for a job?" The simple ploy worked and I replied with a small amount of pride that I worked for a surfing website, adding casually, "I write the odd article here and there."
"Surfing, eh?" said the doc who by dint of his clothes and comportment I'd already pegged as a devotee. "There's nothing like it to forget about the worries of the world. What sort of stuff do you write?"
I told him I had a column called 'Surfpolitik' that dealt mainly in the politics, business and culture of surfing. The quizzical look he gave betrayed the fact that despite both being surfers there was a fundamental disconnect between the doctor and I. Politics, business and culture clearly weren't part of his experience. Surfing, I imagined him cogitating to himself, is the simple act of a person standing on a board sliding along a wave. All else is unnecessary.
In one sense my doctor was right, surfing is a simple act, but there's an inconvenient truth within surfing – especially within urban surfing - that needs to be addressed: surfers must involve themselves in matters beyond the simple act.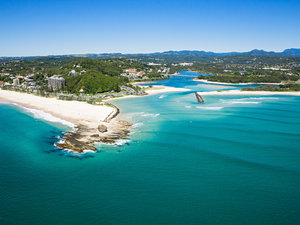 In July 2012 the Gold Coast City Council chaired their once-a-year stakeholder meeting to discuss the annual dredging of Currumbin bar. Currumbin is one of the few breaks where surfers and boaters have to co-operate; surfers on the bank need to watch for boaters crossing the bar and vice versa. In 2011 a surfer was killed at Currumbin when struck on the head by a powerboat entering the bar.
In attendance at the meeting were representatives of the local fishing community, the recreational boating community, as well as representatives of the tourism minister, local councillors and state members of parliament. Considering the popularity of Currumbin to surfers conspicuously absent were any representatives of the surfing community.
As surfers weren't present the meeting focussed on the needs of the people that were. The fisherman and boaters stated their cases with little regard for the surfing requirements at Currumbin. It was less a case of the squeaky wheel getting the oil and more of one wheel falling right off.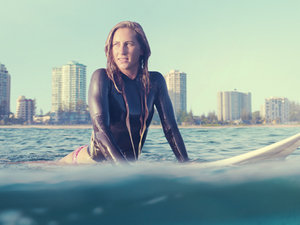 It's been estimated that 2,000 surfers move to or begin surfing on the Gold Coast each and every year. Surfing on the Gold Coast is bigger, both in terms of per capita participation and money generated, than both fishing and recreational boating put together. Indeed it's the image on which the Gold Coast sells itself. See the latest Gold Coast tourism campaign with a female surfer paddling on an empty beach and try and think of any campaigns that haven't featured a surfer, beach, or a wave.
Yet when it comes to involving ourselves in the often-tedious but ultimately necessary political process surfers are often left wanting. It's not like surfers can't organise themselves, within a few minutes drive of Currumbin are numerous boardrider clubs, the Gold Coast Surf Industry Task Force, the regional office of the ASP, the office for Surfing Queensland, and the national office of Surfing Australia. It's just that when surfing crosses into other spheres we rarely present a united front.
Dan Ware is a PhD scholar at the Griffith Centre for Coastal Management, he's a also a principal player in the recently established Gold Coast Surf Council. When I put it to Dan why surfing interests aren't adequately represented he questioned the notion of the surfing community. "Perhaps as competition for waves increases we become less a community and more a mass of individuals, or at best clans, all in it for ourselves."
It's often said that surfing is a very selfish pursuit, although I doubt my doctor would say he's 'all in it for himself'. Surfing is done solo and it's the apparent solitude and self-reliance that make it therapeutic and relaxing. Ignorance of matters above the high tide mark may not be a mark of selfishness as much as a reluctance to turn the surfing experience into something heavy and burdensome. It's an understandable response.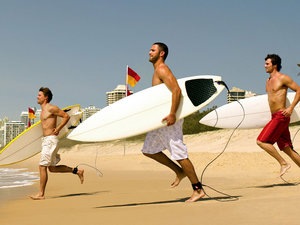 Yet in a perverse exchange ongoing ignorance can lead to a reduction of enjoyment in the surf over time. This is more likely in urban areas where pressure is felt from other coastal users and if surfers don't respond by involving themselves in matters of concern then they'll simply be ignored. Exacerbating the problem of amenity is an ever upward participation count in the sport. Urban surf breaks are bursting in an impending Tragedy of the Commons scenario.
Artificial reefs have been proposed as a way to alleviate the strain of overcrowding. Although the myth of the perfect man-made wave has been debunked it's possible to believe that strategically placed reefs built with environmental conditions in mind could provide, if not great, then certainly good waves. At the very least they would increase options and reduce pressure at name breaks. There are, however, no artificial surfing reefs on the agenda anywhere around Australia.
Meanwhile, the NSW State Government announced last week that it would build the state's second artificial reef for fishing near the mouth of the Shoalhaven River. The first artificial reef was sunk in 2011 off South Head, Sydney. The NSW government has also sunk five artificial reefs in estuaries up and down the coast.
Surfers may be curious why a government is building so many reefs for fishing and none for surfing, yet they should know that anglers are organised and politically savvy, and that each reef, including the new one, is paid for by funds raised by recreational fishing licenses.
Surfers are incredibly vocal when it comes to artificial reefs, articles on Swellnet about artificial reefs have seen some of our highest traffic, yet would surfers be prepared to do what fishermen have done to get their amenity improved? Would they entertain new ideas – Reef taxes? Surfer levies? - to aide the construction of an artificial reef?
The answer to that is obvious – at least for the moment – but the more worrying aspect is that there is very little dialogue or conversation happening anywhere. In most surfing publications artificial reefs are mentioned in a hooray for everything, can't-wait-for-a-perfect-wave style in keeping with the fantasy photos shown on every other page. Real on-the-ground facts and hard-boiled discussions are nigh on impossible to find.
Just as some people surf to escape from the reality of life, so to do they expect fantasy and escapism in surf media. Or at least that's what the powers that be provide. Debate, dangerous ideas, and rigorous discussions – hell, counter-cultural rebellion - are largely spurned for superficial celebrations of surfing.
Unfortunately for surfers the absence of critical commentary and strategic reflection within our community only reinforces the well-worn stereotypes of surfers. You think it doesn't matter how other people perceive us? Why then do we allow politicians photo opportunities on our stages but not engage with them at the political level? The tag of pushover is looming large for surfers and regardless of its accuracy without media and institutions to lead reflective discussions about surfing issues that stereotype will provide all the ammunition necessary to keep us forever on the outside.