Of Pools, Fools and Alternative Realities
The following article was written by blindboy.
Surfing has experienced a 30 year long financial bonanza during which its main corporate sponsors managed, with a head start from Coca Cola, to convince a sizeable market that not only was surfing cool, but that board shorts and a t-shirt were a fashion statement. So miracles happen, but not often, and not forever. The writing is on the wall, as well as in the financial pages, that those days are over.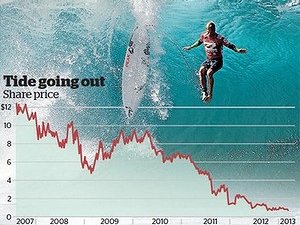 Some still place their faith in His Holiness Pope Kelly or some business genius to lead their corporations out of this downturn, but the more likely outcome is that the gold rush is over. The concept of cool, if it still exists at all, has moved on and, in so far as it ever happens, sanity has returned to our collective fashion sense.
So, after 30 years, I think the wider surfing community has the right to look around and see what benefits have flowed through to us. If you think this is a misplaced sense of entitlement, I disagree. The surf clothing companies traded on the image of surfing which was never their exclusive property. If you ever had, or took, a photo in a magazine, if you ever wrote for them, if you made surfboards or competed in high profile events, even if you just ripped up your local break from time to time, you contributed to the image they traded on. So what did you get? Beads, trinkets, a shiny trophy or two, a few hundred dollars, a free wetsuit, a couple of boards? Well done! You exceeded the national average there.
Most got sweet FA and quite a few got completely shafted as the skills they had developed were overtaken by methods of mass production. How many skilled shapers lost their market as mass production put more money into fewer pockets? Bad luck you say, that's the way the world turns. True enough. There is no reason why surfers should be any less greedy and exploitative than any other segment of society, but there was no obligation for them to go that way either.
The tall poppy syndrome? Well maybe, but remember the old truism, the people you shit on as you rise are the same ones you meet on your way down and there is, amongst many of my generation, and later ones, a sense of grievance at the way the industry has promoted surfing without regard to the impact of that promotion on local surfing communities. 300 comments on "Bring Back The Biff" speak to the vitality of that feeling.
So what might we realistically have expected? In the first place perhaps that they didn't go down that road at all. Most of the companies who went on to make hundreds of millions were doing well enough in their core markets before going mainstream. There was never any reason, beyond greed, to sell board shorts to bastards in Boulder or t-shirts to tossers in Tottenham.
Given the near inevitability that greed would out, there should have been much more community investment, not just in competition but across the board. Ask yourself, regardless of what you personally got, what did your local surfing community get other than ever more crowded waves? If that doesn't persuade you, draw up two lists; one, who made the most money, two, who made the biggest contribution to surfing's development. I can think of maybe two names that might appear on both lists. Or ask yourself where did all that money go? I would suggest largely to a relatively small number of people many of whom had no real connection to surfing beyond the desire to suck a buck out of it. And what did they do with it? They tried to make even more money.
And the greatest missed opportunity: artificial reefs. The science and engineering have been in place for sometime now but we have been abysmally slow to move. If you think that it might have been an obvious move to generate good will disproportionate to cost, for a company that claims surfers as their core market, to fund a couple of full time specialist workers to identify locations and get approval at the various levels of government, you couldn't be more wrong!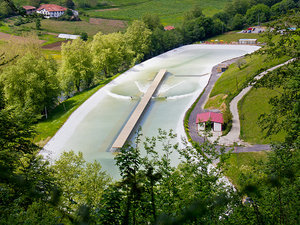 A new generation of surfing entrepreneurs, including His Holiness are building another business model based on wave pools. They say that no-one ever went broke under-estimating public taste so I expect they will succeed and the sheep will line up to be drenched in some giardia infected dam or bleached in some chlorinated pool because, in terms of water quality, it is hard to see anything viable between those extremes. And wave pools will irrevocably change the nature of the sport, reducing it to a closed repetitive routine on an endless supply of cloned waves, probably performed by the same sort of wizened midgets that dominate gymnastics.
But of course, how else could it go? Artificial reefs are not a practical investment. They will not concentrate the disposable cash of the surfing market into the hands of the few, so forget it kiddies, $10 a wave on cheap Tuesday is all you can look forward to! But don't worry, the recycled rhetoric of " ....we're all just surfers together." will work the same magic as it did for the clothing companies, the advertising will be fantastic and the gaming experience, to die for.
Sour grapes from a whinging old bastard? Not really, I have had a fabulous time surfing and have no regrets at all. Nor am I trying to gain some future advantage. I still surf and will continue to do so but not with any great emotional attachment, decent sessions and good waves are just bonuses now. The vast bulk of my surfing, and by far the best, is behind me and I am comfortable with that.
This morning I watched perfect lines of swell turned into average waves on the local reefs, while further along the headland peaks formed at the head of long walls before backing off into deep water. I don't even care if I never surf it, I would love to see a reef built there or in any of the hundreds of other locations along the coast with similar potential. For the first time in a long time I think there is the possibility of real positive change in the way surfing develops. There is a slim chance that greed may not dominate the way that it has in the past, but I find it hard to be hopeful, I can only too clearly imagine those lines of wave pool fools. What was that old song? "Let's Get Fooled Again"? Or something like that.// blindboy