Kelly Slater & Pro Surfing: Till death do us part
"I like the dreams of the future better than the history of the past." -Thomas Jefferson
Casting a historical eye behind you while turning your back on the future is not often considered a constructive activity. Like the premise contained in the quote above such activity is usually viewed as an exercise in futility – what's done is done. And anyway, let's face it, in the surfing sense looking backwards usually implies nostalgic indulgence or revisionist hipsterism, neither of which are endearing or practical.
Yet we stand at a point in time, right here at Tavarua, with Kelly Slater leading the sport of professional surfing, that we can cast a critical eye backwards, place events in context, parse the information, and then project that knowledge forward to give shape to the future. However, it's not the events of the past fortnight that I refer but something that took place here nearly a decade ago.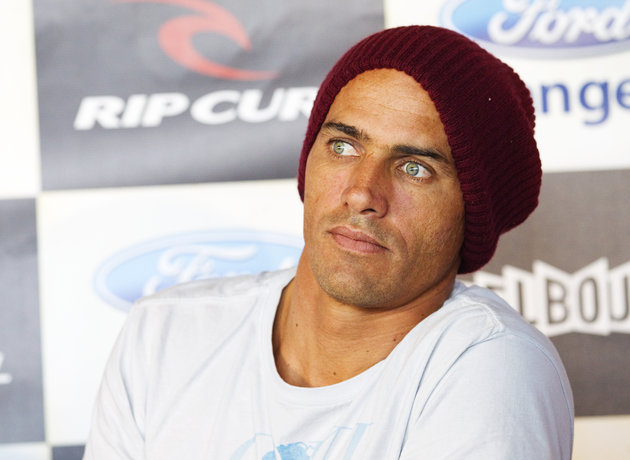 In 2004 Kelly Slater held an event at Tavarua called 'Let's See It!', that featured select pro surfers and a bunch of celebrities: actors, singers, and the odd hot model. Together they spent a week on Tavarua competing in a series of unique contest formats devised by Slater. Whilst it sounds like a bit of fun in the sun - and no doubt the invited celebrities treated it that way - the event had a greater purpose. The idea for it was borne a few years earlier when Slater was in retirement.
Kelly Slater retired in 1999 with six world titles up his sleeve and the acclaim of the best surfer ever. He subsequently spent a few years wandering the globe, playing guitar, and pondering his place in the world. "I wasn't sure I wanted to be back on tour under the pressure of competing." Kelly recently told Swellnet. "I just knew I wanted to help out and make the whole [surfing] experience better. I just wasn't sure how."
When he came back to the tour full-time in 2003 it was as a noticeably different competitor: less emotional, more calculating, more mature, and he was also more interested in the administrative side of the sport. According to longtime Quiksilver contest director, Rod Brooks. "He was restless, looking for a canvas to express himself. I think it was the frustration of not being listened to."
"There were so many things that he wasn't happy with, everyone knew it: the surfers, the ASP administrators, the people at Quksilver. No-one wanted to cut him off."
So in May 2004, just a few weeks before the scheduled Quiksilver Pro Fiji, the 'Let's See It!' competition took place and it ran with the blessing of the ASP. As they were trialling new ideas WCT surfers such as Andy Irons, Taj Burrow and Occy were allowed to compete without sanction. The ASP, for their part, sent a coterie of officials to oversee and assess the new formats.
Amongst them were overlapping heats, team surfing where two surfers ride the same wave, and a freesurf format where, as Kelly explains, "each surfer had 45-minutes to surf in a four-hour period. The idea behind it was for each surfer to pick their window based on tides or wind. It was kinda cool, because in a way you become your own contest director."
It was also the first time video review was used at an event, a procedure that's become standard at all WCT competitions. They also tested a different judging system at that event: surfers were judged on the technical and artistic aspect of their surfing.
"If one great thing was to come out of it, says Rod Brooks, "it was the four man overlapping heats. I think Kelly seemed pretty satisfied with it. People doubted it but it worked well."
Kelly recalls seeing it work for the first time at the 'Let's See It! event: "I remember at one point a four-wave set came through and we had Tom Curren, Tom Carroll, Andy Irons and Taj Burrows all up and riding on waves one after another. And the lowest score anyone got on that set was a 7.5 or an 8. Taj got a 9.9 and Andy got 9.5. It was really cool."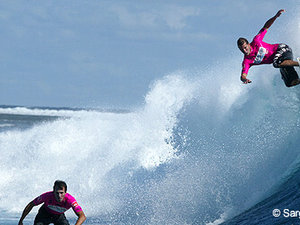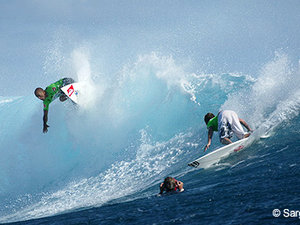 Despite the success of the overlapping heats not every experiment was deemed a success by the ASP. "There were a few ideas of his that weren't too good," says Brooks. "The double surfing for instance. The ASP deemed that too dangerous. Have you seen the footage of Luke Egan and Occy?" Brooks describes a near beheading of Egan whilst riding the same wave as Occy.
Whilst admitting Egan and Occy were a bit dangerous (and Tom Carroll and Tom Curren too, who almost killed each other), Slater still sees merit in the format. "Dorian and Taylor Knox, they were really cool. They won it. But guys working together on a wave can work. It adds a strategy and an element of teamwork on the wave, it forces you out of the lines you would normally take on a wave."
At the end of the week Slater was deemed the winner of the competition, perhaps not surprisingly as no-one took the 'Let's See It!' contest as seriously as he did. Following the competition, overlapping heats were trialled further at the Gold Coast and Biarritz before official approval by the ASP. Till now they've only been used at the Pipeline Masters but the format is available for all contests (contest directors must prepare in advance with two sets of priority equipment, operating staff, and coloured vests, which is why it's not used more often). Video review was also fine-tuned before becoming accepted as standard.
"It was definitely a success," says Brooks when reflecting upon the utility of Slater's contest. "For the state of the ASP I think it's something that should be done every five years."
Not only was it a success Brooks also views the 'Let's See It!' event as a pivotal moment. "It was pretty monumental that one surfer would want to express himself that way. It may have been the beginning of a new vision for him."
It's no surprise then that every major development in the sport since the 'Let's See It!' contest, from the failed Rebel Tour to the current ZoSea overhaul, has featured Kelly Slater either at or in very close proximity to its epicentre. He has deliberately positioned himself in a place where he can have maximum positive influence on the sport he's dedicated his life to.
Some may see Slater's involvement as self-serving – he is, after all, still competing on the tour he's advocating for - but his engagement contrasts against the commercial aspirations of the companies that have had an iron grip on surfing. He is, if not altruistic, then at least concerned with the betterment of the sport for its own sake.
During our conversation Slater recalls advice he received many years ago when he was retired but contemplating his return to professional surfing: "A friend said to me, go wherever you can make the biggest impact. If that's on tour, go there. If you can do it [make the sport better] off tour, do that."
Whether it happens this year or next, the one thing we can be certain of is that Kelly Slater will remain involved in professional surfing far beyond his retirement from it.// STU NETTLE with CRAIG BRAITHWAITE