Cronulla's Latest Surfspot: All New & All Natural
Thursday, 28 July 2011
Andrew Pitt is a Landscape Architect and surfer from Maroubra, NSW. He's also the principal surfing reef architect at Surfing Ramps, and was the founder of the 1st International Surfing Reef Symposium in 1997 as well as Event Director of the 7th Symposium in 2010.
At the 7th Symposium Andrew gave a speech titled 'Bombora Controlled Beachbreaks'. Next month he'll get a chance to test some of the ideas in that speech when he oversees a sand dumping project at Cronulla.
Swellnet: So, what's happening down at Cronulla?
Andrew Pitt: Every four years or so the local Council dredges Port Hacking and with the sand they dig up they take it around the corner and dump it off the Cronulla beaches. A few of the local surfers, guys like John Veage, Brad Whitaker, Mark De Pena, they were concerned about the impacts. They'd seen the impact the previous works had had on the waves - the waves had broken further offshore - yet it seemed a bit of a hit or miss approach.
What the Council was doing off the beaches was literally just a dumping process. Sand was just getting dumped and we wanted to have a say in where it got dumped to turn it into a positive for the surfers.
Why has it taken so long for surfers to twig that there was an opportunity in that dumped sand?
I think a lot of surfers had been indifferent to sand nourishment, as they thought 'oh, the sand'll just wash away'.
But you're dumping it strategically?
The sand will be dumped in deep water, between four and eight metres deep, 250 metres off the beach. The feature that it'll create is called a 'Wave Focusing Sand Slug'. Because it's not in the wave breaking zone it's not subject to as many forces and the sand dispersal will be a lot slower than if it was.
Yet it is a temporary thing?
Yes, it is...
There's no artificial materials used to keep the sand in place?
It's just sand.
So assuming average conditions how long should the sand slug last?
It'll all depend on Mother Nature. If we get a storm – ten foot and onshore with wild rips – it could chew it apart in a day. But the concept of a sand slug...it's actually a technical term meaning a body of sand that moves together as one unit. What we would like to see is that body of sand stay as one unit, and if it does disperse it will disperse in a shoreward direction. I'm hoping it will last three to six months.
And you'll be monitoring this when they begin the dumping?
We've been monitoring it since March so we've got the pre-conditions. We're monitoring where the surfers are surfing now and then where they'll be surfing when the project is completed. We'll keep track of how often the sand slug gets surfed throughout the project. At the end of it all, the ultimate question will be: Was it successful or not? Yet how do we know that? How do we even judge that?
What's your criteria?
This is why I'm interested with what you're doing with Swellnet, 'cause you've got that online interaction with surfers, some of who, as we know, are very candid. Let's face it, they're not scared to put forward their opinions and that's fantastic because we can get candid feedback on whether this is a good or bad thing.
So it's not just photographic evidence that you are after but also anecdotal evidence from people who have surfed it?
Which is the most important kind. We want to know how the local surfers judge it. It's their opinion that really counts, the guys that are surfing that stretch of beach most of the time.
What's Sutherland Shire Council's position on it?
At first they were a bit indifferent to it but now we've met with them, we've talked with them and now they're supporting it, they're behind it. They've taken the position that 'if this is what the local community wants, then this is what we'll do'.
Have you had any objections?
No. I've had a lot of people seeking more information, but I haven't heard anyone say "no, don't do it". And it's at no extra cost – there's no extra money added to the project – so most people say, "well, why not?"
Under ideal conditions, what would you expect the outcome to be? How are the waves going to change?
Peaks. Basically we'll get more peaks and less closeouts. I think it's important for people to understand with this sand slug that waves won't be breaking on top of it. It's in deep water. What we want to see is a lot of wave refraction. We want waves to bend around it and we want to see some peaks shape up inside it.
Are you copying the design from any particular stretch of coast?
I'm trying to duplicate a natural system, what I call a 'bombora controlled beachbreak'. By that I mean where there's a beach and offshore from the beach is a bombora. Some of the best beaches on the NSW coast have actually got these offshore reefs. There are 26 of them on the NSW coast, I don't want to list them all 'cause some of them are secret spots but think North Narrabeen, that's a classic bombora controlled beachbreak. Then there's (censored), Wonoona, (censored), (censored), there are also some around Newcastle, and even Manly which has the Queenscliff Bombora.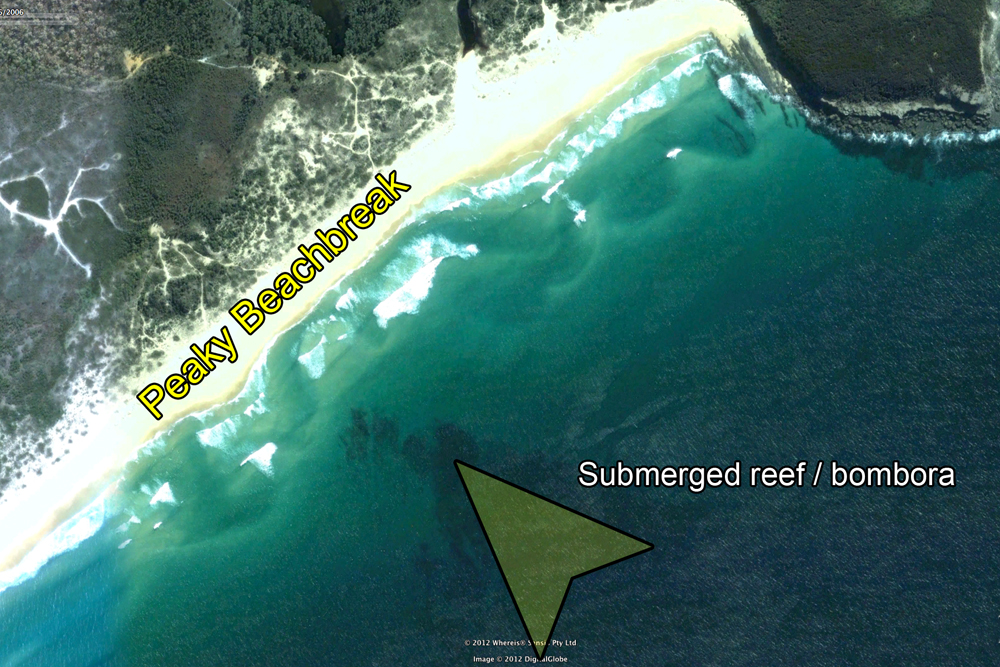 The offshore bommies at some of those spots helps to draw the swell in and focus it, as well as refract it. Do you think the sand slug will do the same?
Yeah, it'll work like a swell magnet; it'll focus all the energy into one particular spot on the beach, where the waves should be slightly larger than the waves on either side. By focusing the wave energy into one particular place we're actually encouraging the rips to become established either side of the slug. So the plan is that we will get this classic situation where we get peaks coming through in the lee of the sand slug and rips either side of it. Both those things should break up the closeout pattern.
You mentioned that the sand dumping happens about every four years down at Cronulla: Are you locked in for the next round of dumping?
I think a lot of people are waiting to see the results. That's fair enough, I am too. I don't want to over-promise the results but I've gotta say I'm quietly confident.
I believe that regardless of how it goes all beach nourishment projects should be giving surfers better waves.
Do you see this as being a precedent, where similar systems could be replicated elsewhere? We've got a lot of river systems on the East Coast with surfing centres nearby, could other councils follow suit?
OK, the first thing is that it has already happened elsewhere in the world. I've got some good case studies from beach nourishment projects in Newport, California; St Augustine Beach, Florida; and the Dutch Superbank over in The Netherlands. I've monitored those projects very closely and learnt a lot of stuff from the people involved with them.
So, it has happened in the past, but let's talk about today, right now...sand nourishment is happening at Mooloolooba and at the Seaway. That sand is getting sucked out of the riverways and getting dumped on beaches nearby. I would be saying to local surfers there, "guys, you're missing an opportunity here".
On the big picture, long-term side, there's been a lot of talk about climate change and how we'll adapt to that on the coast. The Sydney Coastal Councils Group, they've already said their position on eroded beaches is beach nourishment. They've said "let's suck the sand off the seafloor and put it on the beaches". We don't like seawalls and we don't like groynes, so lets do beach nourishment as an adaptive response to erosion in the longterm.
So, have you had any interest from other councils?
Yeah, definitely.... there's a lot of people watching and waiting for the results at Cronulla.
We'll wait and see then. What date does the dumping start?
Depending upon when they can get all the equipment in, but most likely late August. It also depends upon Mother Nature, if she's got some wild storms it'll be delayed a bit.
(At this point the 'official' interview ended but Andrew and I kept talking, discussing a broad range of topics including the recent direction of the World Tour, while the microphone kept recording. Included in the conversation was this exchange)
Andrew Pitt: I'd like to see them bring surf contests back to really dense urban areas like Bondi and Manly.
Swellnet: Well they're doing it at Manly with the Australian Open next year.
I remember when they had the last big contest at Maroubra and there was like 15 or 20 000 people down there watching the event. We loved it!
I'm not sure about urban contests for the very best surfers on the World Tour. I'd rather see them in 6-8 foot perfection than 2 foot Manly.
Let me give you this concept...they've got the Quiksilver comp up in Long Beach, New York. It gets a bit of swell up there, but it's just beachbreaks and it mainly closes out. At the same time they're doing millions and millions of dollars of beach nourishment there. Put the two together. Use the beach nourishment to create some good sandbanks. Build wave focussing sand slugs. It'll be at no extra cost and they've got a far better chance of getting fantastic waves for the event.
It's like building a skateboard ramp for a competition rather than leaving things to chance.
Yeah, but it's doing it where everybody is. So local surfers don't want a contest at Kangaroo Island. Well OK, don't have one there. But at, say, Bondi they love big events and festivals but the surf's usually poor quality. There's plenty of swell, it's just that it's closing out most of the time. Why not use beach nourishment to give them peeling waves? Plus local surfers enjoy the benefits once the event is finished.
What you're proposing could be the beginning of something big.
In my mind, that's the future.