Stephanie Gilmore wins the Oi Rio Pro
Thursday, 17 May 2018
SAQUAREMA, Rio de Janeiro/Brazil (Wednesday, May 16, 2018) - Today, Stephanie Gilmore (AUS) won the Oi Rio Women's Pro, Stop No. 4 on the World Surf League (WSL) Championship Tour (CT), after a massive day of competition in four-to-five foot (1.2 - 1.5 metre) surf at Itaúna Beach in Saquarema.

Six-time WSL Champion Gilmore battled through four rounds today, taking down Lakey Peterson (USA) in the Final, Nikki Van Dijk (AUS) in the Semifinals, Sally Fitzgibbons (AUS)in the Quarterfinals, and Caroline Marks (USA) in Round 3. Not only does Gilmore's win mark her 28th CT victory but also her first CT win in Brazil.

"That was a really crucial Final because Lakey (Peterson) has had a win and I've had a win," said Gilmore. "I just want it. I want it really bad and that is what it takes. It feels good. I just love competing. It is such a good challenge to be out there and to have this stage to perform on is really special. I've been doing this for a while but it never gets old. This is just the beginning."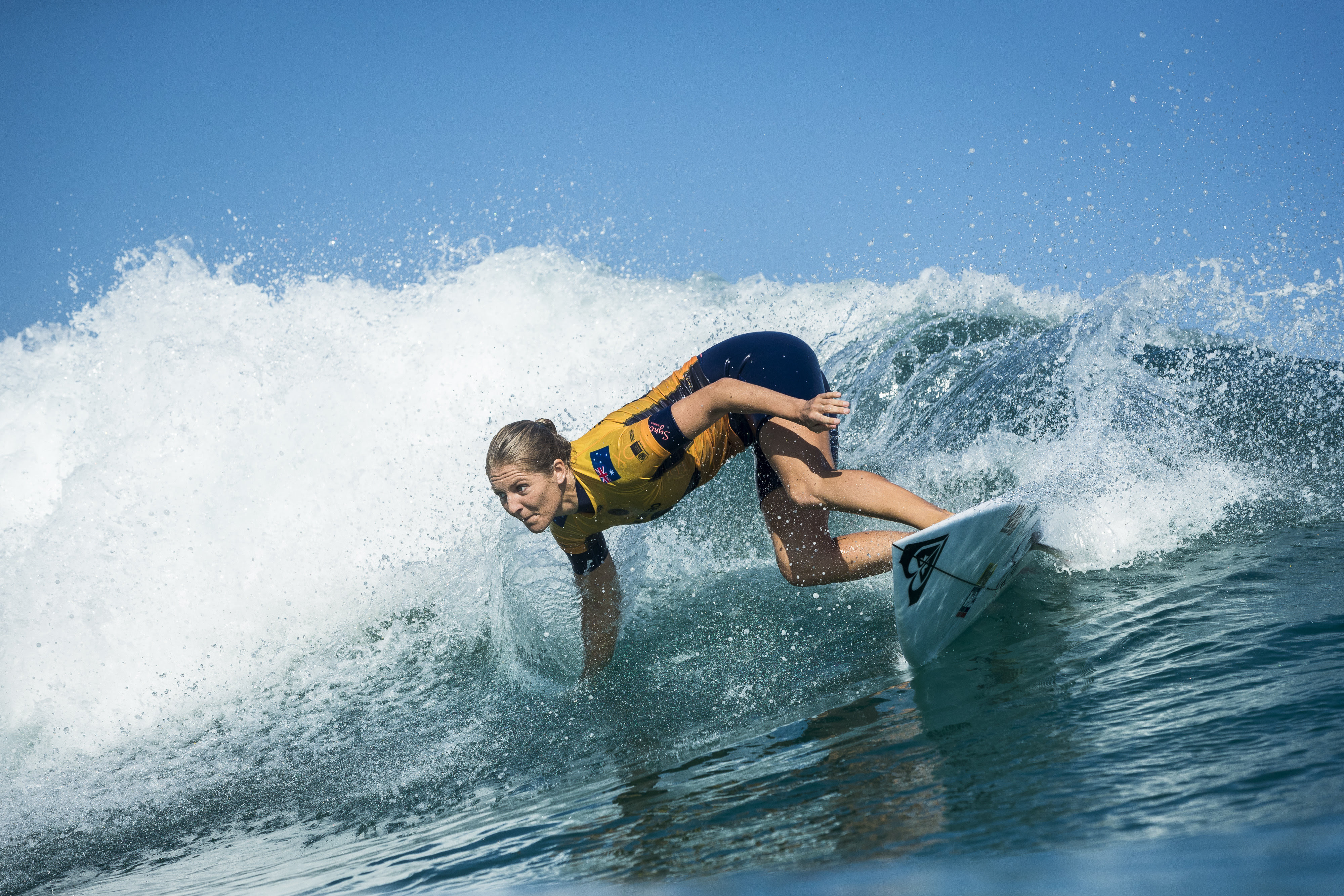 Stephanie Gilmore takes her second win of the year

Gilmore's Final started to come together at the 15-minute mark with a right-hand ride, which earned her a 6.53 (out of a possible 10). Gilmore quickly backed-up her scoreline with a 5.10 on another right, while Peterson chased the lefts. The American, with only an 8.00 two-wave total, could not find the scores required to combat the Australian at the final buzzer.

"For a few years there I was sort of half-hearted with things and I realized that you can't be that way if you want to win," continued Gilmore. "You have to have the 'Eye of the tiger,' you have to want to win, and you have to be fierce and committed to these things. I love to really apply myself properly. It is really special. I am so happy. I just want to win. It's cool, it is such a good feeling."

Despite the loss, Peterson is in a strong position to hunt down her first World Title this season. The Californian started her year with a big win on the Gold Coast and continues to raise the bar at each event. En route to her runner-up result, Peterson dispatched crowd-favorite Tatiana Weston-Webb (HAW) in the Semifinals and three-time WSL Champion Carissa Moore (HAW)in the Quarterfinals.

"A World Title is my goal," said Peterson. "I am just trying to take it one event at a time. I feel like the momentum is working for me right now, but it is also working for Steph (Gilmore) right now. She is obviously in a great groove and she's got an extra win on top of me, and I am aware of that. She's such a phenomenal competitor and surfer."

Gilmore's second win in 2018 now keeps her at World No. 1 on the Jeep Leaderboard. Peterson trails by only 3,680 points behind with her runner-up finish today. With the tour reaching its halfway mark at Stop No. 5's Corona Bali Pro, Gilmore's and Peterson's 2018 World Title campaigns are off to a strong start.

"For me, it is really cool to feel that I am keeping pace and everything is coming together," Peterson said. "I am proud of that because it has been a lot of years of working hard and learning and going back to the drawing board. It is just nice to feel like Snapper was not just a one-off thing. I feel like I am continuing that success and it feels great."

Weston-Webb's run ended against Peterson in Semifinal 2, but the 22-year-old showcased her potential throughout the event, including her 15.33 combined score to take down compatriotSilvana Lima (BRA) in the Quarterfinals. Now wearing the Brazilian flag on her jersey, Weston-Webb climbs to World No. 3 with Brazil supporting her.

Brazilian hero Lima had a disappointing elimination against Weston-Webb, where she was unable to complete her rides. Lima has also had a great start to the year with a 3rd place finish at Bells. Her 5th at the Oi Rio Pro keeps her at World No. 10 on the Jeep Leaderboard. Lima confirmed that she will use the elimination as a learning for Keramas.

"I'm very thankful for all the fans that came out and cheered us on at the beach and for those watching online," said Lima. "Thanks for giving us so much energy and it's an honor to represent Brazil on the world tour. I felt like I was surfing really well, especially in my heat earlier today. But unfortunately, I fell on two waves during the Quarters, which really affected me. I'm not exactly sure what happened, and I'll need to see the footage to analyze what went wrong. But I feel like I'm still learning from my defeats and it just gives me more incentive to keep training hard for the next event."

Tyler Wright's (AUS) run for a third-straight Oi Rio Pro victory ended early in the first heat of the Round 3. Unable to find two substantial scores, the two-time WSL Champion was ousted byKeely Andrew (AUS) and now exits in Equal 9th place, her second of 2018. At this time last season, Wright held the World No. 1 lead. Now in seventh on the World Rankings, Wright will need to make up ground at the next stop, the Corona Bali Pro.

2018 CT Rookie Caroline Marks (USA), Johanne Defay (FRA), and Sage Erickson (USA)were also eliminated in Round 3.

The men's event completed Round 4 following women's Round 3 and determined the remaining eight Quarterfinalists.

Filipe Toledo (BRA) unleashed the Oi Rio Pro's first Perfect 10 with a massive aerial rotation in Round 4 Heat 1. The crowd went wild when Toledo flew through the air to land the 360-degree rotation and again when the Judges awarded him with the perfect score. Toledo marches through the to Quarterfinals with rookie Michael Rodrigues (BRA), while event-spoiler Ian Gouveia (BRA) is eliminated with his best result of the season.

"That was actually a little scary against the boys," said Toledo. "I knew Ian (Gouveia) and Michael (Rodrigues) could have gotten better backup scores to turn the heat. As soon as I saw Michael paddle to the inside, I wanted to make sure Ian wasn't alone. That wave came my way, and that was the perfect timing for it. It wasn't great for doing turns but that perfect section came and I knew it was time to go big."


Filipe Toledo racks up the first Perfect 10 for the Oi Rio Pro

John John Florence (HAW), the 2016 event winner and reigning WSL Champion, was eliminated by rookies Yago Dora (BRA) and Wade Carmichael (AUS) in the final heat of men's Round 4 today. Dora kept extremely busy throughout the heat with seven waves to Florence's three. The two-time WSL Champion was unable to complete his rides, unlike his stunning performance yesterday. Florence will exit Brazil in Equal 9th place and will now focus on the upcoming Corona Bali Pro.

"I am proving to myself that I can beat anyone," said Dora "I was really happy to surf against John John (Florence). I was psyched to see he was in my heat again. I just went out there trying to make the heat and I was hoping he was going make it with me, but Wade (Carmichael) was surfing really well and he made it."

Current World No. 1 Julian Wilson (AUS) is in a prime position to retain the Jeep Leader Jersey after winning his Round 4 heat today against Kolohe Andino (USA) and Kanoa Igarashi (JPN). Andino's second place position in the heat will put him against Toledo. Igarashi's third-place standing in the heat eliminates him from the draw.

Gabriel Medina (BRA), 2017 World Title runner-up to Florence, will try to take advantage of his Quarterfinal entry and Florence's elimination. Medina will face rookie Carmichael in Quarterfinal 3 when competition resumes.
Oi Rio Pro Women's Final Results:
1 - Stephanie Gilmore (AUS) 11.53
2 - Lakey Peterson (USA) 8.00

Oi Rio Pro Women's Semifinal Results:
SF 1: Stephanie Gilmore (AUS) 11.00 def. Nikki Van Dijk (AUS) 9.67
SF 2: Lakey Peterson (USA) 11.27 def. Tatiana Weston-Webb (BRA) 10.40

Oi Rio Pro Women's Quarterfinal Results:
QF 1: Stephanie Gilmore (AUS) 13.06 def. Sally Fitzgibbons (AUS) 10.00
QF 2: Nikki Van Dijk (AUS) 10.83 def. Keely Andrew (AUS) 5.77
QF 3: Tatiana Weston-Webb (BRA) 15.33 def. Silvana Lima (BRA) 4.60
QF 4: Lakey Peterson (USA) 12.67 def. Carissa Moore (HAW) 9.57

Oi Rio Pro Women's Round 3 Results:
Heat 1: Sally Fitzgibbons (AUS) 11.17, Keely Andrew (AUS) 9.64, Tyler Wright (AUS) 6.17
Heat 2: Nikki Van Dijk (AUS) 14.36, Stephanie Gilmore (AUS) 12.50, Caroline Marks (USA) 4.67
Heat 3: Silvana Lima (BRA) 15.90, Lakey Peterson (USA) 15.23, Johanne Defay (FRA) 13.16
Heat 4: Carissa Moore (HAW) 15.33, Tatiana Weston-Webb (BRA) 11.50, Sage Erickson (USA) 11.34

2018 WSL Women's CT Jeep Leaderboard (After Oi Rio Pro):
1 - Stephanie Gilmore (AUS) 29,490 pts
2 - Lakey Peterson (USA) 25,630 pts
3 - Tatiana Weston-Webb (BRA) 20,020 pts
4 - Carissa Moore (HAW) 18,980 pts
5 - Caroline Marks (USA) 17,000 pts

Oi Rio Men's Pro Round 4 Results:
Heat 1: Filipe Toledo (BRA) 18.33, Michael Rodrigues (BRA) 10.94, Ian Gouveia (BRA) 8.00
Heat 2: Julian Wilson (AUS) 12.73, Kolohe Andino (USA) 11.90, Kanoa Igarashi (JPN) 9.43
Heat 3: Gabriel Medina (BRA) 11.84, Ezekiel Lau (HAW) 9.73, Sebastian Zietz (HAW) 9.00
Heat 4: Yago Dora (BRA) 13.94, Wade Carmichael (AUS) 11.40, John John Florence (HAW) 8.00