The channel revival: Modern takes on a classic design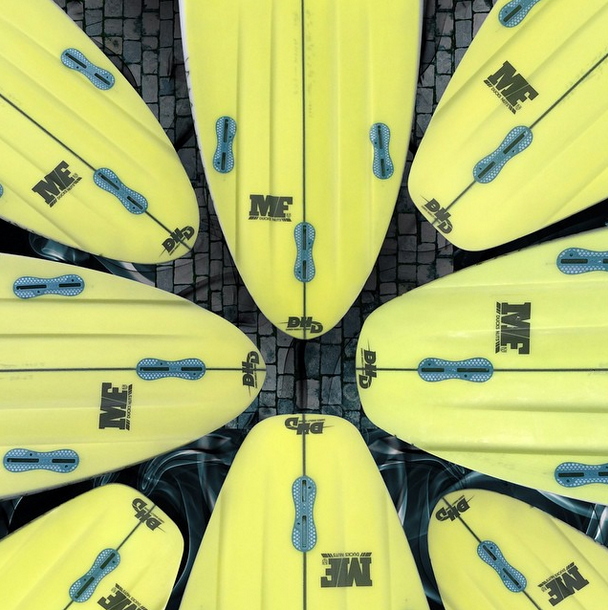 "The orders for channel bottoms have been flooding in. J'Bay is coming up and the pros all want a speed advantage. I'm doing lots of channels."
I'm chatting with Darren Handley, he of the eponymous board label, shaper to Mick Fanning, Wilko, and Glenn Hall on the CT, plus a bevy of hi-fi rippers. High-performance shortboards are Darren's raison d'etre, he doesn't do retro, and yet channel bottoms, a design firmly rooted in the 1980s, are making a modern resurgence in the DHD factory.
It's not like he's unfamiliar with channels. His first job was working in the Pipedreams factory run by Murray Bourton, one of the early disciples to channel bottom design, and he was taught to shape by Erle Peterson, inventor of the wickedly complex jet bottom. "I'm no stranger to channel bottoms," says Darren flatly.
Keen-eyed punters would've seen some of Darren's channel bottoms under the feet of Mick in the early rounds of Bells. Fanning made a point of announcing his new design before arriving and then rode one whenever the conditions suited.
"It was very similar to Mick's standard board [a 5'9" Ducks Nuts] but with four channels running out the tail," says Darren of Mick's Bells board. Before he arrived at that design they experimented with belly channels but Mick wasn't feeling anything different. When he sanded in clinker-style channels running out the rear Mick felt the effect he desired. "He was" says Darren, "very keen to get them down to Bells."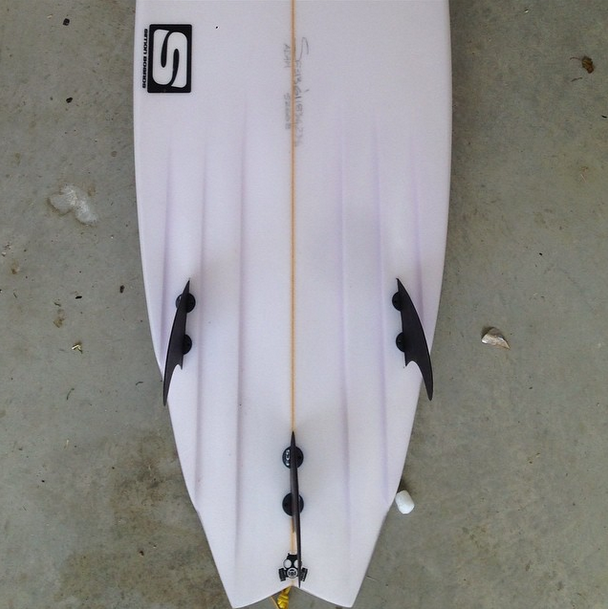 Another fella experimenting with channels is a regular at Bells, even coming runner up to Joel Parkinson in the 2009 Rip Curl Pro. "The waves in Victoria are pretty suited to riding channels," says Adam Robertson. "Longer slopey point break and reefs."
Although he's had at least one channel bottom in his quiver for the last 15 years he's recently found himself riding them more and more. "If I'm going to surf the reefs around Torquay, more often than not I've been on a six channel."
His current six channel was shaped by Simon Anderson (see pic at left) though he's had great channel bottoms by Cory at Cory Surfboards and is keen to get a Pacific Dreams. When I ask what he'd order the answer is simple: "I'd just ask for whatever Hoyo rides."
The basic concept of channel bottoms is to influence waterflow over the bottom of a board. Channels cut a straight line through bottom rocker, removing the curve and creating a shorter distance from where they begin to where they exit. They also add bite and resistance. For many years after FCS became the norm Alan Byrne had to manufacture his own fins with reduced area to counter the lateral bite of the channels.
Water, however, doesn't always flow directly down the bottom of a surfboard and the dramatic nature of the channels caused them to sometimes interfere with performance – at least that's how the theory went. But is that what caused channels to go out of fashion twenty years ago?
Channel bottoms had their detractors, yet those I spoke to think their demise was more a combination of Greg Webber's concave experiments of the early-90s mixed with unavoidable labour costs of channels and had less to do with inferior performance.
"Channel bottoms are a lot more versatile than people think," says Robbo. Someone who'd agree with him is Dale Wilson of Byrning Spears (shown below right with Kelly Slater). Dale has taken over the mantle of head foam mower at Byrning Spears since Allan Byrne's untimely death.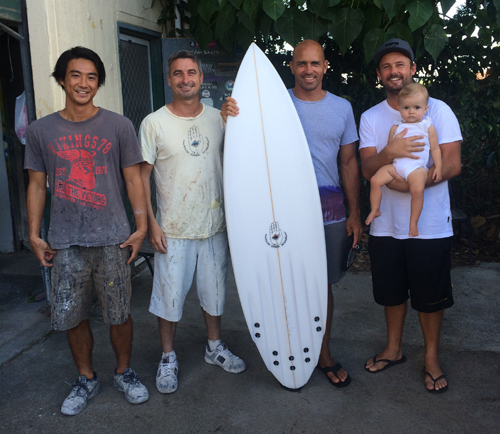 "People say that channels only go good in good waves," says Dale, "but we've found that's only the case when people put channels into a concave. That's when they stick and grab."
"If you're going to put a concave in it should go under the front foot then have the channels built into a 'V'. AB's way was to build a loose board then put the channels in."
Dale explains that after 30 years of making channels they've arrived at a formula. "The Deep Six formula" he calls it. These are the boards that make their way under the feet of almost all of Dale's customers. AB's death created a bit of interest in channel bottoms but Dale say the clientele has mostly remained the same. "They're the guys that regularly go to WA, Indo, Hawaii."
Having spent years preaching the virtues of channel bottoms Dale was wary about the new resurgence. "My biggest fear," says Dale, "is that people experiment and get channels wrong and they get a bad name all over again."
But people are experimenting with channels, as evidenced by Darren Handley and the boards he's making for Mick Fanning.
One of the regular criticisms of channels is that they only perform in good waves otherwise air gets under the board and between the channels. Yet Darren tells me that not always a bad thing. "A bit of air under there gives the board lift and looseness. Then with the channels running out the tail they give that last little bit of hold when they want to put the foot down."
When talking about the increased labour, Darren says that two important things have changed. The first is that fin systems have reduced the effort. With channels, each aspect of production is increased: shaping, glassing, and sanding, yet removable fins lessen the accumulated effort. The second and more important aspect is a change in the marketplace. "People are willing to pay for channels," says Darren. "They know what they want and they'll pay the extra money."
In the DHD factory there's no set formula yet, they're making curved channels, experimenting with placement, and Darren has even made a few complex channel bottoms similar to those of his first teacher, Erle Peterson. The only limits are what the fin boxes will hold (Darren's found FCS 2 and Futures incompatible with his six channel design). "There's definitely room to improve," he says emphatically.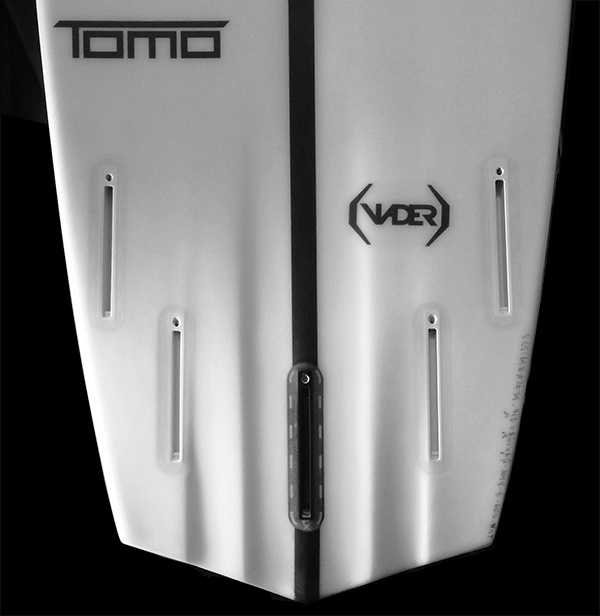 To underscore that point he refers to the boards Dan Thomson is making with channels running out the tail. There's also the board Kelly Slater rode at Snapper, another Tomo shape, with two shallow channels running the length of the board.
Slater has become somewhat of a touchstone to progressive board design - not for him is the keel fin fish. So the fact Kelly Slater has been experimenting with channels – in recent weeks he's picked up a Byrning Spears six channel and had a number of channel bottom Tomo's under his feet – says much about the state of play.
I approached Slater to get his take on the modern channel bottom but received no reply. The day I emailed was the day he released a video of he and Ross Williams talking about board design. It's well known that Slater has led the way with cutting edge design features. So much so his competitors now look to him for breakthroughs. As he is still competing, Williams asked if he wanted to keep any new discoveries a secret.
"Yeah, I think I'm going to," says Slater placing one of Tomo's channel bottoms on the board pile. "If I start finding new things."
(Homepage photo by Andrew Shield)