Flex and strength: Geoblanks about to hit the market
Wednesday, 2 April 2014
For over fifty years centre stringers have been the construction standard in surfboards. A foam blank is cut in two then each half glued is to a wooden stringer in a process that is as simple as it is rudimentary.
In more recent times board makers have been experimenting with different ways to provide structural integrity. Parabolic stringers, internal rods, even diagonal stringers have been used to create strength and change the flex patterns of a surfboard.
The latest innovation to hit the market is Geoblanks. Geoblanks are the brainchild of freesurfer-cum-inventor, Guy Walker, and they're an entirely new way to construct a surfboard and improve its performance.
Inspired by the design functionality of the geodesic dome, hexagonal foam cores of varying density are fused together to alter strength and flex patterns. Swellnet recently spoke to Walker about the world's first modulated foam blank.
Swellnet: How long have you been working on the idea?
Guy Walker: The first prototype was built in my garage in Cabarita about 18 months ago. Once that was done, I started proceeding with the patent.
Was the initial idea to increase strength or was it to modulate board flex?
Initially it started as a strength concept and quickly married both strength and flex outcomes when I applied the variable density principle to our modular construction. The two go hand in hand. The geodesic dome was the starting point. I was looking at alternate housing to build an eco homestay when the lightbulb flashed. The modern geodesic design concept can be credited to Buckmeister Fuller. It creates the largest single span you can construct.
Are Geoblanks much stronger than regular centre stringer/parabolic stringer boards?
It's hard to say the cores are stronger. Mother Nature is going to win in the end no matter what. I can guarantee a larger range of flexure over a similar density core, however laminating plays a major part in the structural integrity of any surfboard. The Geoblanks do have the ability to spread the load through the network of stringers that are created due to the modular construction and this design principle is inherently stronger.
What are the stringers made of?
They're made up of what we call our fusion foam, it's patented and I am unable to tell you.
And how are the cores fastened together?
I can tell you its a fusion process and that's all.
OK, the idea is a big departure from the centre stringer/parabolic stringer idea, how has it been convincing people?
Most people seem to understand the concept pretty easily. There will always be sceptics. I look at the big picture and for me, using the same core for over fifty years is the unbelievable part of our culture's design history. I dont seem to have to sell the concept to many people, it sells itself. The performance of the product is what is most important.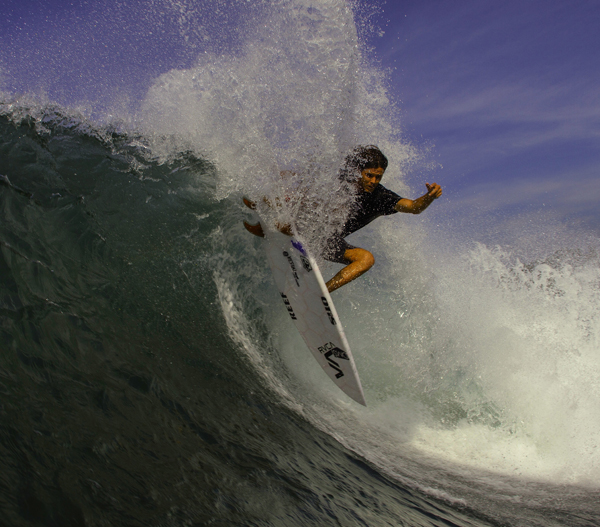 The functionality is one thing, yet it's also an elegant design. Do you consider the looks or aesthetics of Geoblank boards?
Yes. One of the important things about the Geoblank concept is its aesthetic.Good design and aesthetics are an integral part of any product's success. Over and above the core's performance, I wanted to ensure that the visual appeal of the product was reflective. Covering up your mess with a skin here and some paint there is not really what we wanted. The design and performance had to marry seamlessly and we are at that point now. Flex patterns are easily identified by the colour of our fusion foam and the cores can be laminated without the need for any cover ups, so to speak.
Adam Bennets on a Geoblanks V1 core for DMS
(pic: Simon Dobb)
I imagine the production is more complex than blowing regular blanks, has that been a hurdle in getting them to market?
The construction method has evolved a lot since the first blank. We utilise a fusion process now which is different to any other method being utilised at the moment. The yield is pretty good, and despite its complexity the construction method is now pretty straightforward and can be executed without the need for skilled labour. An idea or concept, and building that idea are two different things. Production requires ease of process and a seconds rate that is next to non-existent to be financially stable.
Do you have financial backers helping you get Geoblanks off the ground?
Geoblank R&D to this stage has all been self-funded. I figure the best way to develop a product is from the ground up with a personal dollar commitment. I have benefited from having a very understanding wife and kids who have dealt with some tight times along the journey. Any development process takes funding - lots going out, nothing coming in. We have an investor now to get things rolling along for production and provision for more capital if required.
How far from market are they?
We currently have prototype cores with some of the world's best surfboard builders. We dont have the capacity to do public sales of our blanks, nor do we wish too. The product will be made exclusive to a limited number of shapers around the world and we plan to develop long term, positive relationships with particular manufacturers. Our official launch is happening within the next couple of months, the exact date is yet to be confirmed. We will be letting everyone know who, when, and where they can order a Geoblank core real soon.