Average winds for the South West until Monday
Western Australian Surf Forecast by Craig Brokensha (issued Friday September 23rd)
Best Days: This morning, Perth and Mandurah for the keen tomorrow morning, Sunday morning Perth and Mandurah, Monday morning, Tuesday morning, Wednesday morning, Thursday morning
Features of the Forecast (tl;dr)
Smaller surf tomorrow AM ahead of a mid-period SW swell into the PM
Strong S/SW winds tomorrow, S/SE in the morning in Perth and Mandurah
Large SW groundswell Sun with variable NE-N/NE winds in Perth and Mandurah, freshening SW in the South West
Drop in size Mon, but steadying with a reinforcing SW swell for the PM. Variable E offshore winds ahead of sea breezes
Easing surf Tue with SE tending W/SW winds
New SW swell Wed with S/SE-SE tending S/SW winds
Recap
Our large clean SW groundswell came in strong yesterday with 10-12ft sets in the South West with light winds and clean conditions, 4ft on the sets in Mandurah and 2-3ft across Perth.
This morning we've got a drop in size and early favourable winds for selected spots, but conditions will deteriorate through the day as an approaching frontal system, bringing increasing NW winds.
This weekend and next week (Sep 24 - 31)
The frontal system linked to today's deteriorating conditions will bring strong S/SW winds to the South West tomorrow morning, S/SE in Perth and Mandurah but with a new, weak mid-period SW swell on the build.
It won't be great but Mandurah looks to be mostly 2ft, building to 2-3ft into the afternoon as winds shift S/SW, similar further north but with a little less size and waves to 1-2ft.
The frontal system will be attached to a stronger, weakening polar low, with a great fetch of gale to just under severe-gale W/SW-SW winds generated south-west of us last night.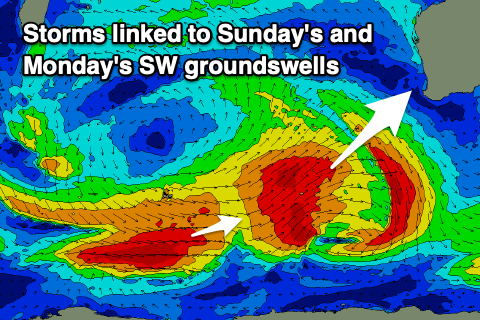 A large SW groundswell is due from this low on Sunday, coming in around the 10ft range in the South West, 3ft Mandurah and 2-3ft across Perth. Unfortunately winds will increase out of the SW in the South West on Sunday as a trough strengthens, more variable and N/NE-NE in Perth and Mandurah during the morning, shifting SW into the afternoon.
Monday looks to be the pick as a high moves in, bringing variable offshore E winds across the South West and a reinforcing, large mid-period SW swell should fill in, generated by a polar low moving through our south-western swell window on the weekend.
Sets to 8ft are due to hold all day across the South West with 2-3ft waves across Mandurah, 2ft in Perth. Afternoon sea breezes are expected so surf during the morning.
Easing surf with SE winds are due on Tuesday morning, ahead of a new swell on Wednesday but the models diverge regarding the strength of the low linked to this swell. GFS has it much stronger and larger, with EC being weaker and smaller.
Either way we're probably looking at at least 6ft surf in the South West but with S/SE-SE winds in the morning, 2ft in Mandurah and 1-2ft across Perth. Check back Monday for an update on this.
Longer term, easing surf with morning offshore winds is expected into the end of next week, but we'll have a closer look at this on Monday. Have a great weekend!