Large and windy days ahead
Western Australia Surf Forecast by Craig Brokensha (issued Monday September 12th)
Best Days: Thursday morning Perth and Mandurah, Friday morning all locations besides Perth, Sunday morning all locations
Features of the Forecast (tl;dr)
Large mix of weak, building W/SW and SW swells into tomorrow PM with strengthening NW winds, shifting W/SW and then SW late in the day
Large peak in swells Wed with strong SW winds
Easing swells Thu with gusty S/SW winds in the South West, S/SE-SE in the AM Perth and Mandurah
Mod-large reinforcing S/SW swell for Thu
Moderate sized, reinforcing SW swell Fri with SE tending SW winds
Smaller Sat with light morning winds
New moderate sized + SW groundswell Sun with E/SE tending SW winds
Recap
Clean conditions with a drop in swell Saturday morning back to 3-4ft in the South West, 1-2ft in Mandurah and 1ft in Perth. A new pulse of S/SW swell arrived later in the day and held Sunday with great 4-6ft sets in the South West, 2ft in Mandurah and 1-2ft across Perth.
Today the swell has dropped right back with windy, choppy conditions across the South West, tiny in Perth and Mandurah and also wind affected.
This week and weekend (Sep 13 - 18)
The coming week revolves around the deepening mid-latitude low that's due to develop through the coming 24 hours to our west.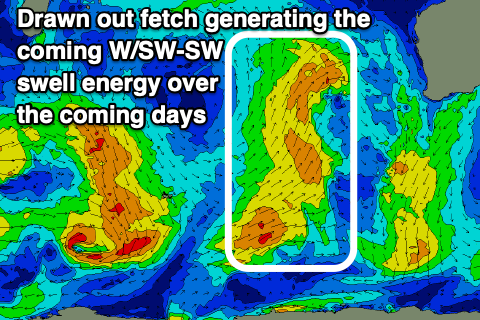 We're seeing a trough generating an stretched out fetch of strong W/SW winds in our western and south-western swell windows, with the system as a whole due to form into a low late in our swell window, to the south-west Wednesday.
All in all no major fetch strength will be aimed towards us, with a junky low quality W/SW swell due to build tomorrow ahead of a peak Wednesday.
There'll also be some S/SW swell from the backside of the low Thursday before easing Friday.
Now, unfortunately due to the slow moving nature of the low east through the Bight, winds will be onshore for most of the week leaving no real quality options.
As the trough moves into us tomorrow winds will strengthen from the NW, shifting W/SW and then SW later in the day as it crosses us.
Building surf to 6-8ft later tomorrow is expected with stormy 3-4ft surf developing in Perth and Mandurah, while Wednesday should see surf more to 8ft across the South West and a continuation of 3-4ft waves in Perth and Mandurah.
Strong SW winds will unfortunately create poor conditions Wednesday and come Thursday we'll see gusty S/SW winds in the South West with more favourable S/SE-SE winds to the north.
Size wise the South West looks to be still around 6ft+ with a reinforcing S/SW swell from the backside of the low, easing 2-3ft in Mandurah and 2ft+ across Perth.
There'll also be a small, long-period SW groundswell signal in the mix on Thursday but under the existing swell energy.
Friday should finally see a SE offshore wind across the South West, E/SE further north and with a fun pulse of new mid-period SW swell. This will be generated by strong to gale-force W/NW winds moving slowly through the southern Indian Ocean over the coming days and keep sets to 4-5ft+ in the South West, 1-2ft in Mandurah and 1-1.5ft across Perth.
Saturday will be smaller and a trough looks to bring onshore winds to the South West (possibly variable), cleaner Sunday with a new pulse of moderate sized SW groundswell.
This swell will be generated by the first of a series of strengthening Southern Ocean storms firing up through our south-western swell window, producing increasingly larger and stronger pulses of groundswell.
Unfortunately the remnants of the progression look as if they'll clip us next week bringing onshore winds to the South West. Cleaner waves are due to the north and at this stage we should see surf in the 8ft range across the South West, 2-3ft in Mandurah and 2ft across Perth ahead of a possible more significant swell late week.
More on this Wednesday.