Good run of waves with winds out of the north-east quadrant
Western Australia Surf Forecast by Craig Brokensha (issued Monday June 27th)
Best Days: Every day this period, strongest and largest on the weekend
Features of the Forecast (tl;dr)
Moderate sized mix of W/SW and SW mid-period SW swell tomorrow with SE winds (tending S/SE at times)
Moderate sized mix of swells Wed with E/SE winds in Perth and Mandurah, E/NE in Margs
Inconsistent SW groundswell building Thu PM, holding Fri with fresh E/NE tending moderate N/NE winds Thu, moderate E/NE tending N/NE winds Fri
Large, long-period and inconsistent W/SW groundswell for Sat, peaking in the PM with moderate E/NE tending N/NE winds
Large reinforcing levels of W/SW swell Sun PM and Mon with fresh NE tending N/NE winds on Sun, gusty N/NW Mon
Recap
Light winds and still plenty of size to 6ft across the South West Saturday, steadying with a reinforcing mid-period SW swell. Mandurah was a fun 2-3ft still and 2ft in Perth
Sunday saw the size starting to ease more noticeably with 3-4ft sets in the South West, 1-2ft in Mandurah and a tiny 1-1.5ft across Perth.
Today onshore winds have moved back in across the South West as the swell bottoms out, bumpy and tiny to the north.
This week and weekend (Jun 28 – Jul 3)
Today's onshore change is linked to a weak front moving through and we'll see winds shift back offshore tomorrow, remaining so through the rest of the week as a strong, slow moving high pushes east.
Swell wise, some new mid-period W/SW swell is due to build this afternoon but peak tomorrow, mixed in with some mid-period SW swell generated by today's front.
4-6ft surf is due across Margaret River, 2ft in Mandurah and Perth with morning SE winds, holding most of the day if not shifting back to the S/SE at times.
Wednesday looks cleaner with E/NE winds in the South West, E/SE across Perth and Mandurah, holding all day. Swell wise we'll see similar sized surf to Tuesday, with a reinforcing mid-period SW swell due to fill in through the day.
Thursday morning looks to start a little smaller, but into the afternoon a new inconsistent SW groundswell is due to arrive, generated by a strong polar low that formed south-east of South Africa on the weekend.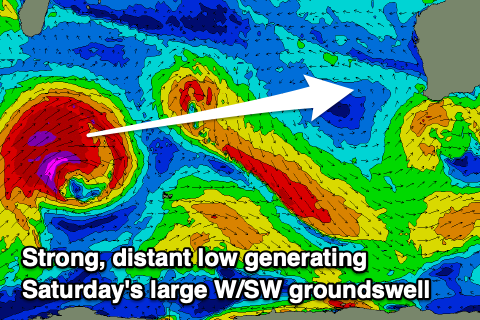 While inconsistent, stronger 5-6ft sets are due into the afternoon, holding Friday morning with inconsistent 2ft sets across Mandurah 1-2ft in Perth.
You'll have to target northerly friendly breaks with a fresh E/NE'ly due to ease and tend more N/NE through the day on Thursday, with moderate E/NE tending N/NE winds on Friday.
As discussed last week, moving into the weekend we've got a large, long-period W/SW groundswell due, followed by reinforcing pulses Sunday and Monday.
The initial long-period swell will be generated by a very intense low that's formed south-east of South Africa. A fetch of severe-gale to storm-force W/SW winds have already been generated, with the low due to weaken slowly while pushing east. The slow movement and gradual weakening will result in a large W/SW groundswell with it due to arrive overnight Friday and peak through Saturday afternoon to 10ft+ across the South West, 3ft to possibly 4ft in Mandurah and 2-3ft across Perth.
Winds will play out similar to the days before, moderate to fresh from the E/NE, tending more N/NE through the day.
The swell should ease slowly through Sunday but weaker trailing fetches of W/SW gales should produce some reinforcing W/SW swell for the afternoon and Monday.
Sunday morning should be a similar size to Saturday afternoon, with Monday coming in around the 8ft range in the South West, 2-3ft Mandurah and 2ft+ across Perth.
Winds will start to tend more northerly as the high pushes east, bringing NE tending N/NE winds on Sunday and poor, strong N/NW winds Monday as a front approaches.
Therefore make the most of Saturday and early Sunday.
We've got some large swell energy due through mid-late next week as a significant polar low fires up to our south-west but more on this in the coming updates.