Fun run of clean swells from later week
Western Australia Surf Forecast by Craig Brokensha (issued Monday January 17th)
Best Days: Swell magnets early tomorrow in the South West, Thursday morning in the South West, Friday all locations, Saturday in the South West
Features of the Forecast (tl;dr)
Fading swell tomorrow with light E-E/NE winds ahead of sea breezes
Inconsistent, mid-period W/SW swell building Thu, peaking Fri, easing Sat AM
E/SE winds ahead of sea breezes Thu, fresh E/NE tending variable Fri and Sat
Inconsistent W/SW swell for Mon with S/SE winds
Recap
Deteriorating conditions with a small, mid-period SW swell persisting around 3-4ft across the South West Saturday, best early while to the north it was tiny.
Our upgraded S/SW groundswell for Sunday came in nicely with 6ft+ sets reported at dawn across the South West with favourable winds for protected spots, tiny to the north. Today conditions have cleaned up with the swell now on the ease, dropping from a really fun 4-5ft across the South West, 1-1.5ft in Mandurah and 0.5-1ft in Perth.
This week and weekend (Jan 18 - 23)
Moving into tomorrow, we'll see yesterday's S/SW swell continuing to ease in size, fading from 3ft or so across the swell magnets in the South West, tiny to the north.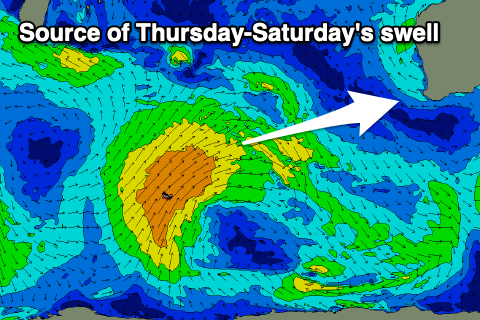 Conditions will be great tomorrow with a light E tending E/NE breeze ahead of sea breezes, but hit the small wave breaks.
Wednesday looks to be a lay day with a low point in swell, though conditions will be clean again through the morning.
From Thursday, our new, prolonged mid-period W/SW swell should start to fill in, generated by a broad, slow moving low that's currently north of the Heard Island region.
A slow moving fetch of strong W/SW winds are being projected towards us and we'll see a secondary front push and up through our swell window Wednesday and Thursday, generating a reinforcing pulse of swell for later Sunday and Monday.
Looking at the first pulse and we should see it building to 4-5ft through the day (possibly a little under sized early), 1-1.5ft in Mandurah and Perth.
Friday morning looks to offer a touch more size with 4-6ft sets in Margs and 1-2ft sets to the north with easing surf from 3-5ft and 1-1.5ft respectively Saturday.
Locally winds look good with an early, light E/SE breeze across the South West on Thursday morning, E/NE to the north ahead of sea breezes, fresh E/NE Friday and Saturday mornings (variable afternoon).
The reinforcing pulse of swell will be less consistent but should provide 4-5ft+ sets across the South West again on Monday, with 1-1.5ft waves in Mandurah and Perth. Winds won't be as favourable though as trough moves east, bringing a change Sunday and S/SE breezes on Monday. We'll confirm this on Wednesday though.
Longer term more mid-period swell energy is on the cards but with less favourable winds. More on this next update.