Good swell for late today and more so tomorrow, with a larger swell early next week
Western Australia Surf Forecast by Craig Brokensha (issued Friday October 8th)
Best Days: Protected spots tomorrow, Sunday morning, Wednesday protected spots, Thursday morning
Features of the Forecast (tl;dr)
Mod-large mid-period SW swell building late today, peaking tomorrow AM with mod-fresh S/SE tending S/SW winds (SE in Perth and Mandurah)
Easing SW swell Sun with moderate E/NE tending N and then N/NW winds (SW further north into the PM)
Large SW groundswell for Tue with strong S/SW winds
Easing SW swell Wed with S-S/SW winds in the South West, SE further north in the AM
Easing SW swell Thu with E tending SW winds
Inconsistent W/SW groundswell building late Fri, peaking Sat AM
Recap
Poor surf across the South West but clean and fun to 2ft across Mandurah and Perth yesterday morning, while Mandurah was the only decent option this morning, onshore in the South West with improving conditions but tiny surf in Perth.
This weekend and next week (Oct 9 - 15)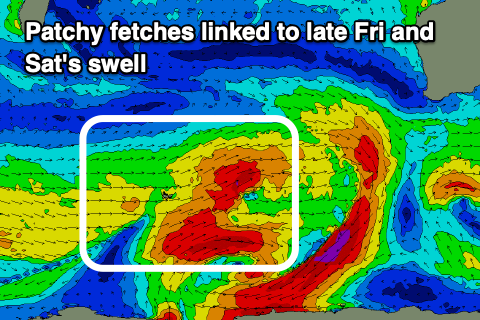 We've got a fun weekend of waves on the cards across the state as our new SW groundswell fills in later today and peaks tomorrow morning. This has been generated since the middle of the week by dual polar lows and patchy fetches of W/SW gales being projected towards us from the Heard Island region.
The swell should provide good 8ft sets across the South West tomorrow morning, easing through the day with easing surf from 3ft in Mandurah and 2-3ft in Perth.
Winds will be best for Perth and Mandurah, SE through the morning ahead of S/SW sea breezes, while Margaret River looks to see mostly S/SE winds, tending more SE for periods across the northern half of the cape.
Sunday morning will be nice and clean with a moderate E/NE offshore, though this will quickly shift N'ly late morning and then N/NW in the South West and SW across Perth and Mandurah.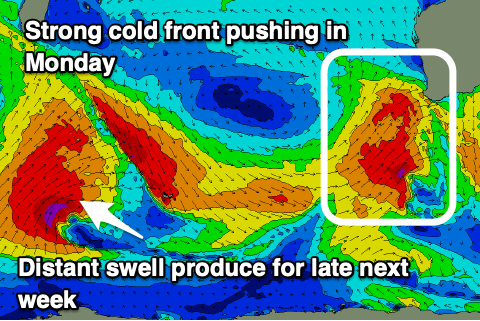 Size wise, the groundswell will be easing and back to mid-period energy with dropping sets from the 5-6ft range in the South West, 2ft+ in Mandurah and 2ft across Perth.
Smaller surf is due Monday morning but we'll see a strong cold front projecting from the Heard Island region, up into the state bringing strengthening W/NW winds ahead of SW change.
Perth and Mandurah look to see early lighter N winds at dawn but with no real size.
This frontal system will form tomorrow evening and project gale-force W/SW winds up towards us, generating a large SW groundswell that will arrive through Tuesday.
Unfortunately winds will remain strong from the S/SW on Tuesday as the swell peaks with 10ft+ surf due in the South West, 3-4ft across Mandurah and 3ft in Perth, improving Wednesday in Perth and Mandurah as a high starts to move in. This will bring SE offshore winds, with S'ly winds across the South West as the swell still comes in solid but on the ease.
Thursday is the cleanest but we'll be looking at smaller, weaker surf on the backside of the swell.
The easing trend will be slowed somewhat by some reinforcing energy, but we'll have a closer look at this on Monday. Longer term a fun, new W/SW groundswell is due next weekend (generated south-east of South Africa) with decent winds, but check back here after the weekend. Have a good one!