Another dose of large, stormy surf on the way
Western Australia Surf Forecast by Craig Brokensha (issued Wednesday July 28th)
Best Days: Possibly Perth Saturday morning, Perth and Mandurah Monday through Wednesday mornings, Margs Tuesday and Wednesday mornings
Features of the Forecast (tl;dr)
Stormy, building W/NW windswell tomorrow with strengthening NW winds, reaching gale-force in the South West late
XL W/SW groundswell filling in Fri, peaking into the PM with strng W winds, shifting W/SW
Easing swell Sat with strong SW tending W winds (possibly S/SE early in Perth)
Stormy SW swell Sun with strong SW winds
Easing surf next week with light winds each morning in Perth and Mandurah, improving from Tue for the South West
Recap
Large, stormy surf developing across all coasts through yesterday morning with strong to gale-force onshore winds, abating a little into the afternoon with a slight drop in size.
Today, Perth saw winds go variable, cleaning up a good 3-4ft of W/SW groundswell while Mandurah remained onshore, but with light winds, a write-off still in the South West.
This week and weekend (Jul 29 – Aug 1)
This morning's drop in local winds is only temporary with the next frontal system now on the way in from the west. This afternoon winds will strengthen from the NW across all locations, becoming event stronger and near gale-force across the South West through tomorrow (into the afternoon).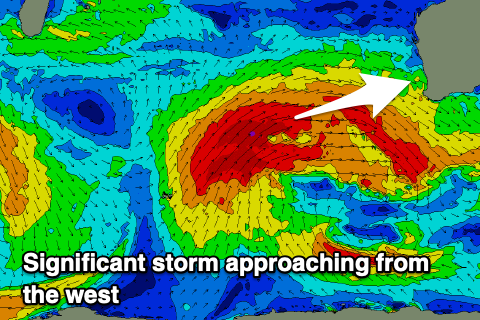 This will be as pre-frontal strong to gale-force winds move in ahead of a great, broad fetch of severe-gale W/SW winds projecting from a polar low that's currently just north-east of the Heard Island region.
A stormy increase in W/NW swell is due through tomorrow as winds strengthen, with the XL W/SW groundswell from the polar system moving in Friday. This swell is due to peak into the afternoon/evening with the South West building to 15-20ft, 4-6ft in Mandurah and 3-5ft across Perth.
Winds will be strong from the W, tending W/SW so options again will be limited to near none.
Strong SW winds will persist into Saturday as the swell eases, still very large in the morning and unfortunately the likelihood of lighter S/SE winds looks limited to Perth now. We'll confirm this on Friday.
The strong onshore winds will be linked to another cold front pushing up and into us, swinging winds W'ly Saturday afternoon and arriving into the evening.
Strong SW winds will be left into Sunday along with a new large SW groundswell, likely 12-15ft in the South West, 4-5ft across Mandurah and 4ft in Perth.
Winds will back off in strength Monday as the swell eases, but weak frontal activity will leave lingering W/SW winds in the South West. Perth and Mandurah will become much cleaner with light morning NE winds.
Size wise the South West will be easing from 10ft range, 3-4ft in Mandurah and 3ft in Perth.
The weak frontal activity won't bring much in the way of new swell but keep annoying onshore winds blowing in the South West, cleaner and better to the north but smaller. We may see variable winds develop Tuesday morning, with Wednesday seeing a light offshore and 4-6ft of mid-period SW swell. We'll have a closer look at this on Friday.