Large, damaging fronts and swells
Western Australia Surf Forecast by Craig Brokensha (issued Monday July 12th)
Best Days: Saturday and Sunday
Features of the Forecast (tl;dr)
Large, stormy W/NW swell tomorrow with strong W/NW tending W winds, easing Wed with strong W/SW winds
New large, stormy W/SW swell Thu with strong-gale force W/SW winds, tending SW later
Easing swell with strong, easing SW winds Fri
Easing W/SW swell Sat with a new, building SW groundswell. Light variable winds
Easing SW swell Sun with variable winds
Recap
Poor waves across the South West to start off the weekend with a large new swell but strong onshore winds, only easing a bit later in the day. Perth and Mandurah offered cleaner conditions with variable winds and peaky 3-4ft waves across Mandurah Saturday morning, 2-3ft in Perth.
Yesterday was great across all locations with clean conditions and easing 6-8ft sets in the South West, 2-3ft across both Perth and Mandurah. I hope you made the most of it as today is now deteriorating as the new storm approaches from the west.
This week and weekend (Jul 13 - 16)
Settle in for another week of poor surf and strong onshore winds. We've got a broad, mid-latitude currently sitting west of us, directing strong to gale-force W/NW winds in towards the state.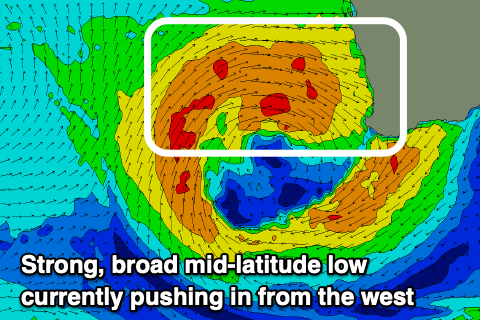 It's high in latitude and as a result the swell will arrive from the W/NW across all locations, with a local increase in stormy swell this afternoon, peaking tomorrow in the 12ft+ range across the South West, 4-6ft in Mandurah and 4-5ft across Perth. Conditions will be a write-off though with strong W/NW tending W winds.
Now, as touched on in Friday's update, the tail of the low will continue to bring onshore W/SW winds on Wednesday as the swell eases before dragging a cold front up and into us on Thursday.
This front will strengthen on approach, generating gale-force W/SW winds which will impact the South West Wednesday evening.
This will bring gale-force, damaging winds and large stormy surf likely to 12ft+ in the South West again, 4-5ft across Mandurah and 3-5ft in Perth.
Winds should abate slowly through the day as the front starts to clear to the east but not enough for conditions to clean up Friday. We'll continue to see strong SW winds on Friday with more variable breezes likely to swing offshore Saturday.
There'll be a mix of easing mid-period W/SW swell and a good, new building SW groundswell, generated by a polar low firing up east of Heard Island on Wednesday. Size wise, the groundswell should build to 8-10ft across the South West 3ft in Mandurah and 2-3ft in Perth, easing Sunday with light winds again.
Longer term it looks there'll only be some brief respite before the next mid-latitude low moves in Tuesday but behind this, into the end of the month it looks like we'll finally see some proper Southern Ocean storms fire up. More on this Wednesday.