Excellent tomorrow then the onshore winds kick in
Western Australia Surf Forecast by Craig Brokensha (issued Wednesday June 16th)
Best Days: Thursday, selected spots Friday, Saturday for the desperate Perth and Mandurah early
Features of the Forecast (tl;dr)
Large, long-period SW groundswell peaking tomorrow AM with moderate E/NE tending vairable winds, easing Fri with moderate NE tending strong N-N/NW winds (light-mod NE tending N and possibly variable to the N'th)
New SW swell Sat with strong NW winds (N/NE tending N to the north), followed by a larger W/SW swell Sun with strong S/SW winds (W/NW early further north)
Mod-large, onshore surf through most of next week
Recap
The large, stormy surf seen into Monday started to ease and clean up through yesterday but even with light offshore winds, Mandurah was still bumpy and raw for the early. Conditions slowly improved through the day, with Perth offering cleaner, lumpy 3ft+ surf.
Margs remained large, poor and onshore, best in protected spots with slightly better conditions today, though still wind affected on the exposed reefs. Perth and Mandurah are much better today with light offshore winds and fun 2ft and 2-3ft waves respectively.
This week and weekend (Jun 17 - 20)
Tomorrow is the pick of the week and forecast period, as we see a large, new, long-period SW groundswell filling in under offshore winds.
This swell has been generated the last few days by a strong polar low firing up around the Heard Island region, projecting a fetch of storm-force W/SW winds through our swell window.
The low is now weakening south of us and we'll see the swell arriving very late today in the South West but peaking tomorrow morning to a large 12ft to occasionally 15ft in the South West, 3-4ft across Mandurah and 3ft in Perth.
A high will move in from the west, swinging winds around to the E/NE tomorrow morning, moderate in strength and then variable into the afternoon.
This will create a whole day of excellent surf as the swell starts to ease later.
Friday will be best across spots that like northerly winds with a dawn, moderate NE tending stronger N-N/NW breeze in the South West, light to moderate N to the north into the afternoon and possibly variable late.
Size wise the South West should ease back from 6ft to possibly 8ft, 2-3ft in Mandurah and Perth.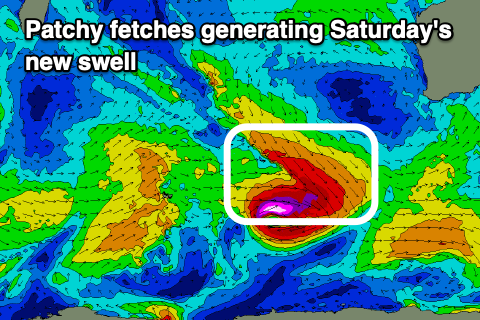 As we move into the weekend, we'll see winds deteriorate as a new mid-period SW swell arrives Saturday, ahead of a bigger W/SW swell into Sunday/Monday.
Saturday's swell will be generated by patch, pre-frontal W/NW-W severe-gale winds around a low, with a secondary front pushing up on the back of this low due to generate a fetch of strong to gale-force W/SW winds.
Size wise, Saturday's swell looks to come in around 5-6ft in the South West, 2ft to the north and with strengthening NW winds, N/NE tending N to the north.
More size is due Sunday with sets to 6-8ft across the South West, 2-3ft in Mandurah and 2ft+ across Perth but with a strong S/SW change (W/NW in the morning Perth and Mandurah).
This change will be linked to a trough moving in from the west, forming into a mid-latitude low and stalling off our south, bringing poor, onshore W/SW winds into early next week and a localised, stormy swell.
Then South West looks to come in around the 10ft range at the swells peak Tuesday, 3ft+ further north but with those onshore winds.
The low looks to weaken and push east through mid-late next week, only to be replaced by another mid-latitude storm. This will bring a run of poor, onshore surf through all next week and weekend, possibly persisting into the last week of the month. More on this Friday though.