Large, easing surf with winds from the north-eastern quadrant
Western Australia Surf Forecast by Craig Brokensha (issued Monday May 24th)
Best Days: Tuesday selected spots, Wednesday morning selected spots, Thursday and Friday morning selected spots, Sunday morning Perth and Mandurah
Features of the Forecast (tl;dr)
Large, easing S/SW groundswell and mid-period energy tomorrow with E/NE tending N/NE winds, then variable
Easing swell Wed with strengthening NE tending N/NE winds
New, inconsistent SW groundswell Thu with strong N tending N/NW winds, easing Fri with similar winds (N/NE early Perth and Mandurah each day)
Large W/SW groundswell kicking late Fri, peaking Sat with W tending SW winds, smaller Sun with gusty S/SW winds (lighter E/SE to the north)
Recap
Limited options for a good wave on Saturday with strengthening N/NW winds and a good new W/SW swell, better into Sunday across Perth and Mandurah with offshore winds and sets to 2-3ft.
Today we've got our oversized SW groundswell mixed in with mid-period S/SW swell filling in across the state with choppy 12-15ft waves reported this morning in the South West, 3-5ft in Mandurah and 3ft in Perth. The swell has built further in Perth and Mandurah with a variable breeze offering fun, lumpy waves for the keen.
This week and weekend (May 25 - 30)
Today's mix of swells will peak through the day, with this already occurring in the South West, more so this afternoon across Perth and Mandurah, with a general downwards trend expected tomorrow out of the S/SW. We'll be seeing a mix of easing groundswell and mid-period energy with Margs expected to still be an easy 10ft in the morning, 3-4ft in Mandurah and 3ft across Perth as winds improve across all locations
We'll see a moderate E/NE tending NE breeze in Perth and Mandurah, shifting more N/NE and then likely variable into the afternoon which will create great conditions for Finals Day at the Rottnest Island event.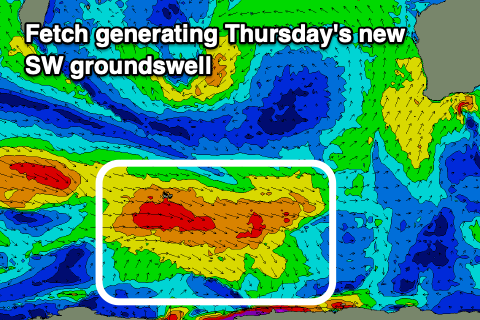 Margs should see an E/NE tending variable N/NE breeze with a bit of lump likely early in the morning.
Strengthening NE tending N/NE winds are due Wednesday as the swell continues to ease, best in selected spots that handle the northerly winds.
On Thursday a new SW groundswell is due across the state, generated by a polar frontal progression that developed west of the Heard Island region and is now weakening just east of it.
A fun kick in size to 4-6ft across the South West, 1-2ft in Mandurah and 1-1.5ft across Perth. Winds will become less favourable and stronger from the N'th on Thursday (N/NE early Perth and Mandurah), shifting N/NW through the afternoon, similar Friday as the swell eases.
These northerly winds will be associated with a strong, slow moving mid-latitude low pushing east towards us. The low itself will generate a persistent fetch of gale-force to sometimes severe-gale force W/SW winds towards us, producing a large W/SW groundswell for Saturday, but we should see it kick late Friday.
Size wise we're looking at 10-12ft+ surf in the South West, 4ft across Mandurah and 3-4ft in Perth. Winds are an issue though as the remnants of the low move in Saturday bringing moderate to fresh W tending SW winds, cleaner Sunday in Perth and Mandurah but with strong S/SW winds persisting in the South West as the low possibly restrenghens off our South Coast.
Monday looks dicey as winds hold from the south but we'll have to review this again in the coming updates.