Active period of autumn surf
Western Australia Surf Forecast by Craig Brokensha (issued Wednesday April 28th)
Best Days: Early tomorrow morning, Friday morning Perth and Mandurah, Saturday morning, Sunday, Monday, Tuesday
Features of the Forecast (tl;dr)
Easing W/SW swell tomorrow with early E/NE tending stronger N/NW then NW winds
Moderate sized + W/SW-SW swell for Fri but with strong S/SW winds (S/SE in the AM Perth and Mandurah) easing Sat with more variable, tending light offshore winds in Perth and Mandurah
Large, powerful SW groundswell building Sun with morning E/SE winds ahead of sea breezes, easing Mon with strong E tending E/SE winds, smaller Tue with strong E/NE tending NE winds
Large onshore surf into the end of the week
Recap
Our first pulse of W/SW swell filled in yesterday with surf to 6ft across the South West but with a light, lingering onshore wind, cleaner to the north and to 2ft across Mandurah, 2ft in Perth. A bit more energy showed into the afternoon but today we've got our strongest pulse with 6ft+ sets in the South West, 2ft across Mandurah and 2-3ft in Perth with light offshore winds.
This week and next (Apr 29 – May 7)
One final pulse of reinforcing W/SW swell is due to fill in overnight, originating from the patchy though prolonged mid-latitude frontal activity seen since late last week through the Indian Ocean.
We should see this maintain 6ft surf in the South West tomorrow morning, easing thereafter, with 2ft+ sets across Perth and Mandurah.
Conditions will be favourable again with a dawn offshore E/NE breeze in the South West, S/SE further north but an approaching front will see winds swing N/NW and strengthen through the mid-late morning, strong NW into the afternoon. Therefore aim for the early if looking for a wave.
The approaching front will bring with it a solid increase in mid-period W/SW-SW swell on Friday as a fetch of strong W/SW tending SW winds are projected towards and into us.
The South West should see messy, low quality surf to 6ft+ Friday, 2-3ft in Perth and Mandurah along with strong, easing S/SW winds, likely S/SE-SE during the morning in Perth and Mandurah.
Saturday should be cleaner with a lighter, variable breeze in the South West (possibly still lingering onshore), E/NE in Perth and Mandurah. The swell will be easing though, dropping from 2ft and 5-6ft respectively.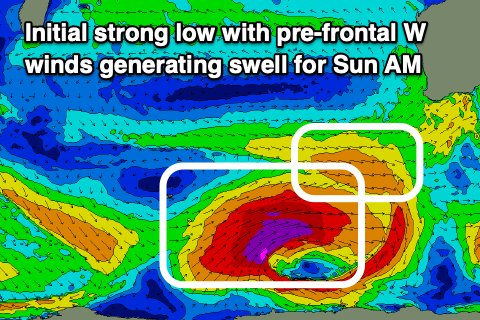 We then look at the oversized, long-period SW groundswell due Sunday and the low responsible for it.
This low is expected to fire up around the Heard Island region this evening, a touch later than forecast on Monday and this has resulted in slight downgrade in the expected size. We'll still see a significant fetch of slow moving severe-gale to storm-force W/SW winds pushing through our south-western swell window, with a secondary little intensification in our southern swell window before pushing further east and under the country.
The swell will be strong, large and build rapidly Sunday afternoon, with the morning likely to come in around 6ft+ ahead of the groundswell proper, reaching 10-12ft by dark. Perth and Mandurah look to be 1-2ft in the morning, pushing to 3ft+ by dark in Mandurah and 3ft across Perth.
The swell should then ease from a still large 10ft across the South West Monday morning from a more S/SW direction with 3ft sets in Perth and Mandurah.
Looking at the local winds and a light E/SE offshore is now due Sunday morning ahead of afternoon sea breezes, back to the S/SE on dark, with strong E winds Monday, easing and tending E/SE through the day.
Tuesday will see the swell dropping further from the 6ft range on the sets in the South West, 2ft to the north with a strong E/NE tending NE breeze.
A low point in swell is expected Wednesday morning and a trough pushing east looks to swing winds onshore from the NW tending W.
This will then signal a change in weather patterns with a strong node of the Long Wave Trough developing just west of us, steering and strengthening frontal activity up and into the state.
Before this happens though there'll be another two lows forming around the Heard Island region, the second being patchy in structure, generating a large SW groundswell for later Wednesday and more so Thursday, with a secondary stronger, but fast tracking low generating a longer-period SW groundswell for Friday/Saturday.
These swells look to be in the 8-10ft range for the South West but with onshore winds Thursday from the W-W/SW, W/NW on Friday. Conditions may improve into Sunday, but this is a long way down the track so check back here Friday for the latest.