Fun surf days for most of the period
Western Australia Surf Forecast by Craig Brokensha (issued Friday April 23rd)
Best Days: Saturday in the South West, Monday morning in the South West, Tuesday, Wednesday and Thirsday mornings all locations
Features of the Forecast (tl;dr)
Easing S/SW groundswell tomorrow with a new, inconsistent SW swell for the afternoon, easing slowly Sun
Morning E-E/NE tending N/NE winds tomororow with weak sea breezes, light to moderate W in the South West Sun
New W/SW swell for Tue with variable morning winds, with reinforcing pulses for Wed and Thu AM with favourable morning winds
Windy swells from next weekend
Recap
The new pulse of swell for Wednesday didn't really show much before dark, but for what it lacked initially it made up for yesterday with a large peak to 8ft+ across the South West with great conditions, building to 2-3ft in Mandurah and 1-2ft across Perth.
The swell has eased off this morning but early the South West was still pulling in 6-8ft sets, 2ft in Mandurah and 1-2ft across Perth. Make the most of it before sea breezes kick in.
This weekend and next week (Apr 24 – 30)
The surf will continue to ease into tomorrow and conditions look clean again with a moderate E-E/NE offshore, tending more N/NE ahead of weak sea breezes. This should offer plenty of fun options for a surf with easing sets from 4-5ft, 1-1.5ft in Mandurah and Perth.
Our new, inconsistent SW groundswell for the afternoon should keep similar sized sets hitting the South West and locations further north after lunch, easing Sunday from a similar size but with a weak W'ly offshore in the South West, variable to the north.
The surf will ease back a touch more Monday as winds revert back offshore in the morning to the E/NE.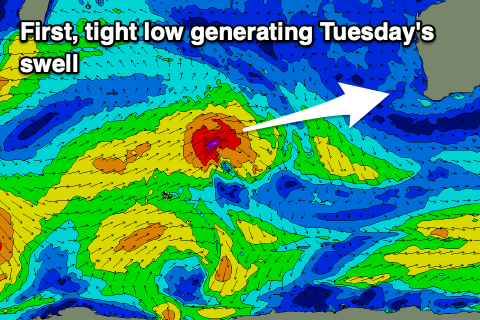 We then look at our moderate sized + run of mid-period W/SW swell, generated by generally weak and patchy though persistent mid-latitude frontal systems firing up in our swell window from today.
An initial front today will generate a fetch of gale-force W/SW winds in our western swell window up until tomorrow morning before weakening and dipping south-east. This should produce an initial W/SW swell with the most period for Tuesday, coming in around the 6ft range across the South West, 2ft in Mandurah and Perth.
A broader though weaker fetch of W/SW winds will then produce a lesser period, reinforcing swell for Wednesday to a similar size across all coasts, with one final front keeping the size up into Thursday morning, then easing.
Winds look a little more favourable with a variable breeze likely Tuesday morning, tending W/NW through the day in the South West, SW to the north. Wednesday should be fun with E/NE offshores ahead of sea breezes, variable E/NE Thursday as the swell eases.
Longer term there's a bit of activity on the cards for next weekend and beyond as the mid-latitude activity starts to strengthen and develop right on us. This looks to bring a plenty of swell but a bit of wind as well.
We'll have a clearer idea on next weekend's outlook and beyond on Monday. Have a great weekend!