Make the most of the current swell
Western Australia Surf Forecast by Craig Brokensha (issued Monday March 8th)
Best Days: Tomorrow morning South West swell magnets, keen sufers Saturday morning South West swell magnets
Features of the Forecast (tl;dr)
Fading SW swell with favourable E/NE winds over the coming two mornings
Small, mid-period SW swell for Fri with S/SE winds, easing Sat with morning E/SE winds
Recap
A slow start to the weekend ahead of a new SW groundswell into Saturday afternoon, best yesterday with clean 6-8ft surf in the South West, building further into the afternoon with a secondary stronger pulse of SW groundswell. Mandurah was a clean 2-3ft yesterday morning, slow and to 1-2ft in Perth.
This morning the waves were great again across the South West, if not a bit windy with easing 5-6ft sets, 2ft+ in Mandurah and 1-1.5ft across Perth.
This week and weekend (Mar 9 - 14)
Down, down, down.
Make the most of the current swell as it'll continue to ease over the coming day or two, bottoming out through Wednesday and Thursday.
Winds will be favourable and fresh from the E/NE tomorrow morning, giving into sea breezes by mid-afternoon, with easing 3ft+ sets on the South West magnets, tiny further north. Wednesday looks clean again but with no major size at all.
A trough will see winds revert back to the SE on Thursday morning, holding out of the S/SE on Friday morning as a new mid-period SW fills in.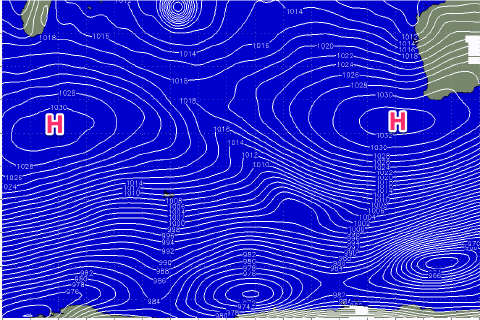 The source of this swell will be a polar front firing up relatively late in our swell window and without too much strength.
A fetch of strong W/SW winds will be generated, with a secondary weaker front due to project up closer to us on top of the incoming swell. The initial front should produce a small SW swell for Friday to 3ft+ or so, easing from a similar size out of the S/SW Saturday. Perth and Mandurah aren't expected to see any size.
It's worth noting our models are incorrectly combining this new mid-period energy with smaller, longer period background energy and over-forecasting the size Friday. Winds will be average as mentioned above, shifting E/SE Saturday morning but keep your expectations low.
Unfortunately the longer term outlook remains void of any significant swells as two large blocking highs setup across the Indian Ocean. Check back Wednesday and Friday for any improvements to the long term forecast.