Wednesday, 30 September 2020
Pesky winds won't relent
Western Australia Surf Forecast by Craig Brokensha (issued Wednesday 30th September)
Best Days: Protected spots Saturday, Perth and Mandurah Sunday morning, Monday, Tuesday across the South West swell magnets
Recap
Terrible conditions yesterday with no decent swell and onshore winds across all locations, while today we've got an increase in mid-period W/SW energy to 6-8ft in the South West but with continuing onshore winds.
Mandurah and Perth were a bit better with lighter and more variable winds, 2-3ft around the former and 1-2ft across the latter.
This week and next (Oct 1- 9)
Today's swell is expected to ease tomorrow and we'll see winds revert back to the west and strengthen across all locations, creating poor conditions.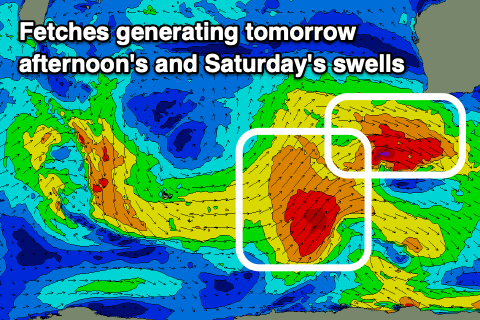 This will be linked to a strong mid-latitude front edging in from the south-west, producing a fetch of W/NW gales and small reinforcing SW swell tomorrow afternoon to 6ft+ in the South West, 2-3ft in Mandurah and 2ft across Perth.
Friday still looks onshore as well with the SW swell easing under strong SW winds, possibly S/SW at times in the morning further north.
The new S/SW groundswell for Saturday is also still on track, produced by a slow moving fetch of strong to gale-force SW winds attached to the base of the mid-latitude front, weakening slowly tomorrow.
The size of this swell looks to be in the 6-8ft range across the South West Saturday morning, if not for the odd sneaky bigger cleanup, 2-3ft in Mandurah and 2ft in Perth, easing into the afternoon and then smaller Sunday.
There'll be lots of mid-period noise in the mix as well from a weak front spawning off the polar system, bringing those SW winds Friday.
We'll finally start to see conditions improving on Saturday but more so in protected spots with a strong S-S/SE'ly due across the South West, fresh and S/SE further north. The afternoon looks average as winds shift S/SW.
Sunday now looks average with winds swinging S/SW-S across the South West (S/SE early to the north) along with the easing S/SW swell. This will be linked to a weak front pushing up and into the south of the state, with the high to our west not being strong enough to deflect it further east.
Monday will see winds finally swing offshore along with a moderate sized, mid-period S/SW swell from a weak polar front skirting the south of the high. Size wise the South West looks to come in around 5-6ft, only 2ft in Mandurah and 1-1.5ft+ across Perth.
The swell will ease through the day and further Tuesday as winds shift more north-east.
Longer term there's some better groundswell possibly for late week though winds may be a touch dicey. More on this Friday.