Wednesday, 13 May 2020
Mix of large swells inbound, though winds deteriorate
Western Australia Surf Forecast by Craig Brokensha (issued Wednesday 13th May)
Best Days: The South West tomorrow morning, Saturday, Sunday, Monday through Wednesday Perth and Mandurah, Tuesday protected spots in the South West
Recap
Our new large groundswell pushed in with size and power yesterday with great conditions and clean 8ft+ waves across the South West, better than expected 3-4ft sets around Mandurah and 2-3ft in Perth.
It was a one day affair though with the swell easing back to 5-6ft across the South West this morning, 2-3ft in Mandurah and 2ft in Perth but with great conditions.
This week and weekend (May 14 - 17)
We'll see the surf continue to ease through tomorrow and winds are now looking a little better for the South West with a light E/SE offshore before swinging onshore into the afternoon. Perth and Mandurah should also be clean but tiny with Margs the pick and easing 3ft to possibly 4ft sets.
Friday looks like a lay day with strengthening onshore winds out of the NW tending W/NW in the South West, clean to the north though only 1-1.5ft or so with a background swell.
Later in the day a new W/SW groundswell should be seen, peaking Saturday with the strongest pulse still on track for Sunday afternoon.
The source of these swells was discussed on Monday, that being back to back fronts firing up south-east of South Africa and projecting east-northeast towards us in our medium-range swell window.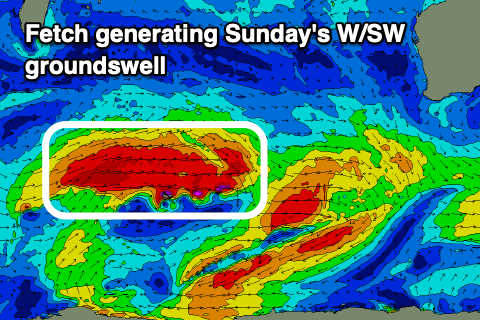 The secondary system is stronger than the first and should provide the most size, but coming back to Saturday's first swell and the South West should see slightly inconsistent 5-6ft sets 2ft in Mandurah and 1-2ft across Perth. Later in the day some further size may be seen but come Sunday we'll see the W/SW groundswell fill in and offer 6-8ft sets.
On top of this swell though there'll be a more localised, bigger and more consistent long-period SW groundswell, produced by the remnants of the storms generating the W/SW swells. We'll see a strong polar front fire up south-west of us, producing great W/SW gales Friday, weakening Saturday.
This will produce a large SW groundswell for Sunday peaking into the afternoon as well with larger 8-10ft sets due, 3ft+ in Mandurah and 2-3ft in Perth.
The mix of W/SW and SW swell may provide some funky mixed sets at time which isn't ideal.
The swell is expected to ease through Monday but another couple of small but strong fronts look to fire up through the weekend, generating a large reinforcing SW groundswell for Monday.
Similar sized surf to Sunday afternoon should persist Monday, easing from Tuesday afternoon.
Now unfortunately these secondary fronts will bring unfavourable winds as the final one pushes up and into us early next week. Saturday and Sunday should be clean though with E'ly tending S'ly winds on the former and SE tending S/SW winds on the later.
Fresh to strong SW winds will spoil the swell Monday, though likely SE in Perth and Mandurah, S/SE Tuesday morning in the South West but clean to the north.
Longer term the swell will ease as winds remain stubborn and from the south across the South West, but we'll confirm this Friday.