Wednesday, 5 February 2020
Good run of swell from Sunday
UNLESS YOU LIVE AT THE BEACH, PLEASE DON'T TRAVEL TO SURF
COVID-19 is changing the way we think about surfing. Travelling to the surf now means you're putting an unnecessary strain on the resources of small regional communities. So, please stay home. If you live near the beach and want to surf, please maintain a healthy spacing in the lineup, don't hang in the carpark, and keep your surf sessions shorter to allow others the opportunity to get wet. Above all, stay happy, healthy and look out for one another.
Western Australia Surf Forecast by Craig Brokensha (issued Wednesday 5th February)
Best Days: South swell magnets in the South West tomorrow AM, protected spots Sunday and Monday, Tuesday morning, Wednesday morning, Thursday morning
Recap
Limited options for a surf yesterday with strong offshore winds and a small 2ft to occasionally 3ft swell in the South West yesterday, flat to the north, even smaller today.
This week and next (Feb 6 - 14)
Later today some new S/SW groundswell is due off a late forming low south us earlier this week.
No major size is expected with sets to 3ft to possibly 4ft across the South West south swell magnets early tomorrow, easing through the day and smaller Friday. Perth and Mandurah will remain effectively flat.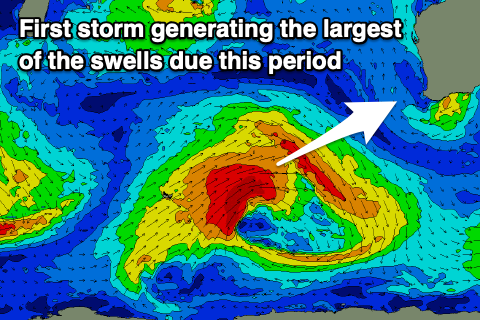 The weekend will start poor with no new swell and less than perfect winds, but our large new SW groundswell for Sunday/Monday is still on track.
A strong polar low is forming in the Heard Island region and will project a great fetch of gale to severe-gale W/SW winds towards us over the coming days, weakening south-west of us Friday as a small trough sheds off and pushes in on the weekend.
This will bring unfavourable and strong S-S/SE winds on Sunday morning, tending S/SW through the afternoon and then back to the S/SE late.
This will favour protected spots as the large swell fills in, building to an easy 8-10ft across the South West through the day, if not for the rare sneaky cleanup, 3ft in Mandurah and Perth on the sets.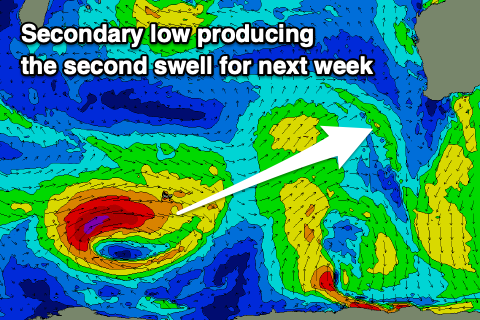 We'll hopefully see winds swing SE though gusty Monday morning as the swell starts to ease, though the models diverge slightly on this so check back Friday for one last update.
Our secondary large, long-period but less consistent SW groundswell for later week is still on track, with a slight upgrade in the expected size of this swell as well.
We'll see a polar low form south-east of South Africa and travelling slowly east along the polar shelf generating a fetch of persistent gale to severe-gale W/SW winds. The size of this swell now looks to be around 8ft+ across the South West when it peaks on Wednesday, 2-3ft in Mandurah and 2ft+ across Perth.
Winds are still up in the air surrounding this swell and will at least be SE through the morning on Wednesday, but check back here on Friday for more on this.