Wednesday, 21 August 2019
Large swells to continue though becoming cleaner
Western Australia Surf Forecast by Craig Brokensha (issued Wednesday 21st August)
Best Days: Early tomorrow Perth and Mandurah, protected spots Friday, Saturday, Sunday morning, Monday morning, early Tuesday
Recap
Clean fun waves across all coasts yesterday morning to 4-6ft in the South West, 2ft in Perth and Mandurah ahead of a new increase in inconsistent W/SW groundswell, kicking to 2-3ft north of Margs and 8ft+ by dark in the South West with generally favourable winds.
Today the largest swell has peaked with clean and windy but pumping 10-12ft waves in the South West, 3ft in Mandurah and 2-3ft in Perth.
Today's Forecaster Notes are brought to you by Rip Curl
This week and weekend (Aug 22 - 25)
Today's large W/SW groundswell should start easing through tomorrow but winds will be poor and onshore out of the N/NW across Margs, strengthening through the day ahead of a late W/SW change, with OK but not great and fresh N/NE winds early around Perth and Mandurah.
Easing sets from 8-10ft are due in the South West, 3ft Mandurah and 2-3ft Perth, while our large new W/SW groundswell for Friday and Saturday is still on track.
The swell has and is still being generated by a trailing fetch of W/sW gales on the back of the progression linked to today's large swell, and we'll see this fetch continuing to project towards is while weakening tomorrow morning.
The swell is due to build through Friday and reach 10-12ft across the South West later in the day, 3-4ft in Mandurah and 3ft in Perth, easing from a similar size on Saturday morning.
Winds on Friday still look average and best for protected spots with a S/SW tending S/SE breeze in the South West, S-S/SE tending S/SW wind further north.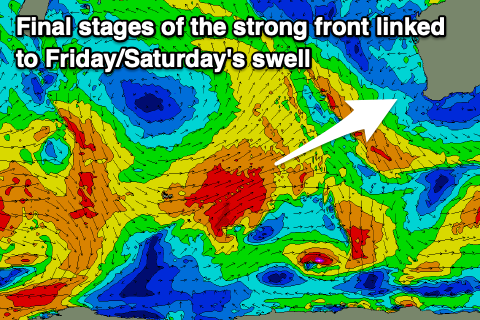 Saturday looks great as winds shift more offshore and out of the E/NE, moderate in strength ironing out any bumps from Friday along with the large easing swell.
Sunday will be clean again with a morning E'ly offshore ahead of sea breezes and smaller easing surf from 6ft+ in the South West, 2ft+ in Mandurah and 2ft in Perth.
Looking at early next week, and a new large, long-range and long-period W/SW groundswell is due to arrive later Sunday but peak into Monday afternoon, generated by a very strong low that's formed south of South Africa.
A fetch of storm-force W/SW winds have been generated, with the storm due to weaken slowly while moving east over the coming days, breaking down south-west of us on Friday evening.
A large though inconsistent swell will result, building through Monday and reaching 10ft+ across the South West, 3ft in Mandurah and 2-3ft in Perth. Winds look to remain favourable and light, likely offshore in the morning ahead of sea breezes, more northerly as the swell eases Tuesday.
Longer term there isn't anything as big as what we're expecting this period on the cards, but the South West will remain active but with likely poor winds.