Monday, 19 March 2018
All about Marcus
Western Australia Surf Forecast by Craig Brokensha (issued Monday 19th March)
Best Days: South West swell magnets tomorrow and Wednesday, all coasts Saturday and Sunday, Margs Monday morning
Recap
Poor conditions with a building windswell Saturday followed by stronger groundswell Sunday and improving conditions as winds swung more offshore through the morning ahead of sea breezes. Margs came in around 5-6ft with 2ft surf in Mandurah, smaller in Perth.
This morning conditions were again clean with easing levels of swell, fun in the South West but tiny to the north.
Today's Forecaster Notes are brought to you by Rip Curl
This week and weekend (Mar 20 – 25)
The surf will continue to ease through tomorrow but with favourable winds for magnets across the South West.
Fresh E/NE winds are due all morning and early afternoon, tending variable ahead of possible late sea breezes. We're looking at small easing 3ft+ waves across swell magnets in the South West, tiny elsewhere.
A new S/SW groundswell is due to arrive later in the day but peak Wednesday morning, generated by a very strong but late forming polar frontal progression under the country.
South swell magnets in the South West should hopefully see surf in the 4ft range with a great E/NE offshore breeze through the morning again, tending variable ahead of late sea breezes.
We'll see a temporary low point in activity Thursday morning and with onshore S/SW winds as a surface trough slides in from the west.
This will also spoil a new S/SW groundswell that's due into the afternoon, generated by a strong polar low that's currently east of Heard Island.
A fetch of severe-gale to storm-force W'ly winds are being generated in our southern swell window, with Margs expected to kick to 3-5ft, tiny around Mandurah and Perth.
Friday should be cleaner as the trough moves east, bringing fresh SE-S/SE winds, though with the south swell direction, options with decent size will be limited.
Moving into the weekend we turn our eye Tropical Cyclone Marcus.
TC Marcus is currently a category 2 cyclone, positioned just north of Broome and will continue tracking west while strengthening over the coming days.
What we're interested are the developments once Marcus moves west of Exmouth and into our swell window.
Current guidance has Marcus reaching category 5 status on Wednesday morning north of Exmouth, weakening slowly as it starts to then turn the corner and head south down our coast.
Cyclones are very tricky systems to forecast with super strong winds covering such a small area, and with Marcus, the strongest and best fetch will be on its south-western flank (aimed into the Indian Ocean) as it squeezes against a high in the Indian Ocean.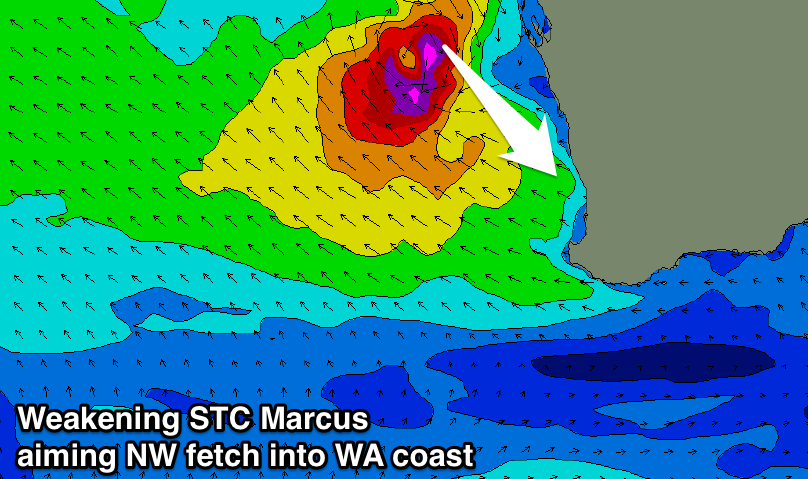 This will be mainly aimed towards the Maldives, with a much smaller fetch of NW winds aimed through our north-west swell window.
With Marcus situated far from our coasts, well north-west of Exmouth, we'll see hurricane force NW winds directed towards the northern half of our state through Friday, with winds really backing off as it drifts south and weakens over the weekend well west of Geraldton.
What we can expect is a large pulse of NW groundswell for the northern half of the state, building Friday out of the N/NW and peaking Saturday from the NW in the 10ft range.
This swell will filter down into Perth later Saturday, likely reaching 2-3ft later in the day and peaking Sunday to 4ft. Mandurah will see a slightly later arrival time and possibly a touch more size, while the track of Marcus isn't as ideal for Margs, with an acute N/NW groundswell building to 4-6ft during Sunday at exposed north facing breaks. There'll be a wide variation of size though with the acute north angle in the swell, so keep this in mind when hunting for surf.
Winds are looking best for locations south of the axis of Marcus which means the northern half of the state will be poor as the swell peaks with onshore NW winds.
Perth and Mandurah should see gusty E/SE tending SE winds Saturday swinging E/NE to NE on Sunday as the remnants of Marcus dip south. Margs should see good offshore E/SE-SE winds on Saturday, more E/SE Sunday and persisting all day.
Come Monday the swell will drop rapidly as winds swing onshore as Marcus pushes south-east inland.
Also in the mix on the weekend across the South West will be a mid-period SW swell to 4ft later Saturday, easing Sunday, but more on this Wednesday when we'll reassess the strength and track of Marcus.