Average surf continues, larger swells on the cards from next weekend
Western Australia Surf Forecast by Craig Brokensha (issued Friday 6th May)
Best Days: Protected spots Sunday morning, South West Monday and Wednesday morning
Recap
Average onshore waves in the 6ft range across the South West yesterday, with cleaner fun 1-2ft sets further north. Today the swell was smaller with messy 4-5ft waves in the South West and cleaner 1-1.5ft sets further north.
This weekend and next week (May 7 – 13)
Tomorrow's S/SW groundswell is still on track, generated by a polar front projecting north through our southern swell window, but the windswell has been downgraded a bit, with the front moving in being weaker.
Still we'll see poor messy waves around 6ft tomorrow in the South West and 2ft up in Perth with fresh to strong SW tending S/SW winds.
Better S/SE winds will be seen Sunday but with easing 4-5ft waves in the South West, 1-2ft around Perth.
Light and variable winds are due into Monday but there'll be no decent sized swell left in the water unfortunately.
A couple of small inconsistent SW groundswells are due through early next week produced by a series of strong but less than favourably aligned and short-lived polar fronts in the Heard Island region.
The first should build Tuesday, reaching 4-5ft later in the day, holding Wednesday around a similar size and then starting to ease from 3-5ft Thursday. Perth and Mandurah aren't due to see any major size over 1ft.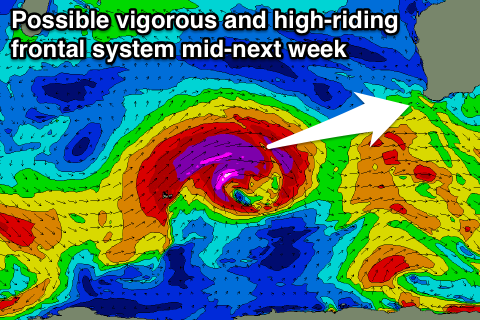 Tuesday morning's wind before the swell kicks look average with NW breezes in the South West, better from the NE on Wednesday morning then back to the NW Thursday.
Of greater significance is the formation of a couple of back to back and strong frontal systems high in the southern Indian Ocean forming during next week under the influence of a strong node of the Long Wave Trough.
These look to produce large long-period W/SW groundswells for Saturday and then Sunday/Monday, but more on this next week. Have a great weekend!