Average period for Margs, cleaner to the north
Western Australia Surf Forecast by Craig Brokensha (issued Friday 17th July)
Best Days: Saturday, Tuesday morning around Perth, Wednesday morning around Perth, Thursday in protected spots, Friday morning
Recap
Building swell with winds remaining favourable for selected locations in the South West yesterday and from the NE, while Perth and Mandurah saw a fun combo of swells into the afternoon from the NW and SW with offshore NE winds.
Today the swell was on the ease with poor N/NE tending N'ly winds leaving no real decent options.
This weekend and next week (Jul 18 – Jul 24)
Tomorrow will be the best day to surf over the weekend, with a new W/SW swell to 4-5ft+ due across the South West and 1-2ft around Perth as winds tend light and variable across both coasts.
Come Sunday the swell will ease ahead of an afternoon increase in really inconsistent but strong W/SW groundswell. Conditions will be terrible though with a strong to gale-force N/NW developing across the state, kicking up a NW windswell ahead of a late W/SW change.
Next week isn't looking too flash with the SW swell due into Monday afternoon and Tuesday being downgraded a touch, due to the polar front being broad but relatively weak. Winds are onshore in any case and from the W/SW tending SW Monday and then W/SW to W Tuesday.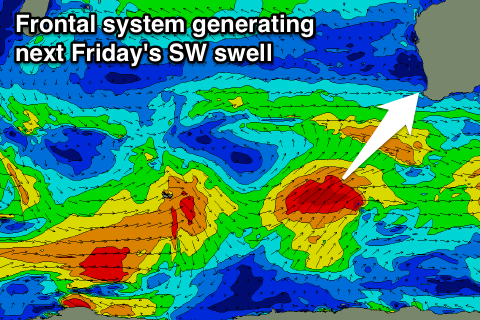 Perth should see a period of variable winds Tuesday morning though with fun amounts of swell to 2ft to possibly 3ft.
A slight stronger but not overly favourable S/SW swell is due to fill in Wednesday offering 6ft to occasionally 8ft sets in the South West through the day, with 2ft waves in Perth into the afternoon, but winds will again be onshore from the W/NW across Margs. Perth again should see early NE winds before shifting NW.
Into the end of the week another strong pulse of SW groundswell is due Friday from a strengthening polar front projecting north towards us during the middle of the week, with a third pulse for Saturday.
Both look to to be in the 6ft+ range and winds will improve with a S'ly change Thursday and offshore tending variable winds Friday. Saturday may see NW winds strengthening again, but more on this Monday.
Longer term some more significant frontal activity is due into next weekend and the following week, but we'll look closer at this Monday. Have a great weekend!