Best north of Margs over weekend, excellent Wednesday morning
Western Australia Surf Forecast by Craig Brokensha (issued Friday 22nd August)
Best Days: Saturday through Monday morning north of Margs, later Tuesday in protected spots, Wednesday, Thursday morning
Recap
Yesterday was poor across all coasts with onshore winds and a small to moderate swell.
Today winds were fresh onshore across most spots with the forerunners of a large and powerful W/SW groundswell showing across most spots. Margs was in the 8ft range at exposed spots, while Perth was 2-3ft and Gero 5ft.
Since then the swell has pulsed very strongly as winds have backed off with a ridge of high pressure moving. This hasn't created excellent conditions but improving surf across all coasts. We should see the swell continuing to build strongly into the late afternoon as winds continue to weaken.
This weekend and Monday (Aug 23 - 25)
This afternoon's large kick in strong W/SW groundswell is expected to peak overnight and then ease steadily through tomorrow.
The surf will still be very large tomorrow morning though, easing from 10-12ft+ at exposed spots around Margs, 3-4ft in Perth and 8-10ft up around Gero.
Winds will be excellent around Gero and offshore from the E/SE before tending S/SW into the afternoon, while Perth should see E/NE tending light NW winds. Margs looks average with N'ly tending fresh N/NW winds.
A reinforcing W/SW groundswell is due on Sunday, halting the easing trend through the day before backing off a touch into Monday.
Winds will remain poor in the South West and fresh to strong from the N/NW, but Gero should see morning E/SE winds, while Perth should see a morning NE'ly. Winds on Monday will play out similar although with N/NE winds around Peth early and NE winds up around Gero.
Next Tuesday onwards (Aug 26 onwards)
The secondary large and powerful W/SW groundswell due next Tuesday is still on track, with another vigorous polar low forecast to fire up under the effects of a strong amplification of the Long Wave Trough to our south-west this evening.
A strengthening and broadening fetch of severe-gale SW tending W/SW winds are due to be projected towards us followed by a secondary fetch of storm-force SW winds on the backside of the progression.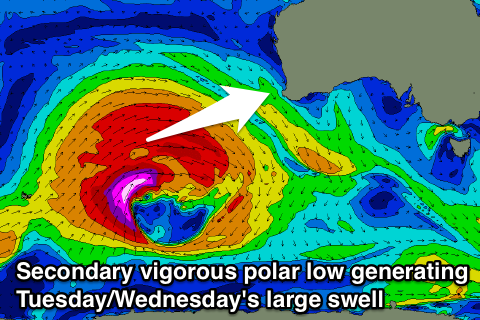 A very large and powerful W/SW groundswell will result, arriving overnight Monday and coming in strong Tuesday, peaking through the afternoon to 12ft+ around Margs with bigger bombs at offshore reefs. Perth should offer 3-4ft+ sets while Gero is expected to pulse to 8ft+ late in the day and ease from a similar size Wednesday morning.
Winds on Tuesday won't be too flash as a front clips the state, bringing with it fresh SW tending S/SW winds, that may swing S'ly late across most spots.
Wednesday however looks excellent with offshore E/SE winds across all locations. This will be a day to pencil in to surf, but only if you have the ability.
After the large swell event Tuesday and Wednesday we'll see a steady drop in size, bottoming out through Friday ahead of some moderate sized and inconsistent W/SW groundswell next weekend but with poor winds. Thursday morning should still be clean, but the onshores look to move in by Friday. We'll review this Monday and in the meantime, have a great weekend!