Small windows of clean conditions
Victorian Surf Forecast by Craig Brokensha (issued Wednesday 25th January)
Best Days: This morning ahead of sea breezes, early tomorrow morning Surf Coast, selected spots to the east Friday morning, exposed beaches Saturday morning
Features of the Forecast (tl;dr)
Inconsistent W/SW groundswell peaking this afternoon with S/SE-S sea breezes, holding tomorrow AM with early W/NW winds ahead of a fresh S/SW change mid-AM
Mid-period W/SW-SW swell building tomorrow PM, holding Fri AM, then easing
E/SE-E tending fresh SE winds Fri
Easing surf Sat with strengthening N/NE winds, tending N/NW into the PM ahead of a late PM SW change
Poor Sun with mod-fresh S/SE winds
S winds Mon with a small building mid-period W/SW swell
Moderate sized mid-period W/SW swell Tue with S winds
Moderate sized SW groundswell Wed with S winds
Recap
Fun waves on the beaches yesterday with easing sets from 2ft to occasionally 3ft in the morning, holding 2ft into the afternoon while the Surf Coast was tiny. Late afternoon storms brought a temporary wind change before easing into the evening.
This morning conditions are clean on the Surf Coast and there's an inconsistent long-period swell in the water with infrequent 1-2ft sets on the magnets while to the east it's 2-3ft but bumpy and onshore. The swell should continue to fill in as sea breezes kick in late morning/midday.
This week and weekend (Jan 26 - 29)
This afternoon's inconsistent W/SW groundswell should reach 2ft+ on the Surf Coast and 3-4ft+ to the east but with fresh S-S/SE sea breezes, with tomorrow morning due to come in at a similar size with an early W/NW breeze. A trough will bring a fresh S/SW change mid-morning so go the early.
The swell should ease through the day but some new, reinforcing mid-period W/SW-SW swell is due into tomorrow afternoon, holding Friday morning generated by two fetches of weak W/SW winds. The first was more distant, with a secondary fetch moving in towards us today, bringing tomorrow morning's change.
A touch more size is likely with 2-3ft sets on the Surf Coast magnets, 4ft to occasionally 5ft to the east and with an improvement in winds as tomorrow's trough clears to the east Friday.
It won't be perfect but winds look to tend E'ly Friday morning to the east of Melbourne, E/SE to the west before gusty SE sea breezes kick in.
Saturday will then be cleaner across a wider variation of locations with a strengthening N/NE breeze, shifting N/NW early afternoon ahead of SW change late afternoon as another trough moves in. Size wise the Surf Coast will be easing from 1-2ft with generally 3ft sets to the east.
A weak windswell is expected on Sunday and with poor, moderate to fresh S/SE winds making it a lay day.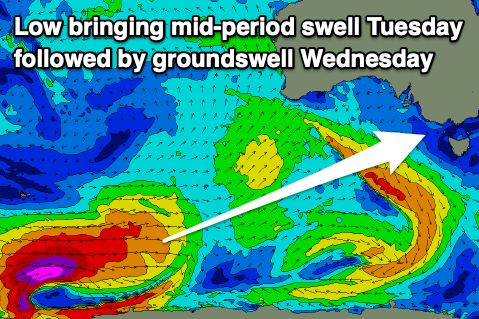 Winds look to linger out of the S'th Monday with a small increase in mid-period W/SW swell due to build through the afternoon, peaking Tuesday.
This swell and a stronger increase in W/SW groundswell due later in the day, peaking Wednesday will be generated by a strong polar low forming around the Heard Island region tomorrow afternoon.
A fetch of severe-gale to storm-force W/SW winds are forecast to be projected east-northeast through our western swell window, while just ahead of the low, a pre-frontal fetch of strong W'ly winds will be linked to mid-period energy on Tuesday.
The Surf Coast should come in around 2-3ft on Tuesday with 4-5ft sets to the east with lingering S'ly winds, while the groundswell is due to peak Wednesday morning to 3-5ft and 6ft+ respectively. Winds look to hold out of the S'th at this early stage but we'll review this on Friday.