Large and windy for a couple of days, then a spell of small surf
Victorian Surf Forecast by Ben Matson (issued Monday 16th May)
Features of the Forecast (tl;dr)
Large, building surf Tues with W/NW winds, very large kick mid-late a'noon
Very large blustery surf Wed with W/SW winds
Solid, easing surf with abating winds Thurs
Light winds and smaller leftovers Fri
E'lies for the weekend with small surf Sat, and a minor long period reinforcement Sun
Recap
Small clean surf on Saturday eased from 1-2ft on the Surf Coast and 3ft east of Melbourne. A minor new groundswell lifted surf size to a more defined (though inconsistent) 2ft in Torquay on Sunday, bigger near 3-4ft east of Melbourne, and conditions remain clean for longer than expected thanks to a sustained northerly breeze. Today wave heights have increased steadily through the day, with Torquay showing early 3ft sets but now pushing 4-5ft, almost 4-6ft across the reefs though strengthening NW winds have gone gusty W/NW thru' W'ly (Cape Otway gusting 41kts).
This week (May 17 - 20)
So, here we are, on the cusp of a major winteresque swell (and weather) pattern.
Wave heights are trending steadily upwards at Cape Sorell, which is a good sign - as opposed to a J-curve, which often denotes an event of shorter duration. However a strong to gale force wind regime will remain in place for the next few days so you're going to have to look for some shelter.
Asside from the obvious characteristics of this Southern Ocean progression, what I like most is its slow moving nature. The broadscale pattern is edging eastwards at a pace that's allowing secondary fronts to wrap around the primary low, building further on the preceding activity, and this is creating a 'capture fetch' scenario that should help to boost wave heights above theoretical estimates.
And, we're looking at a broad peak in size from late Tuesday through Wednesday - indeed, even as of Tuesday morning, the storm track will still be very active with a broad fetch of gales positioned some 1,200-1,500km upstream through the swell window (see below) which means surf size will remain elevated for a further 24-36 hours before the downwards trend really kicks in.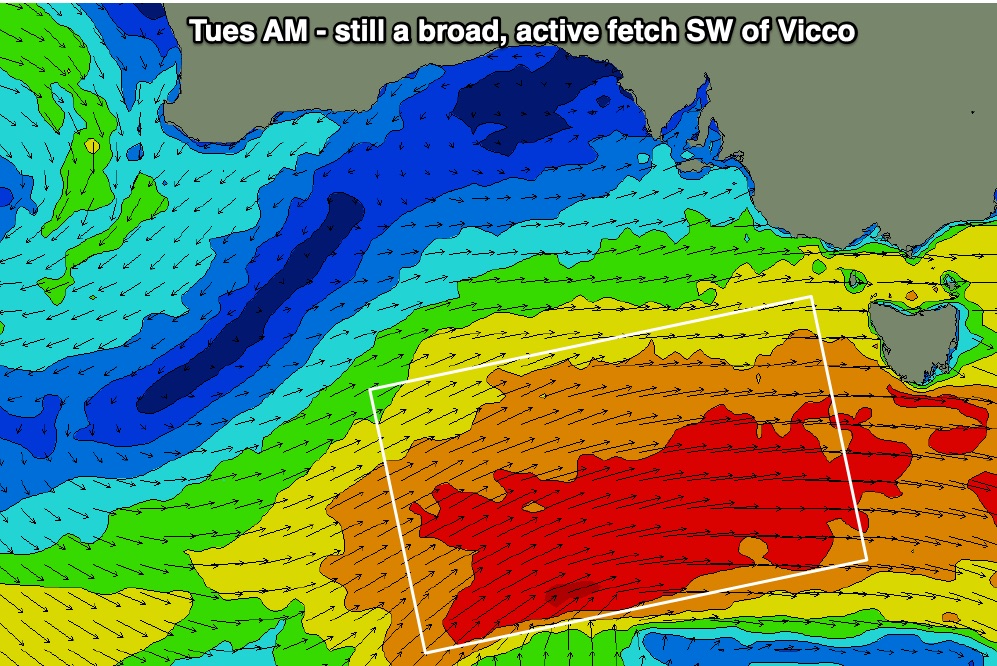 As for size, there's really no evidence to change the forecast issued Friday, however we need to hone on the specifics relating to surf potential, as the strength and direction of the local wind will largely restrict surfable options.
Tuesday will see building size all day, probably starting off in the 4-6ft range across the Surf Coast (bigger 6-8ft sets at the swell magnets) but kicking in strongly mid-late afternoon with the arrival of a significant swell front: keep an eye out for a jump in peak swell periods at the Cape Sorell buoy (and then Pt Nepean, if it's online).
So, this could very well see the odd 8-10ft+ set push through the swell magnets late in the day. Of course, not all breaks will pick up this size range.
Winds should hold steady from the W/NW for most of Tuesday, fresh through the morning but reaching strong to gale force at times into the afternoon.
East of Melbourne will be even larger at exposed beaches so it'll be an ideal day for sheltered spots.
Wednesday morning should see a similar size range as per late Tuesday, but with winds veering more to the W/SW before dawn. There is a chance for a brief, early period of W/NW winds west of Melbourne early morning but it probably won't last long, and we are likely to see the development of a significant 'wobble' (can you call it that?) through the lineup thanks to overnight westerly gales through Bass Strait. Wave heights will start to trend down into the afternoon.
Rapidly easing swells and winds on Thursday will be accompanied by a general SW flow though again, we may see a brief period of W/NW winds throughout Torquay. However, surface conditions will probably retain a fair degree of Wednesday's wobble, so keep your quality expectations low. Let's peg size easing from 4-6ft to 3-5ft west of Melbourne, bigger to the east - again, another day for sheltered spots, though bear in mind the SW wind flow compared to W/NW and W'ly winds of the previous days.
And then by Friday we'll see light winds and further easing swells around 3-4ft west of Melbourne, 4-6ft east of Melbourne.
This weekend (May 21 - 22)
The Southern Ocean storm track will go a little quiet over the coming days thanks to a major block inside our mid-range swell window, which means Friday's easing trend will continue into Saturday.
Furthermore, winds will swing to the east under a dominant ridge of high pressure on Saturday, so it's looking like an ideal day for the open beaches east of Melbourne, with size around 3-4ft at open beaches. West of Melbourne will be small in the 2ft range and the easterly breeze won't be a great help. Size will continue to abate through the day.
Easterlies will persist into Sunday, but we'll see a small reinforcing long period groundswell (18-20 seconds) make landfall during the morning, generated by a powerful low pressure system well SW of Western Australia over the coming days that looks to stall in its easterly track, thanks to the upstream block. Set waves all be extremely inconsistent but should rebuild back to 3-4ft east of Melbourne and 2ft west of Melbourne.
Next week (May 23 onwards)
There's nothing of interest showing up in the long range charts at this stage.. so make the most of this week's activity! Could be another extended period of small surf ahead.
See you Wednesday.