Slow improvement in conditions with small, weak surf
Victorian Surf Forecast by Craig Brokensha (issued Friday 4th February)
Best Days: Beaches to the east Saturday morning, Sunday morning and Monday morning, Surf Coast beaches Monday and Tuesday mornings for the desperate
Features of the Forecast (tl;dr)
Easing S/SW swell tomorrow with a building SE windswell and inconsistent background SW swell. Moderate E tending strong SE winds
Inconsistent SW swell Sun with small levels of SE windswell under fresh E/NE-E tending strong SE winds
Small levels of SE windswell Mon and Tue AM, easing with mod-fresh E/NE-E winds Mon AM and moderate NE winds Tue AM. Fresh N/NE tending NW winds Wed
Strengthening S/SW winds Thu, S'ly Fri with a small new W/SW-SW swell
Recap
Wednesday's moderate sized mid-period S/SW swell eased back through yesterday as poor conditions continued under a strong south-southwest breeze.
Today a small, new mid-period S/SW swell is keeping the Surf Coast around 2-3ft with 4ft+ sets to the east under slightly better conditions on the beaches east of Melbourne.
This week and next (Feb 5 - 11)
We've gone through the worst of the conditions for the region as a strong high slowly edges east under us, and over the weekend and into next week we'll see winds shift more easterly through the mornings (ahead of afternoon sea breezes) as the high continues east.
This will create cleaner conditions on the beaches east of Melbourne but swell wise we're looking at generally small surf.
Today's weak S/SW swell will ease into tomorrow as some new, infrequent SW swell arrives into the afternoon, holding Sunday before easing Monday.
Size wise the Mornington Peninsula should come in at 2-3ft with 1-2ft sets on the Surf Coast as winds shift E'ly tomorrow morning ahead of strong afternoon SE winds and fresher E/NE-E winds on Sunday, strong from the SE into the afternoon.
These afternoon and evening SE winds will kick up some small SE windswell on the Surf Coast to 1-2ft tomorrow morning, kicking to 2ft+ later in the day, holding Sunday and kicking further later to 2-3ft.
Come Monday we should see fresh E/NE winds continuing with easing levels of SE windswell and inconsistent SW swell to 2-3ft on the Surf Coast and 2ft to possibly 3ft on the Mornington Peninsula.
Tuesday looks to continue in the 2-3ft range out of the south-east owing to strong afternoon and evening SE winds Monday, but the Mornington Peninsula will ease off from 1-2ft.
Winds will start to swing more NE and be favourable until early afternoon, giving into SE sea breezes, with fresher N/NE winds on Wednesday as a weakening mid-latitude low starts to approach from the west.
The low looks to move through into the afternoon and evening bringing NW tending S/SW winds followed by strengthening W/SW tending S/SW winds on Thursday.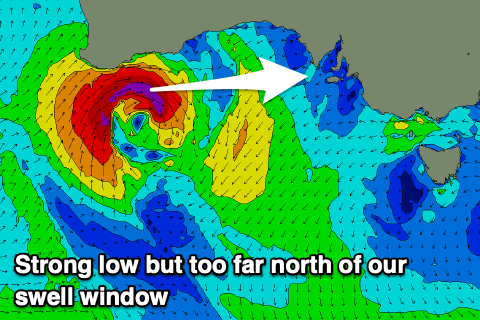 This low will be quite severe and strong off the Western Australian coast Sunday through Monday but too far north of our swell window, drifting east-southeast while weakening through the Bight Monday evening through Tuesday. By the time it moves further south, a much weaker fetch of strong W/SW winds will be generated through our western and south-western swell windows, producing a small swell for late week.
It'll be mid-period energy from the W/SW tending SW swell, filling in Friday to 2ft to possibly 3ft on the Surf Coast and 3-4ft+ on the Mornington Peninsula but with persistent S'ly winds as a new high pressure system slides in from the west.
The weekend looks to clean up but with smaller levels of background swell.
Now, as touched on last update, longer term there's a bit more activity forecast for the Southern Ocean with a flurry of strong polar fronts and a low due to generate some better swell mid-late next week onwards. This is too far out to go into the specifics but check back here next week for an update on the evolution. Have a great weekend!