Improving conditions for the beaches from the weekend
Victorian Surf Forecast by Craig Brokensha (issued Wednesday 2nd February)
Best Days: Depserate surfers to the east Friday morning, Sunday morning exposed beaches, Monday morning Surf Coast beaches for the keen
Features of the Forecast (tl;dr)
Easing S/SW swell with strong S/SW winds tomorrow, smaller Fri with light-mod S/SE-SE winds (E/SE for periods east of Melbourne), freshening through the PM
Small, inconsistent mid-period SW swell building Sat, peaking Sun with E/SE-E tending strong SE winds Sat and fresh E tending strong SE winds Sun
Small SE windswell for Sun, building later, easing Mon with E/NE morning winds
Fading SE windswell Tue and Wed with E/NE and NE winds respectively each morning
Recap
Clean conditions on the Surf Coast yesterday morning with a drop in swell to the 2ft+ range across the swell magnets, workable at dawn to the east before that stronger onshore change kicked in.
Today we've got a spike in mid-period S/SW swell generated by the strengthening trough that moved in through yesterday but conditions are poor with a strong S/SW breeze and 3-4ft waves on the Surf Coast, 5-6ft to the east.
This week and next (Feb 3 - 11)
Now that the trough has moved through we've got our big, broad blocking high muscling in from the west and this will dominate out surf and local winds until the next trough moves in next Thursday.
Winds will remain strong from the S/SW tomorrow as today's S/SW swell eases in size and power, with Friday seeing lighter S/SE-SE winds in the morning, possibly tending E/SE across the Mornington Peninsula for a period but with small, weak, fading surf from 2-3ft.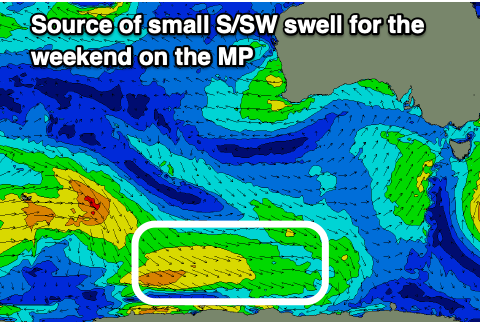 Moving into the weekend there's a small swell due out of the S/SW, building through Saturday ahead of a peak Sunday. This is being generated by a weak polar front skirting the south-west flank of the high, and the Mornington Peninsula should build to 2ft Saturday afternoon with 2ft to possibly 3ft sets Sunday.
As the high shifts further east we'll see winds shift E/SE-E Saturday morning and straighter E'ly on Sunday but with small levels of SE windswell.
The SE windswell will be generated by strengthening SE winds through Bass Strait Saturday afternoon and Sunday afternoon.
The Surf Coast looks to offer 2ft+ waves on Sunday morning, building to 3ft later in the day with stronger E/SE-SE breezes, easing from 2-3ft on Monday as winds shift E/NE. The Mornington Peninsula will be small to tiny and weak, best Monday morning to 1-2ft.
The windswell will slowly faded through Tuesday and Wednesday with winds shifting more E/NE-NE on the former and NE on the latter, while the blocking effects of the high will see a continuation of now significant swell from the south-western quadrant.
A trough forming off the Western Australian coast will form into a low but sit too far north of our swell window, pushing in from the west through the middle to end of next week while weakening, bringing a change Thursday.
Unfortunately there'll be no new swell until possible next weekend, but it looks small and mid-period. Longer term we may see some better activity developing into the middle to end of the month but check back here Friday for more on this.