Get ready for the onshores
Victorian Surf Forecast by Craig Brokensha (issued Wednesday November 17th)
Best Days: Today, exposed beaches tomorrow for the desperate, selected locations Saturday morning
Features of the Forecast (tl;dr)
Low point in swell tomorrow with fresh to strong N/NE winds
Strong S/SW winds Fri, easing into the PM
Building mid-period S/SW swell Sat with light-mod SE winds (possibly E/SE at periods east of Melbourne) ahead of fresh SE sea breezes
Easing S/SW swell Sun with a building SE windswell and strong S/SE winds
Easing SE windswell Mon with gusty S/SE winds
Small SW swell for Mon PM, easing Tue with S/SW winds
Recap
The backside of the polar frontal progression linked to Monday's large swell provided more size than expected both yesterday and this morning. Tending more S/SW in direction and being mid-period in nature, the Surf Coast magnets were still an easy 6ft yesterday morning with similar sized surf to the east. Conditions were decent through the morning with bumpy, average conditions to the east.
Today we've got a variable breeze and cleaner conditions across all locations and plenty of fun sets to 3ft on the Surf Coast, back to 3-4ft on the Mornington Peninsula. Conditions should remain favourable until mid-afternoon when south-east sea breezes kick in.
This week and next (Nov 18 - 26)
Down, down, down. The swell will continue on its downwards trend in size and period through today leaving small to tiny surf across the state tomorrow.
Cape Sorell has been on a slow, steady decline and this will result in tiny waves to 1ft+ on the Surf Coast tomorrow, possibly still hovering around 2ft on the sets across the Mornington Peninsula.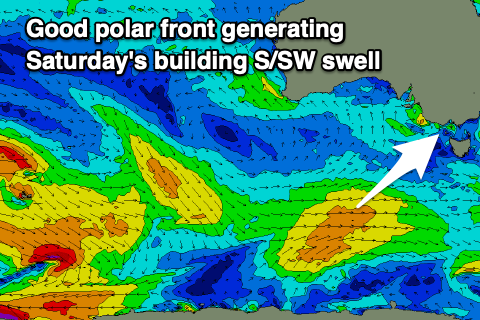 Conditions will be great for exposed beaches with a fresh to strong N/NE breeze, holding ahead of a trough moving in from the west early Friday morning. This will write-off the surf for the day with strong, though abating S/SW winds.
Moving into Saturday the trough will clear to the east temporarily but winds will remain light to moderate from the SE through the morning, spoiling a new, building mid-period S/SW swell. If we're lucky we may see winds tend E/SE for a period east of Melbourne but we'll have a closer look at this on Friday.
The source will be a persistent but not overly strong fetch of W/SW winds projecting through our south-western and then southern swell windows over the coming days.
This will bring a good kick in size through Saturday, pulsing to an easy 3ft on the Surf Coast if not for the odd bigger one on the swell magnets and 4-5ft to the east. The afternoon will be poor though when the swell peaks with a gusty SE breeze.
As we move into Sunday, winds will strengthen further from the S/SE as an inland low drifts south-east, across us bringing lots of wind and rain. This will kick up a poor quality SE windswell for the Surf Coast, mixed in with the easing, mid-period S/SW swell.
We'll see the low lingering through early next week, directing weaker though still gusty SE winds into us Monday with a poor mix of mid-period and windswell.
A small, new, mid-period SW swell is due into Monday afternoon, easing Tuesday but it's all academic with the persistent S/SE winds on the coast.
Unfortunately winds will swing back to the S/SW from Tuesday as another trough starts to edge in from the west. We could see variable winds Wednesday morning but there'll be no swell in the water.
Longer term a stronger polar frontal progression may develop mid-late next week, south-west of Western Australia, bringing some new swell the following weekend with hopefully more favourable winds. More on this Friday though and make the most of today.