One day to target
Victorian Surf Forecast by Craig Brokensha (issued Wednesday 3rd November)
Best Days: Saturday ahead of a mid-afternoon change, later next week
Features of the Forecast (tl;dr)
Moderate S/SW-S winds and low point in swell tomorrow
Weak, building W/SW swell Fri with moderate E/SE-SE tending S/SE winds, better Sat with a moderate sized W/SW swell and N'ly winds (N/NE MP and N/NW SC) ahead of a mid-afternoon, shallow SW change
Easing W/SW swell Sun with fresh to strong S/SW winds
Small-moderate mid-period W/SW-SW swells for Mon-Wed but with W/SW-SW winds (S'ly Wed)
Easing surf later next week as winds slowly improve from the east
Recap
There was a good kick in size Monday afternoon as our new swell pushed in, on track with Ben's forecast of 3-4ft+ on the Surf Coast and 5-6ft+ to the east though with fresh SE winds. A peak in size was seen overnight, with smaller, easing surf through yesterday from 3-4ft on the swell magnets and 4-6ft to the east. Conditions were favourable all day for the beaches, with a brief period of variable winds mid-afternoon on the peninsula before offshore winds kicked in again.
Today the swell has dropped quite a bit leaving peaky, 1-2ft leftovers on the Surf Coast and clean 2-3ft sets on the Mornington Peninsula.
This week and weekend (Nov 4 - 7)
The swell will continue to ease into this afternoon as winds remain favourable ahead of a S/SW change in the wake of a trough just before dark this evening.
This will leave moderate S/SW-S winds tomorrow along with a low point in swell, a lay day.
Friday is looking suss as well, with winds taking their time to improve across the state as the trough slowly clears to the east. We're likely to see moderate E/SE-SE winds on Friday morning, shifting more S/SE into the afternoon and swell wise, the morning looks small ahead of some weak, building W/SW energy into the afternoon.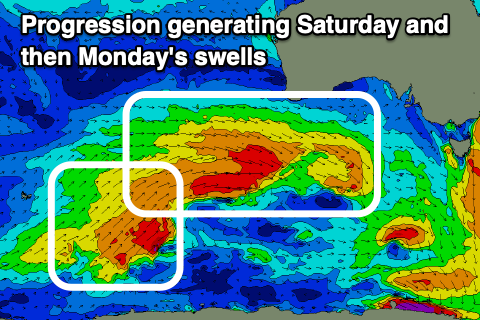 Saturday is a much better day to surf with a better pulse of mid-period W/SW swell and offshore N'ly winds (N/NE Mornington Peninsula and N/NW Surf Coast) ahead of another trough mid-afternoon bringing a shallow SW change.
The source of the swell through Friday afternoon and Saturday will be a relatively weak but multi-staged mid-latitude frontal progression pushing up towards Western Australia over the coming days. An initial weak front is linked to Friday's increase, possibly reaching 2ft+ and 4ft later in the day.
A better burst of W-W/NW gales pushing in and under Western Australia today will generate Saturday's pulse, with better 3ft sets across the Surf Coast magnets, 4-5ft+ to the east.
Unfortunately Saturday's weak change will be followed up by a more convincing change early Sunday morning, bringing fresh to strong S/SW tending S winds as the swell eases back in size.
Next week onwards (Nov 8 onwards)
Winds look a little flukey into Monday with a secondary pulse of smaller, weaker mid-period W/SW swell.
This will be generated by the backside of the progression moving through tomorrow and Friday, keeping the Surf Coast around 2-3ft with 4-5ft sets to the east. A W/SW-SW breeze is likely through the morning, more onshore through the day, with similar winds Tuesday as the swell steadies with a reinforcing, similar sized pulse of mid-period SW swell.
This and a third pulse for Wednesday will be generated by persistent weak fronts projecting strong SW winds towards us early next week but winds don't look to improve later next week. More on this in Friday's update though.