Another mix of west swells, under model forecasts
Victorian Surf Forecast by Craig Brokensha (issued Wednesday 28th July)
Best Days: This afternoon Surf Coast, tomorrow Surf Coast, Friday, Saturday morning beaches to the east, Sunday Surf Coast (possibly beaches late afternoon), Monday
Features of the Forecast (tl;dr)
Building mid-period W swell later today with winds shifting W/NW
Moderate-large mix of mid-period W/SW swell and W/SW groundswell (for the afternoon) tomorrow with gusty W/NW winds, easing and tending NW into the PM
Easing W/SW swells Fri with strong N winds
Low point in W/SW swell Sat with strong N winds, easing and tending NW into the PM
Inconsistent W/SW groundswell Sun with W/NW tending variable winds
Easing mid-period W/SW swell Mon with moderate N winds
Recap
Good waves across most locations yesterday with Monday morning's swell easing back further in size from 2-3ft on the Surf Coast and 3-5ft on the Mornington Peninsula with N/NW tending N winds.
Today winds are stronger out of the N'th favouring selected spots, with an inconsistent, reinforcing W/SW groundswell maintaining 2-3ft sets on the Surf Coast and 3-5ft waves to the east. We should see some new, mid-period W swell building later today, discussed below.
This week and next week (Jul 29 – Aug 1)
With us falling in between frontal systems since the weekend, the swell has slowly tailed away in size and consistency, but today's strong winds are due to the next mid-latitude frontal progression moving in from the west.
As touched on in Monday's update, this frontal system is a touch better than the weekend's though again, most of the swell generating fetch is being aimed into South Australia. Also the models are over-forecasting the size for most locations.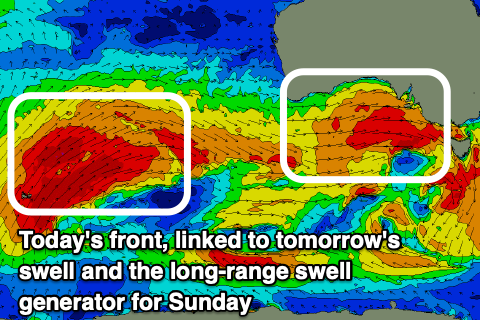 Initially, we saw this front firing up to the south-west of Western Australia yesterday, generating a fetch of severe-gale W/SW winds, just within our swell window, then pushing up into the Bight while slowly weakening, north of our swell window.
The front is now dipping south-east down across us, and we'll see gale-force W'ly winds generated through our western swell window today, kicking up a late increase in mid-period W'ly swell as winds shift W/NW. Try the Surf Coast late.
The bulk of the swell is due tomorrow morning, but it'll be mid-period and west in nature, with some less consistent, stronger W/SW groundswell for afternoon.
Size wise, both should be about the same with 3-5ft surf due on the Surf Coast (those larger sets on the swell magnets), 6-8ft to the east along with gusty W/NW winds, easing and tending NW mid-late afternoon.
We'll see the swell easing through Friday under strong and tricky N'ly winds, dropping from 3ft to occasionally 4ft on the Surf Coast magnets, 6ft or so to the east on the sets.
Saturday will become smaller again as we fall in between swells and wind remain strong from the N'th, shifting NW through the afternoon and easing. The Surf Coast looks to hang in around an inconsistent 2-3ft, with 3-5ft sets to the east.
On Sunday, an inconsistent W/SW groundswell is due to fill in, generated by a distant polar storm firing up around the Heard Island region today. A fetch of severe-gale W/SW winds will fall in our long-range swell window, before pushing north of it and into Western Australia.
As a result the swell will be very inconsistent and not as big as the models are forecasting, with then incorrectly combining mid-period energy with the long-period swell.
What's likely is inconsistent 3ft sets on the Surf Coast, 4-5ft+ to the east under W/NW tending variable winds.
Monday should be similar in size as the tail end of the progression, under Western Australia generates some reinforcing mid-period W/SW swell and winds look more favourable for the beaches, N'ly and moderate in strength. We'll have a closer look at this Friday.
Following this we're looking at weaker storms moving through our swell windows and smaller swells, but check back Friday for the latest.